British Cross Challenge – 16 Scots in top ten finishes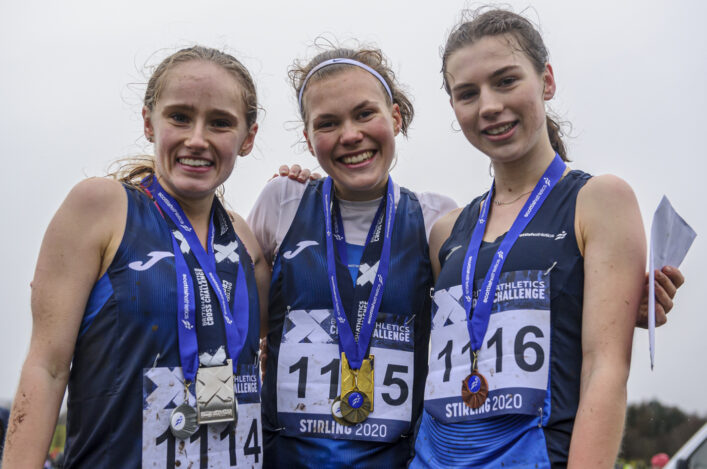 Megan Keith (centre) and Cera Gemmell (left) made it a Scottish 1-2 in the U20 Women's British Cross Challenge with Eloise Walker also pictured at Stirling (photo by Bobby Gavin)
(See download marked as final standings)
Scottish athletes have once again demonstrated their strength at cross country with no fewer than 16 claiming top ten finishes in the British Cross Challenge.
The overall tables have now been tallied up following the Inter-Counties XC event at Loughborough last weekend.
Megan Keith of Inverness Harriers and Cera Gemmell of Team East Lothian lead the way from a Scottish perspective as they made it a 1-2 in the final table in the U20 Women's category.
Anna Hedley of Fife AC was second in the U17 Women's table, too, with no fewer than four Scots in the top ten in that age group as Julia Cash of Giffnock North AC finished fifth, Pippa Carcas of Edinburgh AC in eighth and Anya MacLean of Garscube 10th.
At Senior level, there was a fifth place finish for Jonny Glen of Inverclyde AC after a strong season and 10th for Kayleigh Jarrett of Shettleston Harriers in the Senior Women's division.
British Athletics website Series Review
Here's the full table of top 10 finishes:
U15 Boys – Reuben MacDonald (Giffnock North) 9th
U17 Men – Lucas Cairns (Inverness Harriers) 9th; Jack Patton (Kilbarchan AAC) 10th
U20 Men – Christian Graham (Lasswade AC) 9th
Senior Men – Jonny Glen (Inverclyde AC) 5th
U15 Girls – Valencia Wright (Giffnock North) 4th; Anna Cairns (Inverness Harriers) 5th; Isla Thoms (Ffie AC) 8th
U17 Women – Anna Hedley (Fife AC) 2nd; Julia Cash (Giffnock North) 5th; Pippa Carcas (Edinburgh AC) 8th;  Anya MacLean (Garscube Harriers) 10th
U20 Women – Megan Keith (Inverness Harriers) 1st; Cera Gemmell (Team East Lothian) 2nd; Charlotte McKenna (Giffnock North) 9th
Senior Women – Kayleigh Jarrett (Shettleston Harriers) 9th.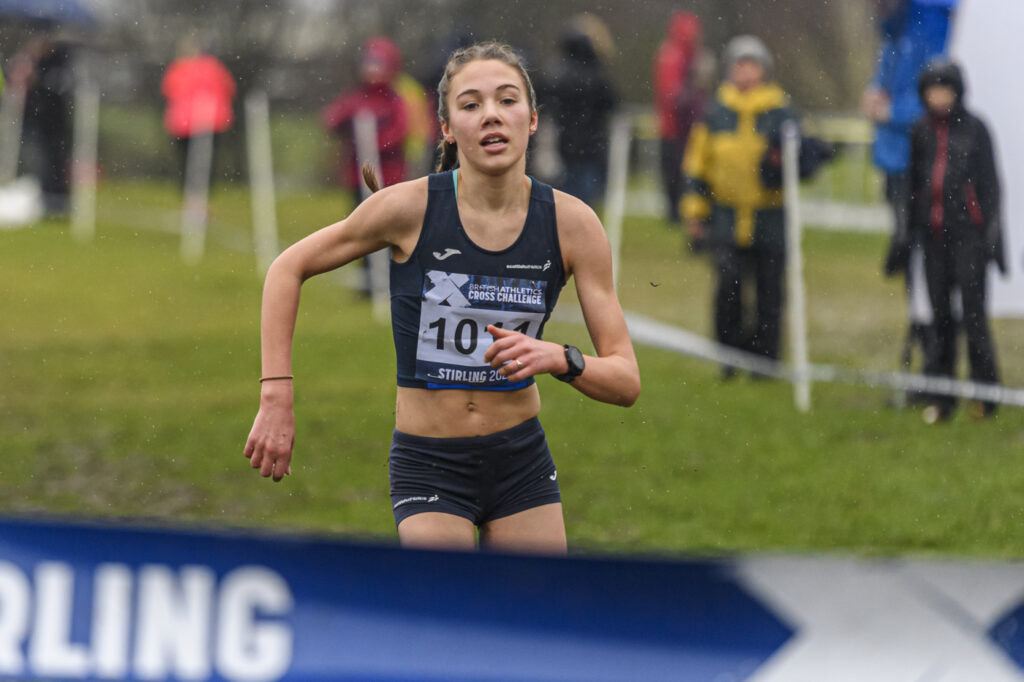 Anna Hedley – the Fife AC athlete was second in the British Cross Challenge overall series for U17 Women
Tags: Anna Hedley, British Cross Challenge, Cera Gemmell, Megan Keith