National heroes! Remarkable 1795 athletes finish races at Falkirk
WATCH: Highlights of all races on our You Tube channel
The Lindsays National XC at Falkirk last weekend has delivered the second highest finisher numbers in 26 years of combined championships for men and women.
A quite remarkable tally of 1795 athletes finished the races at Callendar Park in hugely challenging conditions – both underfoot and overhead.
And while that is down on the 1874 from 12 months ago, we believe this figures to be really excellent given the weather warnings over the weekend.
The Senior Women's race finished 315 athletes (it was a Record 319 last year) while the Senior Men's race saw 675 athletes finish.
While last year was higher, it is interesting to note the growth in the overall finisher number as follows:
2005 – 1007
2010 – 1276
2015 – 1599
Results are now finalised and can be viewed on the Road Running and Cross Country archive. On the tab 'Entries and Finishers' are all the numbers in that regard, too.
+++
BBC Scotland Sport journalist Keir Murray attended the Lindsays National XC for the second year in a row and it has been great to see some coverage across their website and social media channels.
In particular, Keir's short video of the two Senior races captures superbly the atmosphere of a hugely challenging day for athletes, organisers and spectators alike at Falkirk.
If you have not seen the video above already – enjoy!
(Great to see a high number of views building on BBC Scotland Sport Twitter to once again demonstrate the scale and relevance of the Lindsays National XC.
+++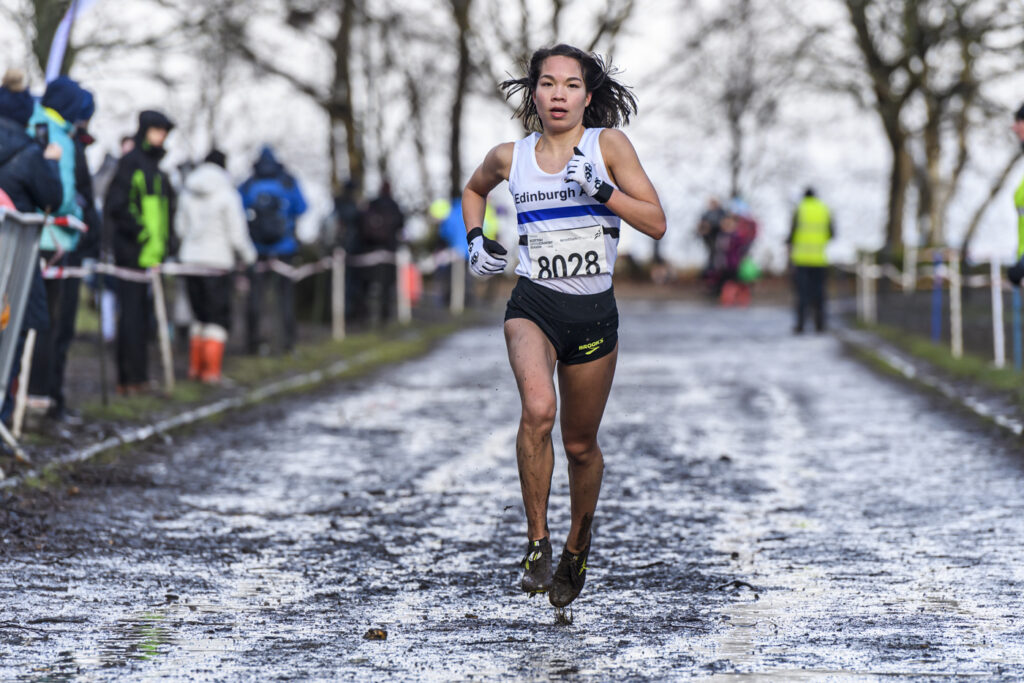 Cade Wright took third to help Edinburgh AC to bronze team medals in the U17 Women's race – and now the club have won the Pat Spence Trophy (photo by Bobby Gavin)
There are two overall trophies awarded each year from the Lindsays National XC for the best performing clubs over all races in the male and females categories.
We're pleased to now confirm the outcome of the scoring in those events with Edinburgh AC taking the Pat Spence Trophy (for females) and Giffnock North AC took the AT Mays Trophy (for males).
In the Pat Spence Trophy, there were three clubs that finished a Senior teams and three others scoring and tallied thus:
Edinburgh AC 12; Giffnock North 13; Fife AC 17
In the AT Mays Trophy, three teams finished five teams scoring and tallied thus:
Giffnock North AC 26; Cambuslang Harriers 40; Dundee Hawkhill Harriers 79
Incidentally, on the Road Running and Cross Country website archive, we are missing some data on the Pat Spence Trophy winners for 1982, 1983, 1984, 1985, 1986 and 1987 and the trophy is not engraved for these years. The SWCCC did not keep records.
Please email Ron Morrison if you have any information on this.
Tags: Callendar Park, Edinburgh AC, Falkirk, Giffnock North AC, Lindsays National XC