Jamie and Eloise picked for World Unis Cross
Photos by Bobby Gavin
BUCS team announcement for World Unis Cross Country
Scottish duo Jamie Crowe and Eloise Walker have been selected for the World University Cross Country Champs.
The event is taking place in Morocco later this year and the Run Stirling XC medallists will be part of the BUCS (British Unis) for the event on Saturday 7 March team following a selection process.
GB international and Edinburgh AC athlete Eloise was placed eighth in the Women's Long Race at the BUCS XC at Holyrood Park last weekend as she represented Glasgow Uni. Eloise is now being coached by Andy Young.
Central AC athlete Jamie, who took a memorably silver in the Home Countries XC at Stirling in January, didn't run the trial but qualified for selection under a one-year eligibility ruling after attending La Mar University in America last year.
There is a Scottish presence on the BUCS team staff for Morocco, too. Derek Easton, who coaches Jamie at Central AC and is heavily involved with Stirling Uni, will help team manage the Women's team. Spencer Duvall is the Team Leader with Helen Clitheroe leading the Men's team.
+++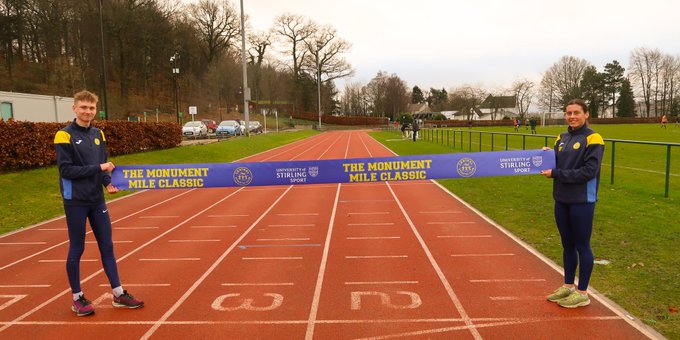 Jamie Crowe took second place to Alastair Hay at the Monument Mile Classic last year only a few hours after stepping off a flight back to Scotland from America.
Now the prize pot for this year's event has been revealed – with money up for grabs if athletes break a certain time standard.
The Stirling Uni track is again the venue on Friday 22 May for the event organised by Central AC.
There will be a £750 bonus pot on offer for those who run sub 4:40 for Women and sub 4:05 for Men. Each athlete who breaks those times will win a share of the overall pot (divided between all who make the times).
This is in addition to a 1-2-3 prize money for £150/£100/£50 for Men and Women. Entries at the moment include the Central AC trio of Andy Butchart, Hay and Crowe as well as Stephen Mackay of Inverness Harriers.
+++
Tags: Andy Young, Central AC, Derek Easton, Edinburgh AC, Eloise Walker, Jamie Crowe, Monument Mile Classic, Stirling