Maria lands World gold in Dubai – and bronze for Sammi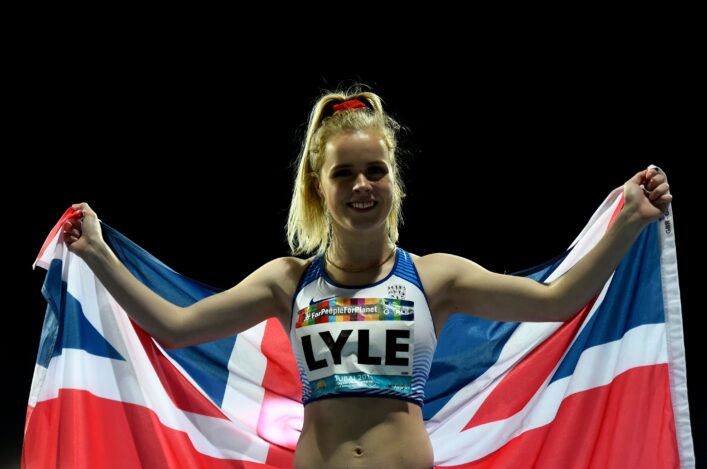 Photo via Channel 4 Paralympics
Maria Lyle claimed the first World title of her career with a superb run in Dubai.
The young Scot clocked 14.62 seconds to win the T35 100m final at the World Para Athletics Championships to land the first global title of her career.
Maria, of course, had a lot of success in her mid-teens but by her own admission had struggled with her mental health for a year or two.
Now she's thrilled to be on top of the world again with a lot of hard work paying off for the athletes from Dunbar who is coached by Jamie Bowie.
'I'm feeling happy, it's been a long time coming!' grinned Maria.
'It's my third world champs so it's very special to finally get that title. I got a good reaction but I stumbled close to the start so at the end or most of the race I was trying to recover from that.
'But to do that time considering the conditions, it fills me with confidence so I'm looking forward to the 200m now.
'It's very special (a world title). It's something I've never had before so to do it here when we've had the team achieving so much is special and it's really important to me.
'I've had it at European level but to have it at world level is something I've never experienced before as an individual so it's a really important time for my athletics career so I'm very happy.'
Sammi Kinghorn had already added to Great Britain and Northern Ireland's medal tally on day two of the World Para Athletics Championships in Dubai with bronze in the women's T53 100m.
Defending champion Kinghorn took bronze in 16.64 following a year she admits has been 'tough' due to undergoing an operation mid-season.
Kinghorn started well in lane five, similarly to the previous night's heats, but the Chinese duo of Fang Gao and Hongzhuan Zhou pushed well to claim gold and silver respectively – Gao setting a Championship record in the process – while Kinghorn claimed the third world medal of her young career.
'I'm so happy with the bronze,' said Sammi, who is coached by Ian Mirfin.
'Obviously, it's tough when you come in as the defending champion but after the year I have had, I am so pleased to make it onto the podium. My family will agree.
'This year has been really tough, so I was honestly thinking I'd be top five but to win a bronze is great. I'll be ready to fight for a higher medal in Tokyo."
On the race, she added: 'I got a much better start than in the heat but I kind of slipped a few times. I sort of panicked. But that's fine – if I came off the track saying everything was perfect, I'd be pretty worried. Even coming away with a world bronze, I know I can do even better.
'It gives me so much confidence for next year because I know I can go a lot faster than that. There's going to be a tough training block ahead, but I'm now focused to be on that podium.'
Tags: Dubai, Maria Lyle, Sammi Kinghorn, World Para Athletics Champs