Olympians Hawkins and Butchart set for #LindsaysXC at Kirkcaldy!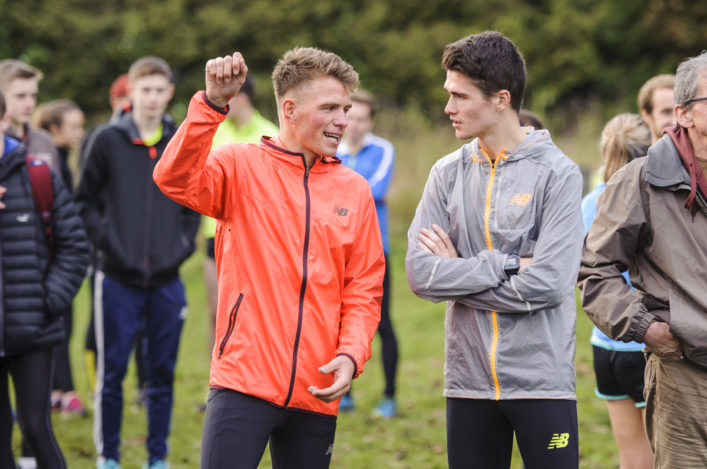 Andy Butchart and Callum Hawkins chat at Cumbernauld in 2016 (photo by Bobby Gavin)
WATCH . . . Video highlights of the Lindsays National XC Relays 
Kirkcaldy is the next venue in the Lindsays Cross Country Season – as we look ahead to an exciting Lindsays Short Course Champs on Saturday 9 November.
Once again we're delighted to confirm a huge entry with a record 1364 athletes having put their names forward for races that day.
And the start-list for the men's 4k race looks like a who's who of Scottish endurance running with Olympians Callum Hawkins and Andy Butchart both making plans to race on November 9.
That's thrilling for all in the sport but there will be half a dozen athletes at list who will also strongly fancy making podium places – including Kris Jones, Jonny Glen, Sol Sweeney, Jamie Crowe, Alastair Hay, Lachlan Oates, Kevin Wood and Ryan Thomson.
Fife AC are our hosts and there are medals up for grabs at U15 and U17 level before the Junior/Senior/Masters races take centre stage.
For the first time, we've more than 300 names on the start list for the Women's race – with a Record entry of 345 names to race 4k. There are around 600 athletes looking forward to the 4k distance in the Men's race.
Start-lists and key information about the venue at Kirkcaldy High School is on our Events section.
Event section page for Kirkcaldy info
Provisonal timings and distances:
12 noon:  U15 Girls 2000m
12.15pm: U15 Boys 2000m
12.30pm: U17 Women 3000m
12.50pm: U17 Men 3000m
13.10pm:  Jun/Sen/Masters Women 4000m
13.40pm: Sen/Jun/Sen/Masters Men 4000m
U20, Senior and Masters athletes will run together in the Jun/Sen/Masters races. Medals will be awarded in U20, Senior and Masters (10 year age bands) categories. Declarations will close 30 minutes before each race.
+++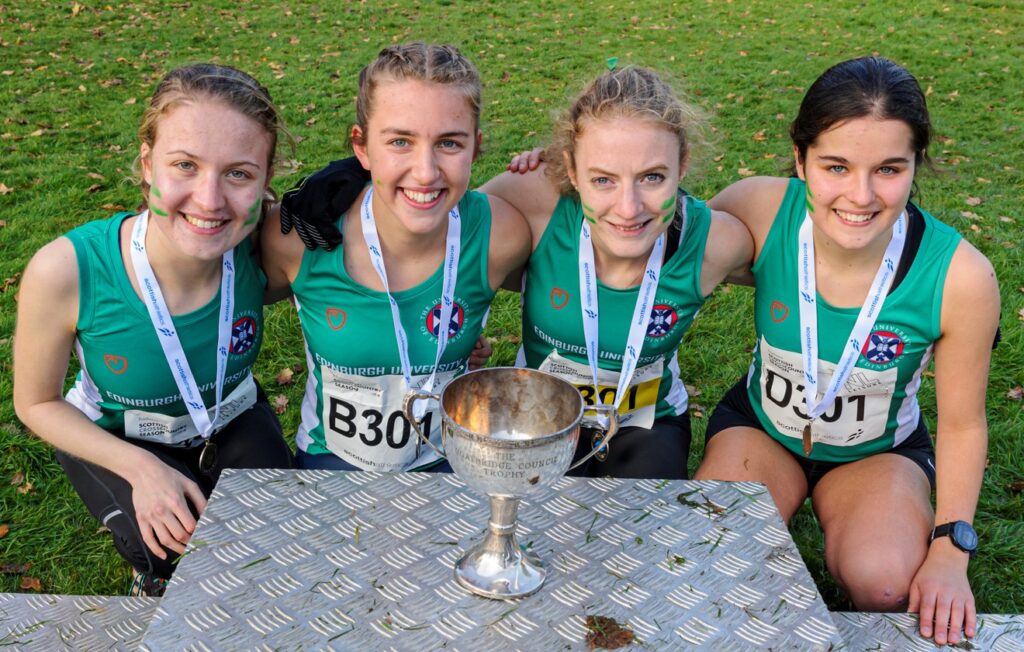 Edinburgh Uni Hare and Hounds lead the Team Challenge table thanks to the efforts of Rebecca Johnson, Constance Nankivel, Eilidh Jaffray and Holly Page (photo by Bobby Gavin)
Kirkcaldy also marks the final round of our Scottish Cross Country Team Challenge – with £250 for the winners of the men's and women's tables.
The Team Challenge sees clubs rewarded for performances in three (Short Course) events each autumn taking in the District XC Relays, the Lindsays National XC Relays and the Lindsays Short Course Champs.
In the men's table, Central AC are leading with 29 points with Kilbarchan AAC and Cambuslang Harriers both on 27 points.
In the women's table, Edinburgh Uni Hare and Hounds are leading with 29 points with Giffnock North AAC and Inverness Harriers both on 27 points.
Tags: Central AC, Edinburgh Uni Hare and Hounds, Kirkcaldy, Lindsays Cross Country Season, Scottish Cross Country Team Challenge