Central AC and Edinburgh Uni deliver once again at Cumbernauld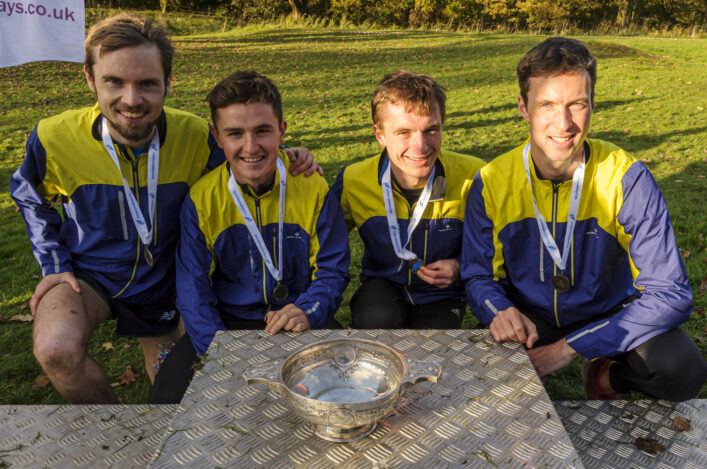 Central AC celebrate at Cumbernauld thanks to a superb team effort from Conan McCaughey, Jamie Crowe, Cameron Milne and Alastair Hay (all photos by Bobby Gavin)
PROVISIONAL RESULTS (please scroll down page on left)
Central AC continue to be an unstoppable force when it comes to the Senior Men's race at the Lindsays National XC Relays.
That much became abundantly clear when the squad guided by the coaching of Derek Easton saw anchor runner Jamie Crowe lead them home ahead of silver medallists Kilbarchan AAC and third-placed Inverclyde AC.
And Edinburgh Uni Hare and Hounds are threatening to deliver similar dominance in the Senior Women's race as the students made it four-in-a-row to win from Edinburgh AC and bronze medallists Giffnock North AC.
So yellow and green were the predominant podium colours at Senior level at Cumbernauld – quite appropriate, really, on a glorious autumn day at the North Lanarkshire venue which has become so popular.
Olympian Callum Hawkins added extra star-dust to an already exciting programme with his first race since that superb fourth place run in the IAAF World Champs marathon in Doha.
The sights and sounds as Callum sought to chase down Alastair Hay on the third leg really was something to behold and summed up the wonderful atmosphere now being generated by our clubs at events in Lindsays Cross Country Season.
Fife AC took the Young Females race to repeat their win of last year and Giffnock North AC won the Young Males race in fine style – completing the déjà vu feel with all four title winners the same as 12 months ago!
Thanks to all who competed and to the families, friends, club-mates, coaches and volunteers who helped contribute to a great spectacle. We are grateful, too, to venue hosts North Lanarkshire Leisure and to Cumbernauld AAC and Kirkintilloch Olympians for course build.
+++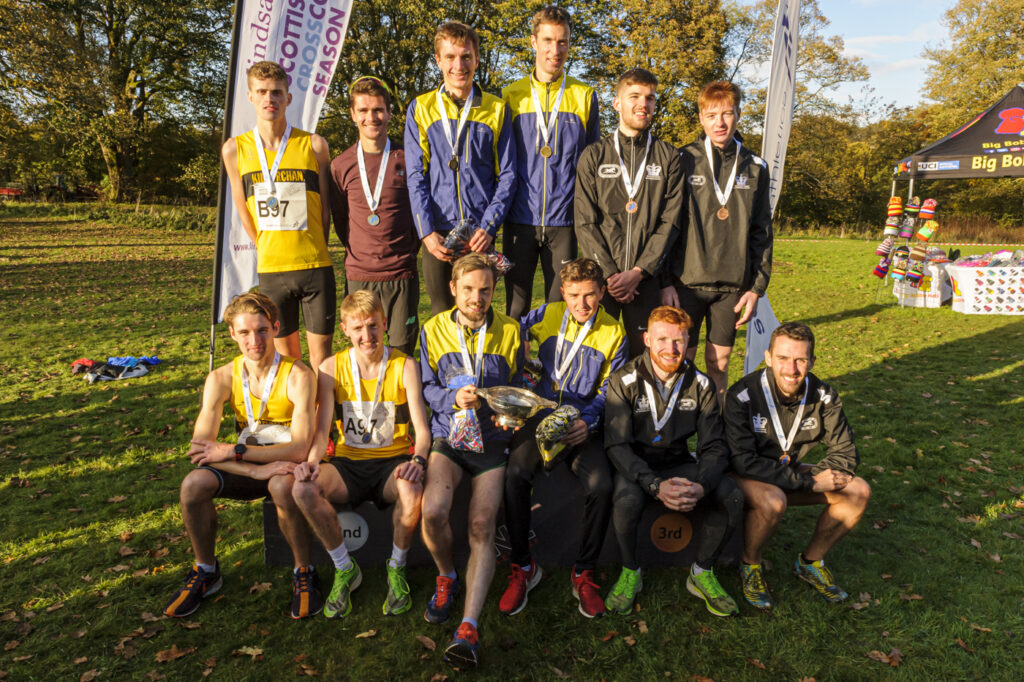 The Senior Men's podium as Central AC took the golds, Kilbarchan AAC the silvers and Inverclyde AC the bronze medals
Opening runner Cameron Milne had Central in second only to Sol Sweeney's strong run for Glasgow Uni before Conan McCaughey maintained that position at halfway. The big move on leg two was Jonny Glen's fastest lap of the day as he lifted Inverclyde AC from 24th to third with a quite remarkable run.
Hay duly did well to only concede five seconds to Hawkins before Crowe made it even more comfortable for the gold medallists with Kilbarchan's Connor Maclean by then having to be aware of Andy Douglas.
'I have been in America for a couple of year so it was great to come back and be on the anchor leg,' said Jamie Crowe.
'We changed the order from the East Relays a couple of weeks ago – with Ali Hay on the third leg this time, up against Callum Hawkins as it happened, and myself on the last leg. Derek Easton always has a plan.
'Seven wins in eight years is quite a record and everyone at the club is very proud of that. It starts from being tough to get in the first team!
'Cameron has come over from Holland and Conan from Ireland so that shows you the level of commitment and the desire to wear that yellow vest.
'The guys gave me a bit of a lead but I went off pretty hard and then worked it from there. We didn't win at the Easts but it is all about National medals and being top of the podium with golds is superb.'
Callum wasn't quite as quick as he would have hoped but, only three weeks on from Doha, he wanted to try and help Kilbarchan AAC. They duly returned to the podium for repeat silver medals from 2018 (when Euan Gillham was in the team).
'I wanted to help the club out and I felt a bit of an obligation – it has been a while since I wore my club vest,' said Callum.
'The team was looking quite good regardless of me running so it was a case of trying to help. I could have been a bit quicker today, though.
'I set off on the first straight before the opening hill and the cold air caught me straight in the chest! It's not what I've been used to and of course I've had a fair bit of down time since Doha.
'The support on the course was fantastic and I loved seeing that because Scottish cross country events are where it all began for me. It's great to see the level the events are reaching and the numbers now involved.'
+++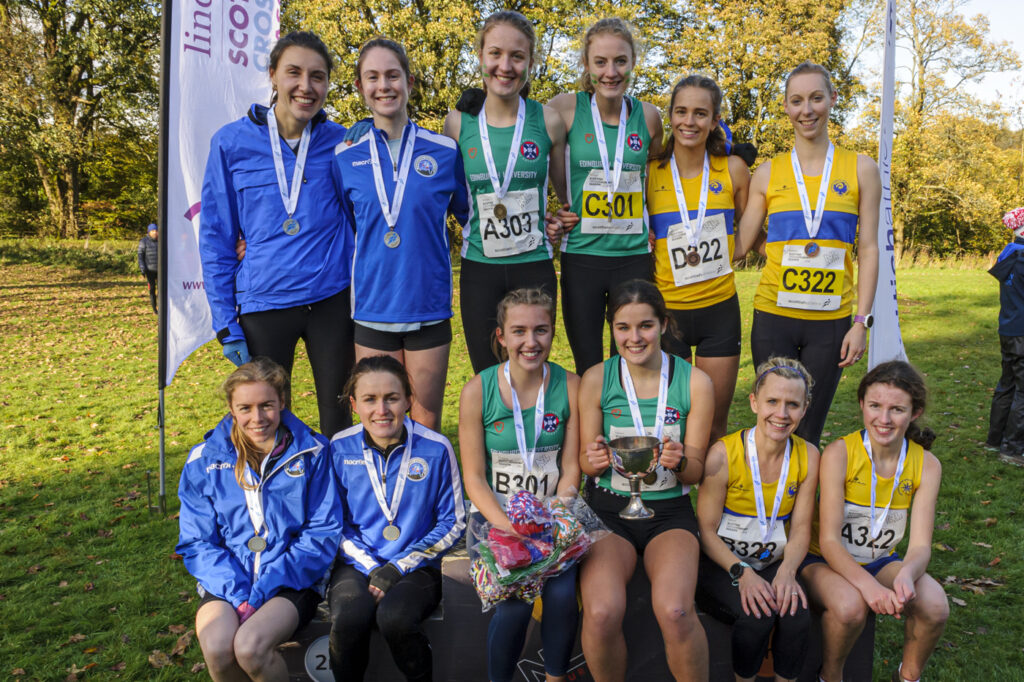 Edinburgh Uni Hare and Hounds celebrate another title win at Cumbernauld with silvers this year for Edinburgh AC and bronzes for Giffnock North AC
Edinburgh Uni were seventh after the opening leg from Rebecca Johnson – with Fife AC's Jenny Selman and Eloise Walker of Glasgow Uni out in front – but Constance Nankivel brought the students into a lead they never relinquished via third leg runner Eilidh Jaffray and Holly Page.
Anchor runner Page is a GB Junior international in the steeplechase, who was ninth at the Euro U20s during the summer.
'I helped Edinburgh Uni win here last year in my first year in Scotland and it's great to repeat that success,' said Holly, who was sixth in the English National XC in 2018.
'It's different names again but we've put in a strong team effort. I didn't do Relays in England because my club was too small so I really enjoy this and I'm planning to race the Lindsays National XC at Falkirk this year.'
Edinburgh AC took third and Erin Wallace on the last leg helped Giffnock North to a coveted podium place.
+++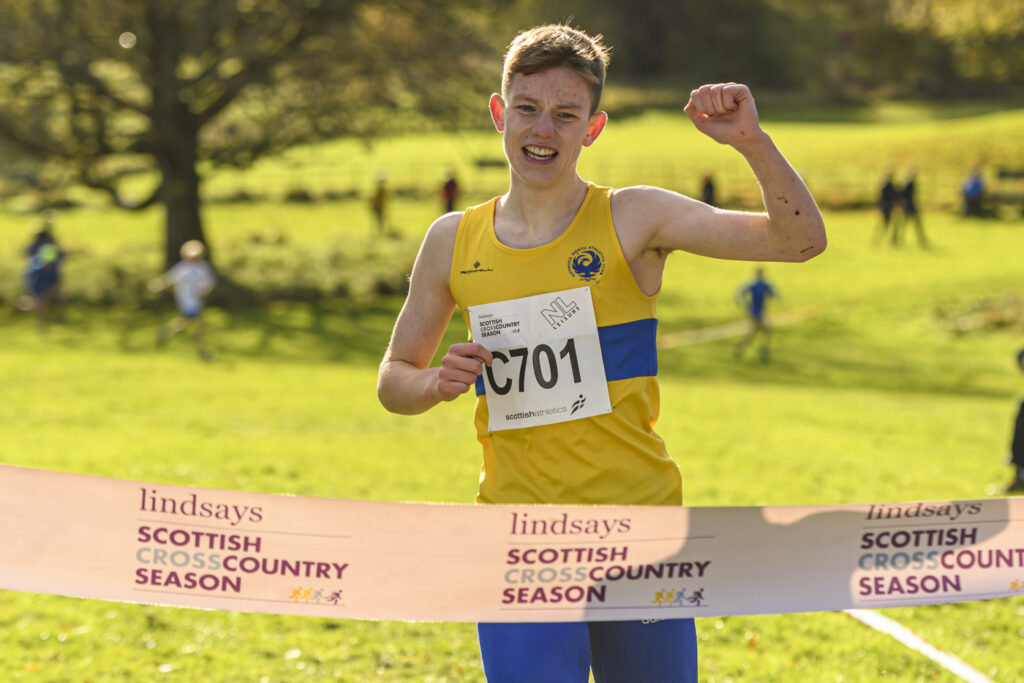 Harris Paterson brings home the Young Males race for Giffnock North
Long before those medals were awarded, Giffnock had enjoyed a good day. The Glasgow outfit won the Young Males race with the efforts of Greg Shennan, Reuben McDonald and Harris Paterson proving decisive. Fife AC took the silvers and Central AC landed the bronzes.
'We'd four teams in the top seven so it has been a fantastic day for the full squad,' said Giffnock coach Croy Thomson, after three-in-a-row in the Young Males race.
'These boys are working really hard and the 1-2-3 on the podium at the West Relays suggested we would be strong here again.
'They are pushing each other on – I think that is the secret and with those nine boys having made the podium at Kilmarnock then we have to work really hard on the team selections. We do try and study a lot of results and performances to pick the teams.'
Fife AC are blessed with some fine young talent at the moment – boys and girls – and that was clear in the Young Females race.
Last year, the golds were won for the first time and this year the trio of Katie Sandilands, Isla Thoms and Anna Hedley delivered a successful defence to top the podium once again. There were silvers for Giffnock North AC and bronze medals for Edinburgh AC.
Like 2018, National Academy athlete Anna Hedley brought it home for Fife Ac with the fastest lap of the day at a speedy 9.10 for the 2.5k loop.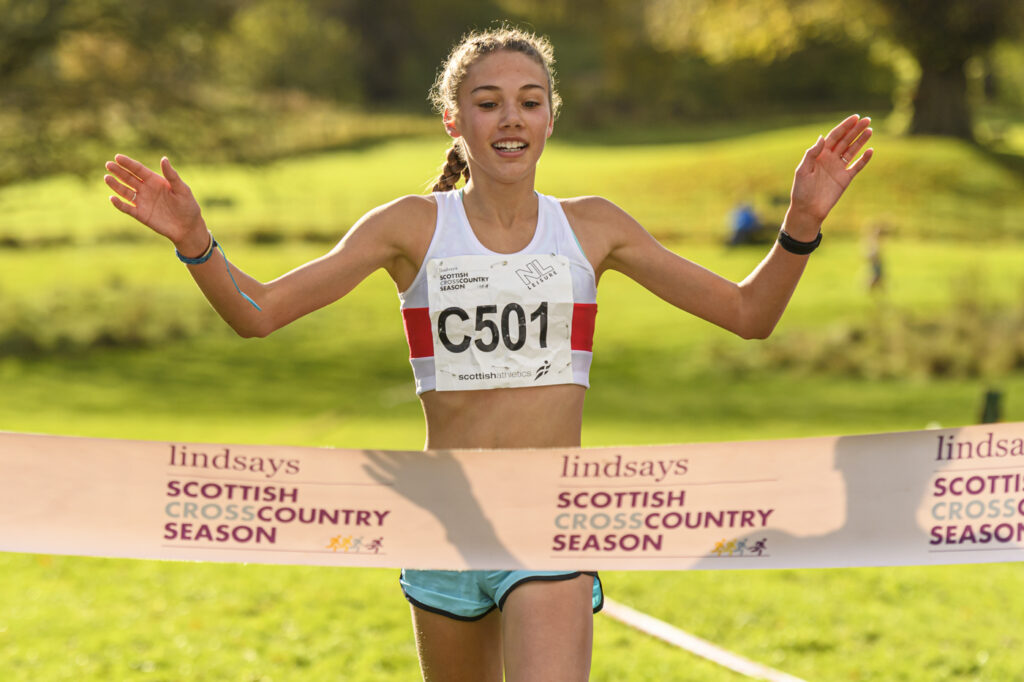 Anna Hedley leads home Fife AC for the second year in a row to win the Young Females race
+++
In the Men's Masters race, there were gold medals for the Corstorphine AAC team of Malcolm Lang, Moray Anderson, Tom Ferrington and Ross Milne. Cambuslang took the silvers and the bronzes went to Edinburgh AC.
Perth Road Runners are our M50 champions after the efforts of David Knight, Stuart Robertson and Duncan Ryan. Cambuslang again took the silvers and Cumbernauld AAC were third.
In the Women's Master race, there were gold medals for the Bellahouston Road Runners team of Anne Robin, Louise Rosss and Jane McNeilly. Kilbarchan AAC took the silvers and the bronzes went to Fife AC.
Edinburgh AC are our W50 champions thanks to the efforts of Sue Ridley, Sharyn Ramage and Jill Morrow. Central AC took the silvers and Fife AC were third.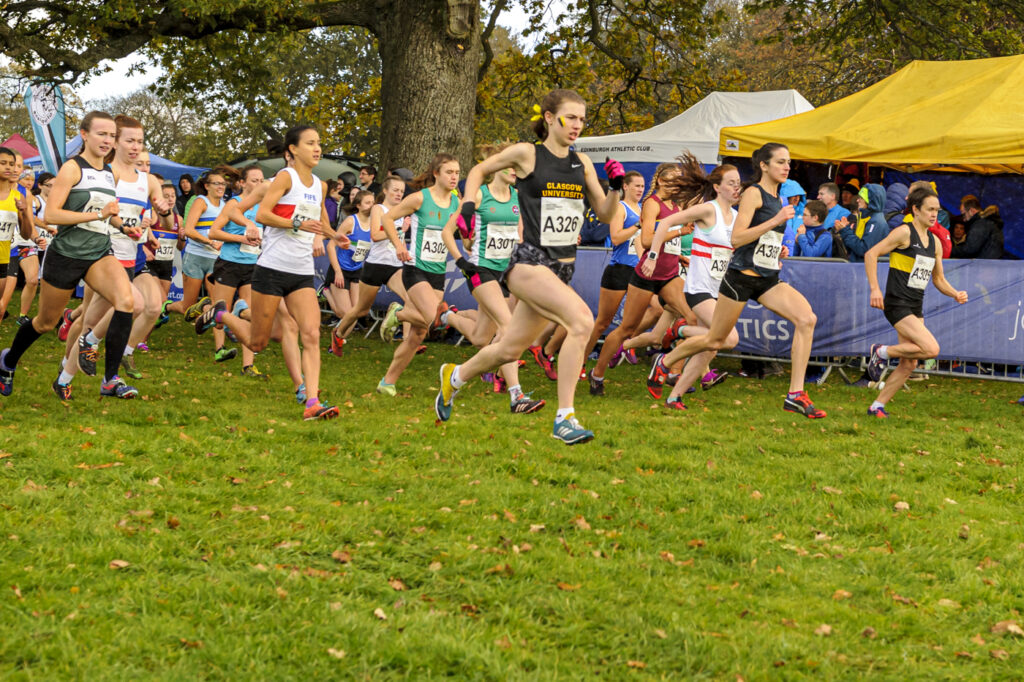 Start of the Senior Women's race
Tags: Central AC, Cumbernauld, Edinburgh Uni Hare and Hounds, Fife AC, Giffnock North AC, Lindsays National XC Relays