Robbie ultra debut; British hill relays; Trofeo Vanoni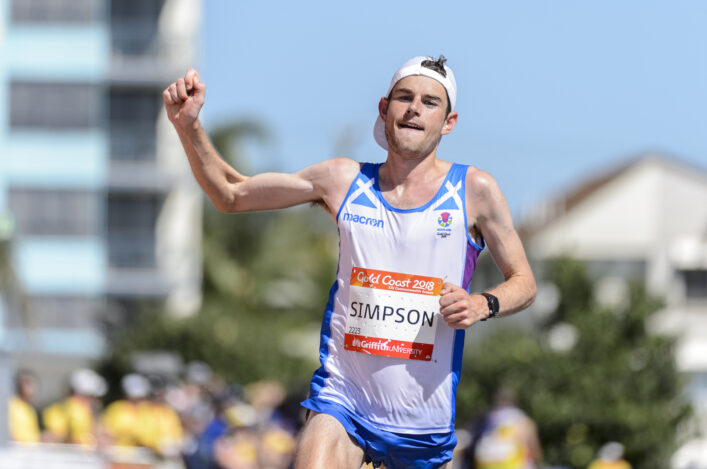 Robbie Simpson celebrates bronze at the Commonwealth Games (photo by Bobby Gavin)
Step into the unknown – Herald article
Robbie Simpson made his name as a hill runner of some repute. Then, when he dipped into road running and marathons, he came up with a bronze medal at Gold Coast 2018.
Now the Banchory-based Scot has decided the time is right for his first ultra run – as he prepares to take on the Grand Trail de Templiers event in the south of France this weekend.
It features just under 50 miles of racing which includes 3000m of ascent through towns, forests and up and down hills and while Simpson is no stranger to such testing terrain, he admits he does not know quite what to expect when he takes to the start line at 5:45am on Sunday.
'I'd been thinking for quite a while of doing something like this but I really don't know what to expect,' Robbie told the Herald of his first ultra race.
'I'm not too nervous – there's nothing to lose for me. I've got no great expectations – it'd be nice to run well but it's mainly just about having a new experience. I'm treating it like a holiday with a long run in the middle. It's an adventure.'
+++
British Hill and Fell Relays Saturday 19 October
This weekend 1500 runners (250 teams) will be competing at the British Fell and Hill Running Relays at Fairholmes in Derbyshire – with a number of Scottish clubs in action.
The format consists of a team of six runners covering four legs (two individual legs, one paired leg on a marked route and one paired leg on a navigational route).
The Peak District will be rough going and very boggy after the wet Autumn. The event starts with a mass start and positions change throughout the relay, the key leg is the navigational leg, where many lead teams have gone astray in previous events, failing to find the checkpoint quickly or taking a slower route.
There's good representation from Scottish dlubs, with Carnethy HRC, Edinburgh University Hare and Hounds, Hunters Bog Trotters, Shettleston Harriers and Westerlands CC heading down.
Last year, the HBT men's team finished in third place and will be hoping for another podium finish. HBT women have won the event in recent years. Shettleston's V40 team also have a good chance.
Other Scottish runners, such as Jacob and Scout Adkin will be racing for their English clubs teams.
Good luck to all teams heading south.
+++
Trofeo Vanoni – Sunday 27 October
Four Scots will head to Morbegno, Italy, the following weekend for the 62nd Trofeo Vanoni International Mountain Relay.
Gavin Bryson (Highland Hill Runners), Hamish Wolfe (Carnethy HRC) and Ross Gollan (Shettleston) are racing in the three-man relay which covers three laps of a 7km course climbing approximately 500m.
Scout Adkin (Ambleside AC) will be racing as an individual in the women's race over the same course as the men. The women's event follows the relay format every third year.
We wish the athletes good luck.
With thanks to Angela Mudge
Tags: British Hill and Fell Relays, France, hill running, Robbie Simpson, Trofeo Vanoni