Babcock 10k Series; Eilish 10-Miler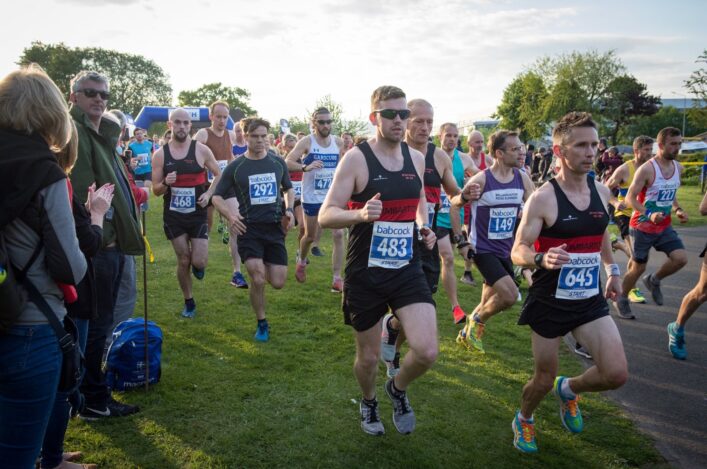 Action from the West District 10k Champs at Dumbarton earlier this year (photo by Daren Borzynski)
Babcock has confirmed its sponsorship of the Babcock 10k Series for a fourth great year, having taken over from the original sponsors Polaroid in 2017.
The race series in the west of Scotland has grown steadily from around 1,500 runners in 2017 to 1,800 runners last year and 2,100 runners this year.
Dates and venues for 2020 are:
*Babcock Helensburgh 10k, Thursday 7 May, 7.30pm
*Babcock Dumbarton 10k, Thursday 14 May, 7.30pm
*Babcock Shettleston 10k, Sunday 31 May, 10.00am
Times have also improved at the front, with sub-30 minute times for the men in both Helensurgh and Dumbarton this year and the women having pushed their record to 34:00 exactly.
Shettleston's Weynay Ghebresilassie ran what was one of the fastest times in Scotland in May, in Helensburgh, with a new record in 29:32. Inverclyde AC's Adam Craig was a shade over 30 mins in second place with 30:03.
Fionnuala Ross picked up two victories with records both in Dumbarton, 34:00 and Shettleston 34:12, her home club. Fife AC's Annabel Simpson took the honours in Helensburgh in a new course record of 34:49.
+++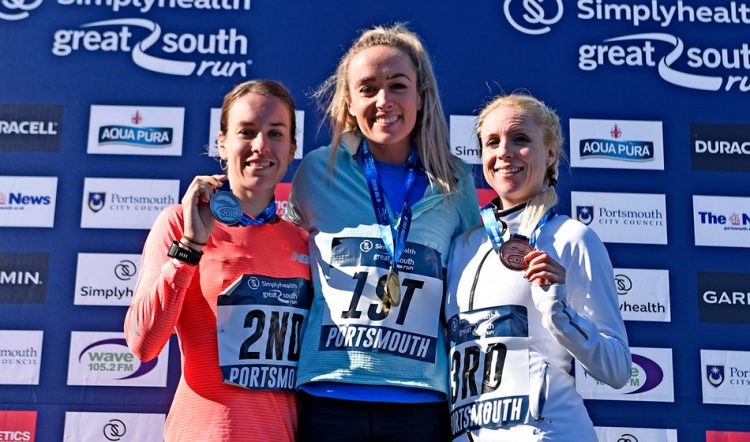 Eilish won the Great South Run last year with Steph Twell second and Gemma Steel in third
Eilish McColgan will defend her Simplyhealth Great South Run title as the world's leading 10-mile race celebrates its 30th anniversary on Sunday.
The Scottish athlete turned her focus towards the Portsmouth race days after the IAAF World Championships in Doha, where she broke the Scottish record over 5,000m with 14:46. to take 10th place.
McColgan stayed in the Qatar capital to prepare for the Great South Run, under the tutelage of mum Liz McColgan, herself a two-time winner of the race in the 1990s.
Victory on Sunday would see Eilish match the achievement of her mum in only her second-ever 10-mile race.
'I'm excited to be racing back in Portsmouth for the Simplyhealth Great South Run and it will be interesting to see what's in the legs after a long season on the track,' said Eilish.
'Last year it was great to try out a new distance and even better to get the win. With the race marking its 30th year it would make it extra special to go out there and match my mum's record of winning twice – let's see what happens.'
+++
Tags: Babcock 10K Series, Dumbarton, Eilish McColgan, Great South Run, Helensburgh, Portsmouth, Shettleston Babcock 10k