District XC Relays deliver thrills at three venues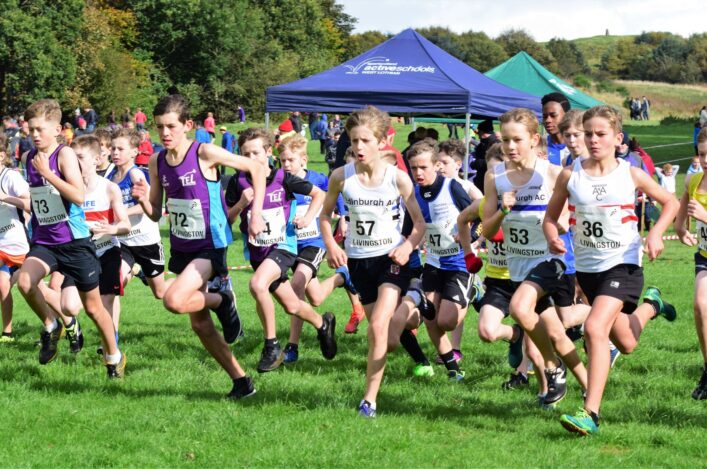 Photo by Neil Renton
East District XC Relays Results
Edinburgh Uni Hare and Hounds Senior Men announced themselves as serious contenders for medals at Cumbernauld in the Lindsays National XC Relays with a fine victory at Livingston.
The East District XC Relays have been the preserve of Central AC men over many recent years but this time they had to settle for silver with gold for the students over the course at Deans Community High School and once again hosted by Lothian RC.
In fact, it was a Record-breaking day in Livingston with the 53 finished teams in the Women's event and 72 finished teams in the Men's event both record numbers for the East District XC Relays.
Edinburgh Uni's winning quartet featured Elisha Da Mello, Alex Carcas, Max Milarvie and Jack Leitch. Fife AC took the bronze medals. The fastest laps were from Jamie Crowe (Central AC) in 12.12 and Tristan Rees (Fife AC) in 12.35.
Fife AC had won the Senior Women's race in fine style thanks to the efforts of Jenny Selman, Laura Gibson and Annabel Simpson with Edinburgh Uni this time forced into second place. There were bronze medals this year for Lasswade AC.
The fastest laps were from Annabel Simpson in 14.15 and Jenny Selman in 14.40. Corstorphine AAC took the Men's Masters gold medals while the Women's Masters race was won by Hunters Bog Trotters.
In the junior races, Fife AC's excellent day continued with a win in the Junior Females race. Aberdeen AAC went home with the silver medals and Edinburgh AC landed the bronzes.
Edinburgh AC took the victory in the Junior Males race as they headed a field which featured silvers for Aberdeen AAC and bronzes for Team East Lothian.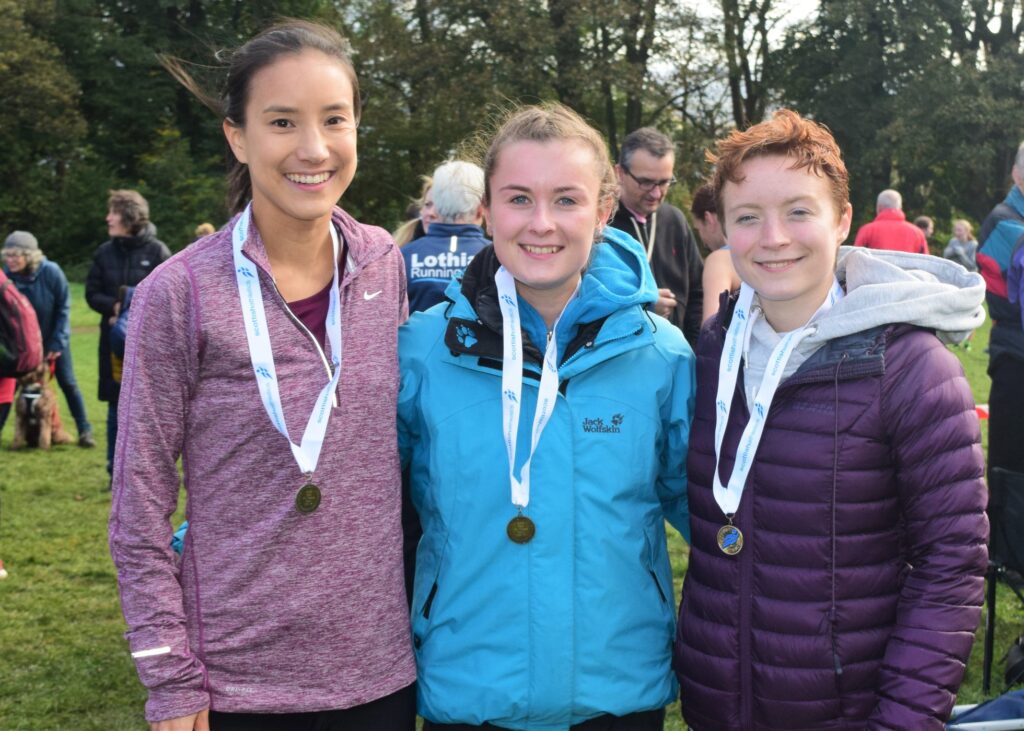 Fife AC Senior Women celebrate their win thanks to the efforts of Jenny Selman, Laura Gibson and Annabel Simpson (photo by Neil Renton)
+++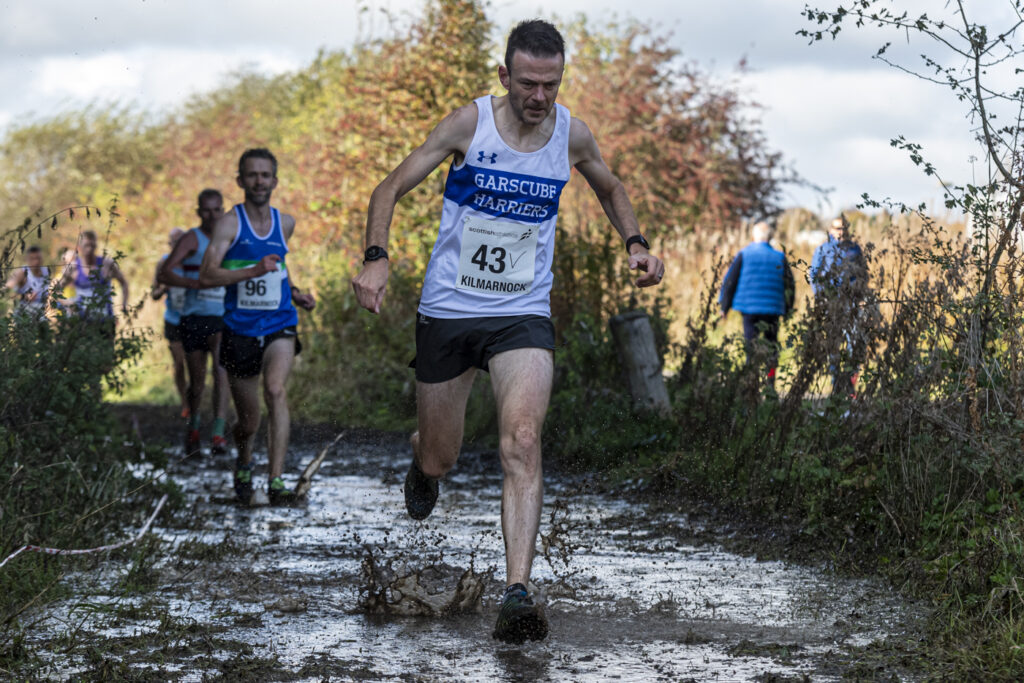 Photo by Bobby Gavin
West District CC Relay Champs 2019 Results Summary PROVISIONAL
Whether it was the 1:59 marathon project on television, the music and commentary at the course, or the surprise sunshine, the West District XC Relays played out in a superb atmosphere at Kilmarnock.
Shettleston Harriers women and Cambuslang Harriers men took the main races on a day when Giffnock North proved their dominance in the younger age groups.
Once again, too, Kilmarnock Harriers demonstrated their ability to deliver a terrific event through strong planning and unstinting hard work from an army of volunteers.
Yellow was the dominant colour on the podium after the Young Females race. Glasgow School of Sport took the golds with Giffnock landing the silvers medals and Kilbarchan AAC the bronzes.
There was a monopoly on the Young Males podium, too, and this time all the colours belonged to one club.
The trio of Craig Shennan, Reuben MacDonald and Harris Paterson led Giffnock to the title and they were followed by six of their team-mates for a remarkable 1-2-3. It was no fluke, of course, with the Glasgow club actually filling five of the top seven places.
Giffnock returned to the podium to take silvers in the Women's race that was won by Shettleston Harriers and their team of Avril Mason, Ruth Joss and Kayleigh Jarrett. VP-Glasgow took the bronze medals with Kerry MacAngus of Kilbarchan and Michelle Sandison running fastest.
Cambuslang Harriers trailed Shettleston initially but turned that around to pull clear and win golds with Kilbarchan in third. Cambuslang were well-served by Stuart Gibson, Kevan Harvey, Fraser Stewart and Ryan Thomson.
Cambuslang also won the Men's Masters and Garscube took golds in the Women's Masters.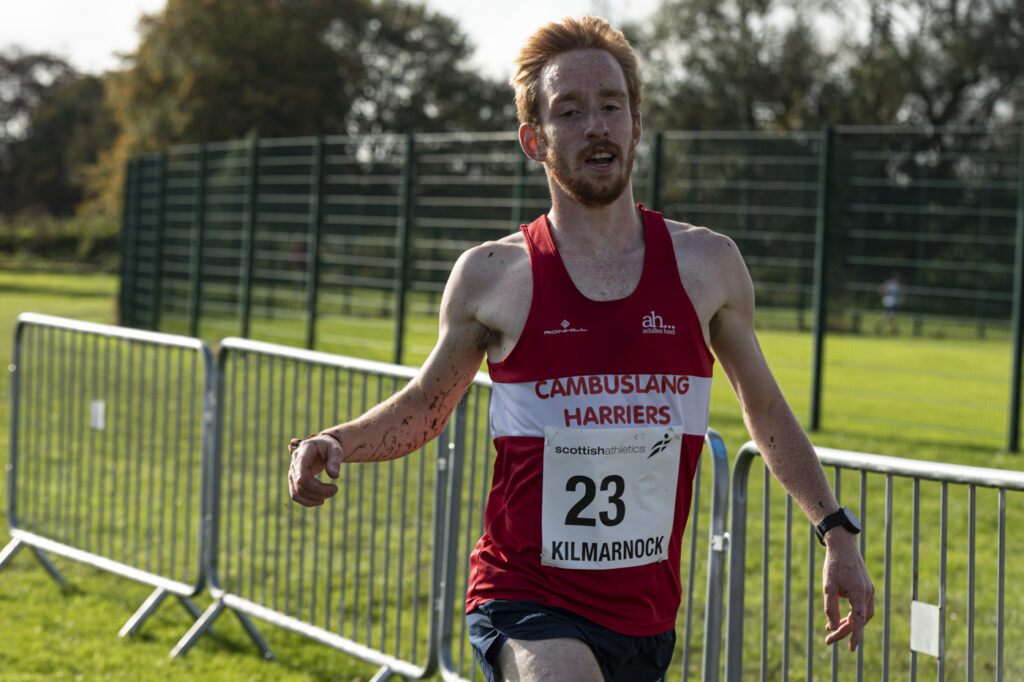 Ryan Thomson leads Cambuslang Harriers home for the Senior men's golds at Kilmarnock (photo by Bobby Gavin)
+++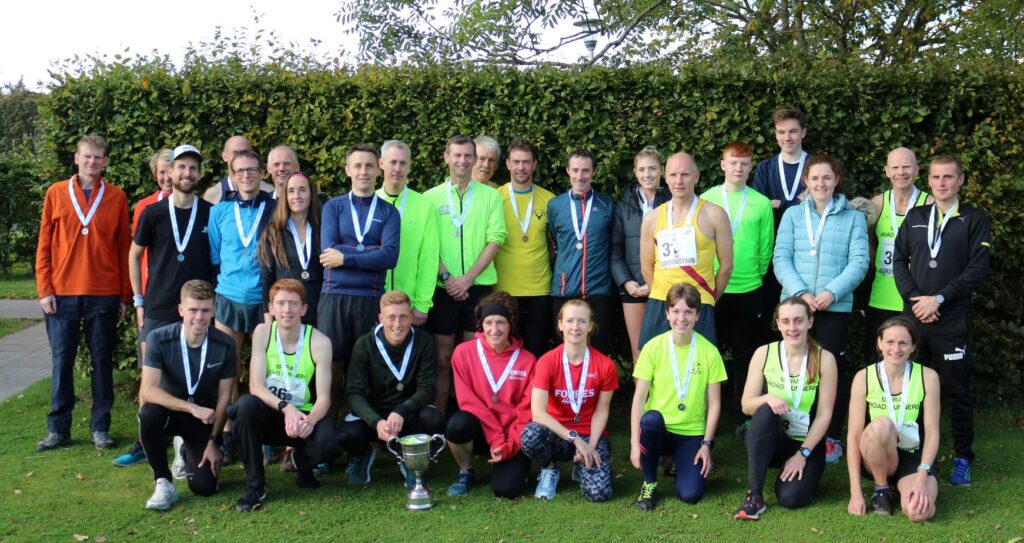 North District XC Relay medallists (photo via the North CC and RR Facebook page)
NORTH DISTRICT XC RELAYS 2019 – RESULTS (provisional)
Scotland international Kenny Wilson, with the fastest time of 12:12, played a decisive role as Moray Road Runners lifted their first men's title in 13 years at the North cross country relay championships at Gordonstoun.
Veteran Gareth Jenkins (13:30) had Moray third after the opening leg before Wilson swept his team into the lead. Wilson's brother James (13:13) and Ewen Davidson (12:59) then extended Moray's lead over Highland Hill Runners who just pipped holders Inverness for second place.
Moray also took the top two places in the men's Masters category.  The next fastest times came from Rob Sinclair of  Highland Hill Runners in 12:52 and John Newsom of Inverness (12:55).
Inverness led the women's contest from start to finish when Gemma Cormack (14:48), Emily Andrew (15:00) and hill running internationalist Caroline Marwick (15:05) produced the three fastest times to retain their title.
The Highland Hill Runners veteran trio of Karen Lyons, Diana MacDonald and Catriona Morrison also finished second overall.
Inverness also retained both Young Athletes titles. Michael Miller, Jake Henderson and Angus Smith, who had the fastest time in the race of 7:44, topped the podium.
Meanwhile Inverness had a 1-2 in the girls' event with golds going to Katie Meek, Grace MacDonald and Anna Cairns who had the fastest time of 8:27.
Junior Girls: 1 Inverness Harriers, 2 Inverness Harriers, 3 Moray Road Runners.
Junior Boys: 1 Inverness Harriers, 2 Ross County, 3 Gordonstoun.
Senior Ladies: 1 Inverness Harriers, 2 Highland Hill Runners, 3 Moray Road Runners. Masters: 1 Highland Hill Runners, 2 Forres Harriers, 3 Peterhead.
Senior Men: 1 Moray Road Runners, 2 Highland Hill Runners, 3 Inverness Harriers. Masters: 1 Moray Road Runners, 2 Highland Hill Runners, 3 Inverness Harriers.
With thanks to Charles Bannerman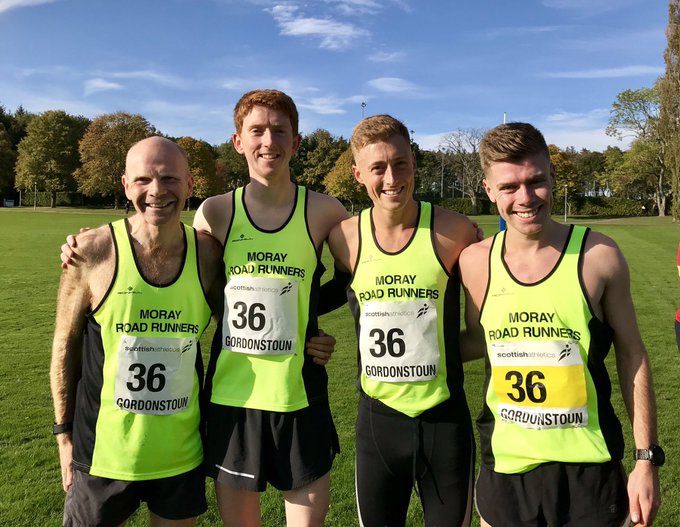 Photo via Twitter – Moray Road Runners celebrate their Men's golds
+++
Tags: East District XC Relays, Gordonstoun, Kilmarnock, Livingston, North District XC Relays, West District XC Relays