Fantastic! Five Scots set for track finals in Doha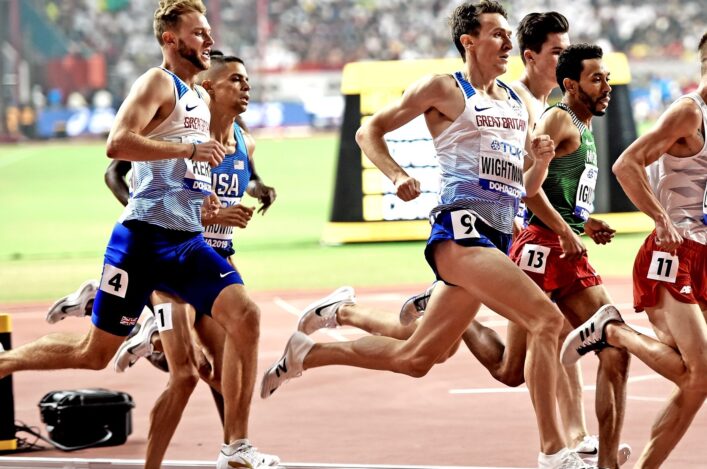 Picture by Mark Shearman in Doha
Five Scottish athletes are preparing for track finals at the IAAF World Champs this weekend.
Laura Muir and Eilish McColgan will compete on Saturday evening in the 1500m and 5000m showdowns in the Women's events.
Come Sunday evening, it will be the turn of the Tartan Trio – Neil Gourley, Josh Kerr and Jake Wightman – to contest the Men's 1500m final. It is the first time GB and NI has had three men in a 1500m final and 25 percent of the field will be Scottish!
And we're not forgetting Callum Hawkins coming up in the Men's Marathon and Zoey Clark set to feature in the Women's 4x400m.
Neil was third in the opening semi-final with a superbly controlled run and Josh followed him in with fourth place in the second race. Jake was just behind his Edinburgh AC team-mate in seventh place and his 3.36.85 time was quick enough for one of the additional two slots.
It really was special to watch for anyone with an interest in athletics in Scotland.
Congratulations to all three athletes and their families and coaches and the clubs who played a big part in their early development – Giffnock North and Edinburgh AC.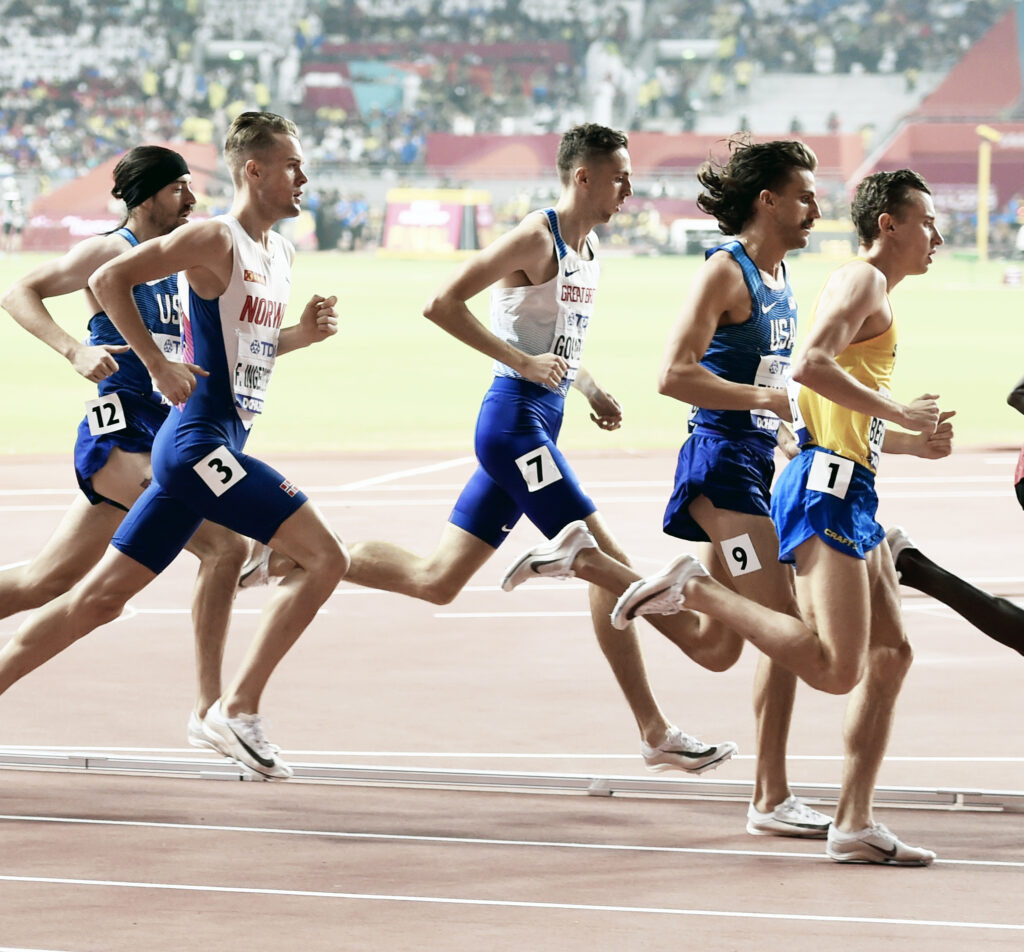 Photo from Mark Shearman in Doha
Here's what they said:
Neil Gourley (Giffnock North; Mark Rowland)
SF 1 of 2: 3rd in 3:36.69 Q
'I was trying to stay inside as much as possible and conserve energy and stay patient because inevitably there are gaps in the last 200m you just need to make sure you can take advantage of them – you don't get a second look and  I was able to steal one in the last straight.
'It's going to be tough but I felt good tonight, I felt better than last night, its just a case of recovery now. Recovery is a battle and I feel like I beat some people just by recovering better for today so I need to do that again come Sunday.
'A medal is the goal, it's going to be tough but I'd be selling myself short if I wasn't trying to do that.'
Josh Kerr (Edinburgh; Danny Mackey)
SF 2 of 2: 4th 3:36.58 Q
'I felt really strong. I had to trust my kick really well and I was able to do that pretty well. I got pushed in the back at points but my coach and I spoke about keeping a cool head and wherever I am at I know I can kick hard.
'It wasn't a super fast race but it was fast enough where people would have had to two hard runs in two days. I know how strong I am right now from working on my 5k earlier in the season and after British Champs.
'I feel like I had another gear there if I needed to be so when I looked around and no one was gaining I had a little smile to myself.'
Jake Wightman (Edinburgh; Geoff Wightman)
SF 2 of 2: 7th in 3:36.85 q
'I made a mistake that I should have been punished for but I just got away with it. I need to just chill out in rounds, I was just a bit too fixated in making that final an thought I could get into it a bit easier than it turned out being.
'It doesn't matter what size 'q' ,big or little, its just the point of getting that there and everyone's on a level playing field now for the final.'
With thanks to British Athletics in Doha
+++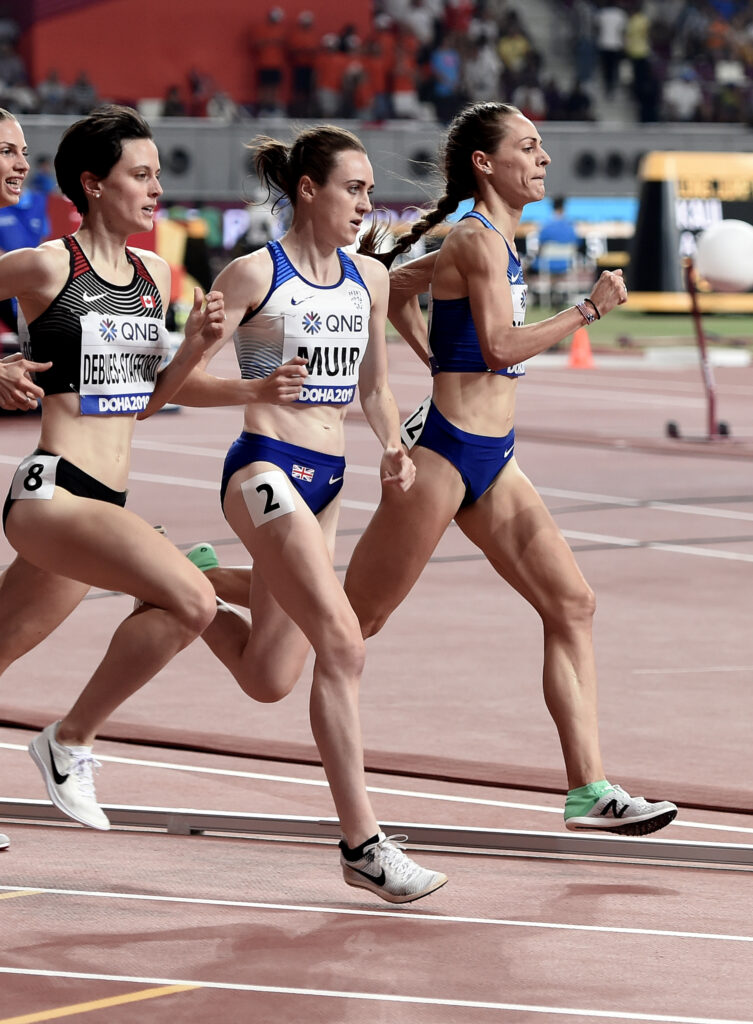 Laura Muir will line up in the Women's 1500m final on Saturday night.
Two races in 24 hours proved more than manageable for the Scot as she followed up qualification in the heats with a very solid run in the second of two semi-finals on Thursday night.
It was by far the quicker of the races and Laura took third place in 4.01.05 to go through automatically to a final that will be contested by 12 women.
'It went really well and I felt really good,' said Laura after the semi-final.
'I knew I was going to stay out the way for the first half of the race, and make sure I was in position for the second half. I did that and I conserved as much energy as I could. I just wanted to get an automatic qualifying spot and I'm really happy.
'I've got 48 hours now before the final – that's loads of time for me to recover. I'm used to doing hard sessions back to back. In terms of recovery in terms of the final I'm really positive.'

Tags: Callum Hawkins, Doha, Eilish McColgan, IAAF World Championships, Jake Wightman, Josh Kerr, Laura Muir, Neil Gourley, Zoey Clark