Eilidh helps 4J Academy athletes; Masters Hill medals; Berlin marathon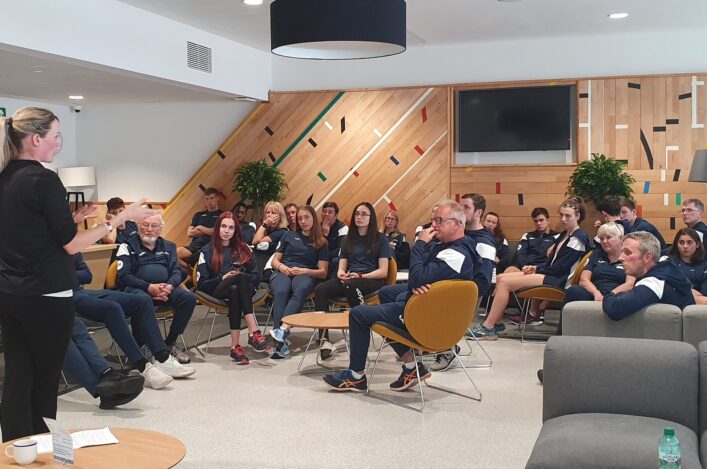 Eilidh chats with athletes and coaches at Largs (photo via Twitter)
The 4J Studios National Athletics Academy
The latest gathering of our 4J Studios National Athletics Academy took place over the weekend at the sportscotland centre at Largs.
Supporting input from the Scottish Institute of Sport, double Olympian and multiple medallist, Eilidh Doyle, was among those to give up her time to help in the education process of some of our best young athletes and their coaches and parents.
Eilidh took time during the afternoon session to chat about the transition period from promising U20 athlete to successful Senior and how to cope with changes including moving away from home, different coaching set-ups and training environments and so on.
Later, in the evening, the Academy were joined by journalist Euan Robertson who worked with Eilidh to demonstrate some media interview techniques and discuss best practice as well as offering advice on social media content.
It was all part of the on-going programme for the Academy athletes, which is supported by sponsorship from 4J Studios, and this will continue over the coming months.
The weekend sessions were well-received and there are plans for another 4J Studios National Athletics Academy gathering in the spring.
+++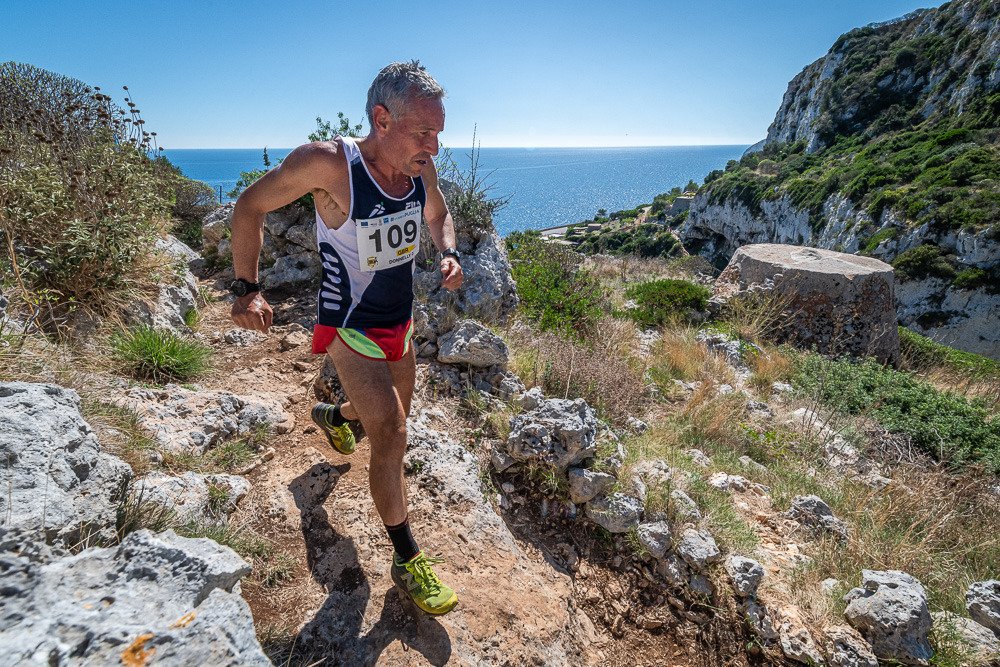 Colin Donnelly racing in Italy (photo via Twitter)
He's no stranger to success on the hills over many decades, and Colin Donnelly has picked up another World Masters title.
The Cambuslang Harriers athletes won the V60 title in Italy at the weekend with a typically strong performance.
There was further Scottish success with fourth place at V45 for Andrew Wright of PH Racing. And another PH Racing athlete, Iain Taylor, was part of the GB team who won silver in the V50 category.
(Thanks to Angela Mudge; and apologies if other medallists inadvertently missed).
+++
There were a number of Scots racing at the Berlin Marathon in Germany.
Scotland international, Metro Aberdeen's Fiona Brian, moved to second in the Scottish rankings for 2019 with a (chip time) run of 2.42.51.
Other times we have are gun times with Shettleston's Fionnuala Ross at 2.47.49 as well as two men under 2.30 as Will Mackay of Aberdeen AAC clocked 2.27.30 and John Brogan of Falkirk Vics was at 2.29.33.  Garscube Harriers athlete Kevin Liddle recorded 2.31.45.
In the wheelchair race, Sean Frame was 14th in 1.41.10 and he leads the Scottish rankings.
+++
Tags: 4J Studios National Athletics Academy, Cambuslang Harriers, Eilidh Doyle, Fiona Brian, Fionnuala Ross, PH Racing