Callum and Steph in fine form ahead of Doha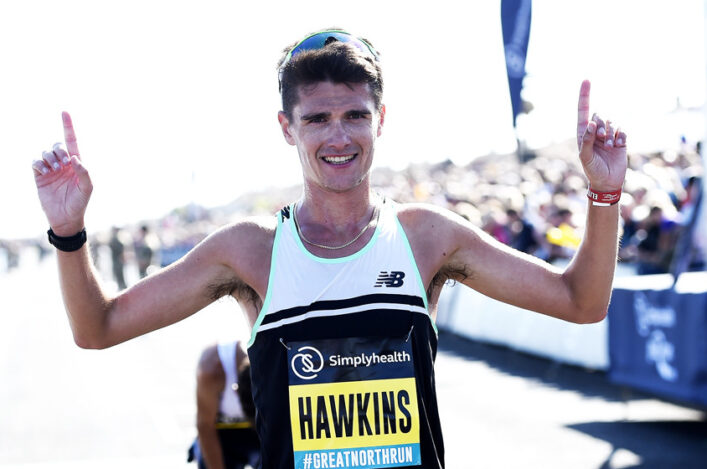 Photo by Mark Shearman
Callum Hawkins will head for the World Champs in Doha in a couple of weeks full of confidence after a strong performance at the Great North Run.
Callum came home in fourth place as Mo Farah won the event for the sixth time with the Scot's 60.39 time less than 40 seconds outside his PB for the distance.
It was a good day for the Hawkins family as  also posted an excellent time in 14th place – with his 64.13 run his best for a half for three years and second in the Scottish rankings for 2019.
Completing a trio of Kilbarchan AAC performances, Steph Twell 'warmed up' for her 10,000m track assignment in Doha with a half marathon PB of 70.52 to finish in tenth place.
That's a run that elevates Steph to third on the Scottish all-time list in terms of half marathon times (setting aside any issue over 'downhill' courses etc).
Scottish wheelchair racer, Sean Frame, took sixth in the wheelchair race with a big PB of 48.37.
In characteristic fashion, Callum ran boldly in the early stages and went with the early pace but found things too hot when Ethiopian Tamirat Tola began to surge at around the halfway mark.
However, the Scottish runner, who is targeting the marathon at the IAAF World Championships in Doha, kept his composure and ran a strong final few kilometres to run within 39 seconds of his PB.
'It's my fastest half-marathon during marathon training and I don't think you can really compare it to my half-marathon PB,' said Hawkins, who was pleased with his effort.
'It has been quite a heavy training period with two full sessions last week and then 130 miles or so the week prior to that. So I have to be pretty happy with the time when, previously when I ran 60 dead in Japan, I was fully focused on the half itself.'
+++
Chris O'Hare was just edged out of the win in the New York Fifth Avenue mile as he finished in the same time as Nick Willis.
Tags: Callum Hawkins, Chris O'Hare, Derek Hawkins, Great North Run, Sean Frame, Steph Twell