Scottish 10k Champs review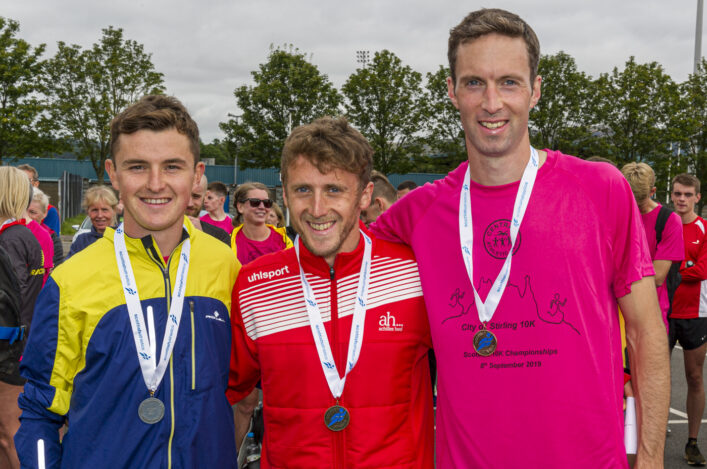 The men's 1-2-3 in the Scottish Champs podium with Grant Sheldon flanked by Central AC duo Jamie Crowe (left) and bronze medallist Alastair Hay (photos by Bobby Gavin)
*Report on gun times (chip times available within Results); Stirling 10k prizes organised by Central AC may be different from SAL Champs.
Birchfield Harrier Omar Ahmed broke the Stirling 10k course record with 28.53 in fine conditions at the Scottish Championship on Sunday – as Fionnuala Ross claimed her fifth successive Scottish title at her favourite race.
Grant Sheldon was another familiar name on the podium with the Cambuslang Harriers athletes and Commonwealth Games triathlete repeating his 2017 Scottish title win in second place behind clear winner Ahmed.
Edinburgh AC took the Women's team golds and host club Central AC, as is often the case, took home the Men's team golds with fine performances from Jamie Crowe, Alastair Hay and Conan McCaughey.
It was once again a terrific event with a huge thank you due to race organiser Colin Sinclair, a big team of Central AC volunteers and other helpers as well as the Road Running and Cross Country Commission.
Conditions were as near perfect as possible on a September morning in central Scotland – early mist clearing with pretty much no wind and the temperature just right for running.
Photos on Facebook by Bobby Gavin
Like Ross, McCaughey was representing Northern Ireland on a day when an Inter-Area element with visitors from down south and across the Irish Sea gave the race a keener competitive edge at the top end.
Ahmed put himself in the vanguard for that within the opening 200m. A sprint start broke up any potential pack with Sheldon and Crowe the only two athletes to initially match that pace.
'I've run 29.17 before today so it was great to get under 29 for the first time and the conditions were perfect for it,' said Omar, who represented the English Midlands and was eighth in the English National XC earlier this year.
'We travelled up to Stirling the night before to prepare. I enjoyed and when I'm feeling good I do like to start fast. As we went through 3k I think we dropped the third athlete (Crowe) and a further kilometre or so and I was on my own.'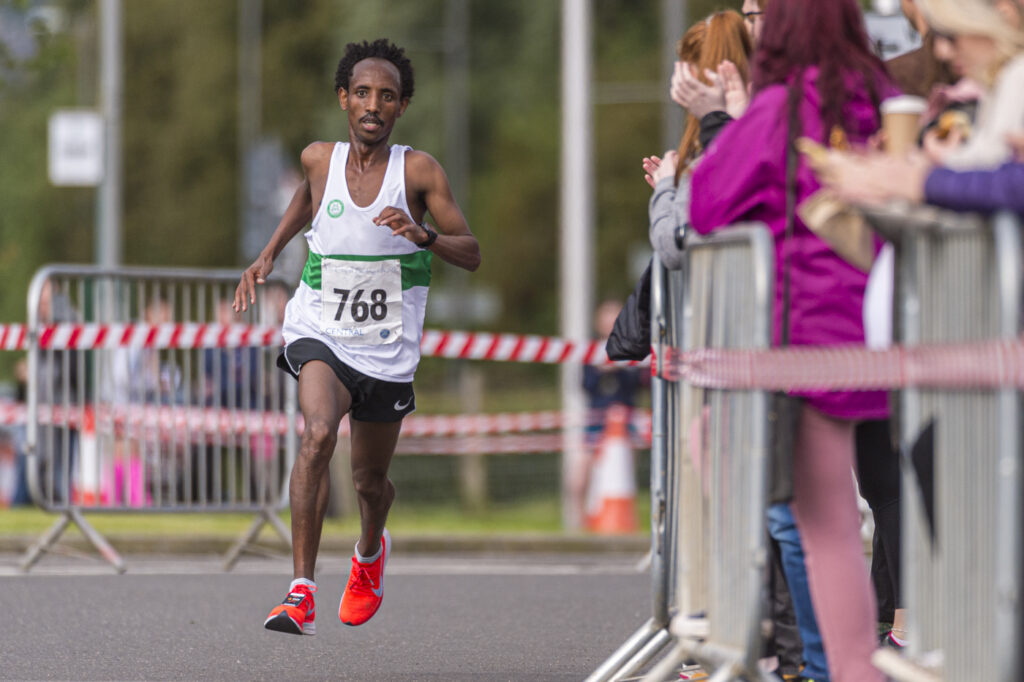 Omar Ahmed on his way to a Stirling 10k Course Record
Sheldon ultimately followed Ahmed home in 29.27 for the Scottish gold as Crowe, in 29.47 took the silver medal and Hay (fifth in the race) the bronze medal in 30.11.
Ross for her part was pretty close to a PB as she won overall in 33.38 with Jenny Bannerman of Inverness landing the silver in 35.08 and Annabel Simpson of Fife AC the bronze in 35.13.
In terms of the Inter-Area team race, the first three eligible athletes over the line counted for Scotland. The Men's team took gold and the Scotland women were third – as Ross led home Northern Ireland.
'I do love this race and this Stirling course,' smiled Fionnuala.
'Today the conditions were perfect. There was no wind at all – sometimes here it can hold you up – and the field was strong so you always felt a good run was likely.
'I'm pleased to run for Northern Ireland. In fact, I've the Berlin marathon coming up and with an eye on that I was thinking of missing out Stirling for the first time since I cam eover here (six years ago)
'But when the international chance came up then I decided to do it as I won't have too many chances to run for Northern Ireland in Scotland. I'm glad I did.'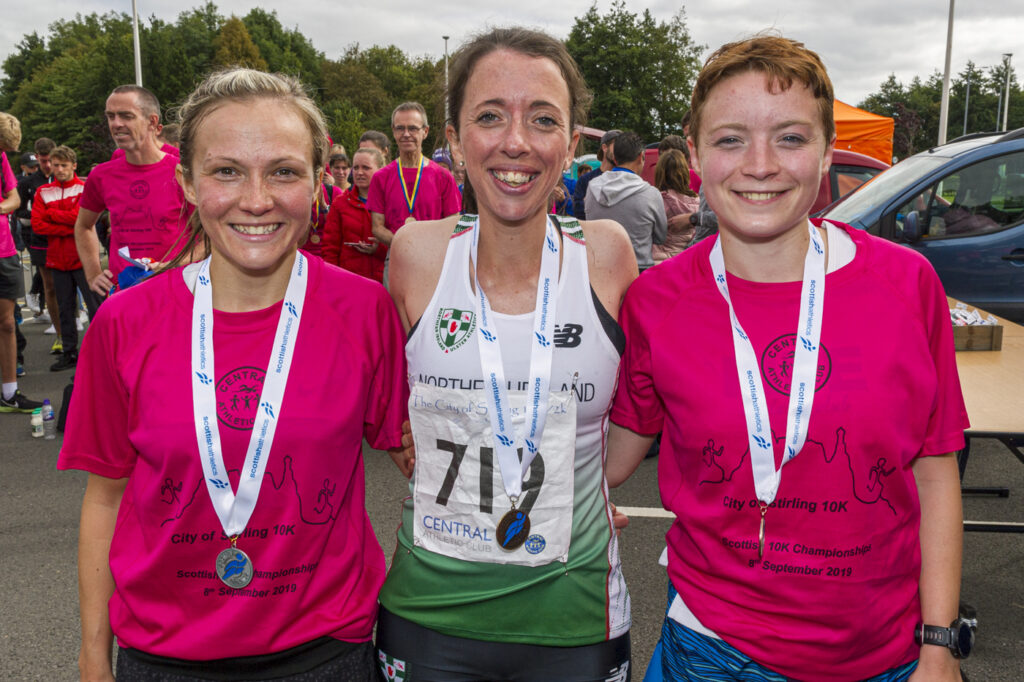 The Scottish Champs 1-2-3 medallists with winner Fionnuala Ross flanked by silver medallist Jenny Bannerman (left) and Annabel Simpson
Representing Scotland women, therefore, were Bannerman, Simpson, Lauren Wilson and Jennifer Wetton.
Representing Scotland men were Sheldon, Crowe, Hay and Cameron Strachan.
'I'm pleased to win the Scottish title again and do so with a PB – the first time I've run under 30 minutes,' said Grant.
'It was a really quick start for Omar and within 200m I had a decision to make as to whether to try and go with that very fast pace.
'I had been thinking I would sit in for the first three or four k and then push on from there. But we were well away and the race was blown apart. The gaps are big enough that you virtually know how it will finish in terms of positions – unless something very dramatic happens.
'He got away after about 4k or so and then it was just a case of trying to get that quick time. I do like this course but the uphill around 8k is a tough one at the stage of the race'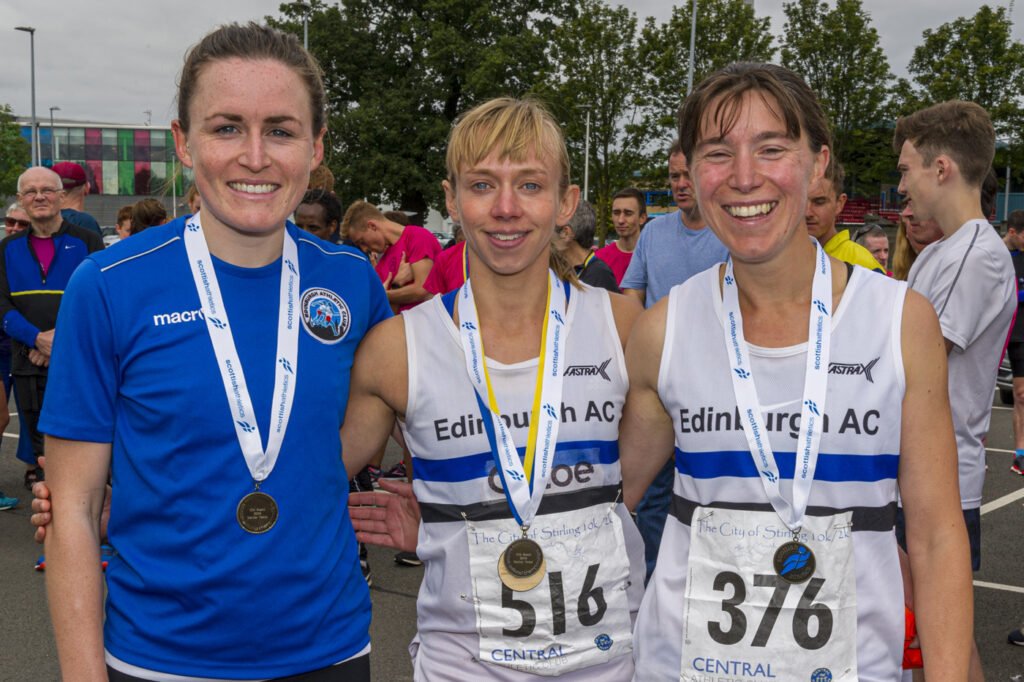 Edinburgh AC women took golds in the team race
'I didn't manage a PB overall but I am still pretty pleased with a silver medal in the Scottish Champs,' said Central AC's Crowe, who is now working part-time with Harmeny AC.
'I was just off the back of the front two after 3k and going through that in just shy of 8 minutes 15 is a 3000m PB for me! I knew then that I would be blowing up a bit later on and you have to just keep working as hard as you can.
'Adding the visiting teams was another element and it has made it a bit quicker at the front end – we've seen people benefit from that in their times.'
Para athlete Derek Rae of Fife AC was among those to land a PB – by a big margin as he clocked 31.15 in a fine performance.
There were Scottish Masters titles wins for Scott Brember of Central with 31.50 and Jacqueline Rainger of Edinburgh AC in 38.52.
At V50 there were golds for Ana Richardson of West End Road Runners and Stuart Robertson of Perth Road Runners.
At V60 there were golds for Nanette Heaney of Fife AC and Michael Hurst (unattached).
At V70 there was a gold for Elizabeth Gilchrist of Ferranti.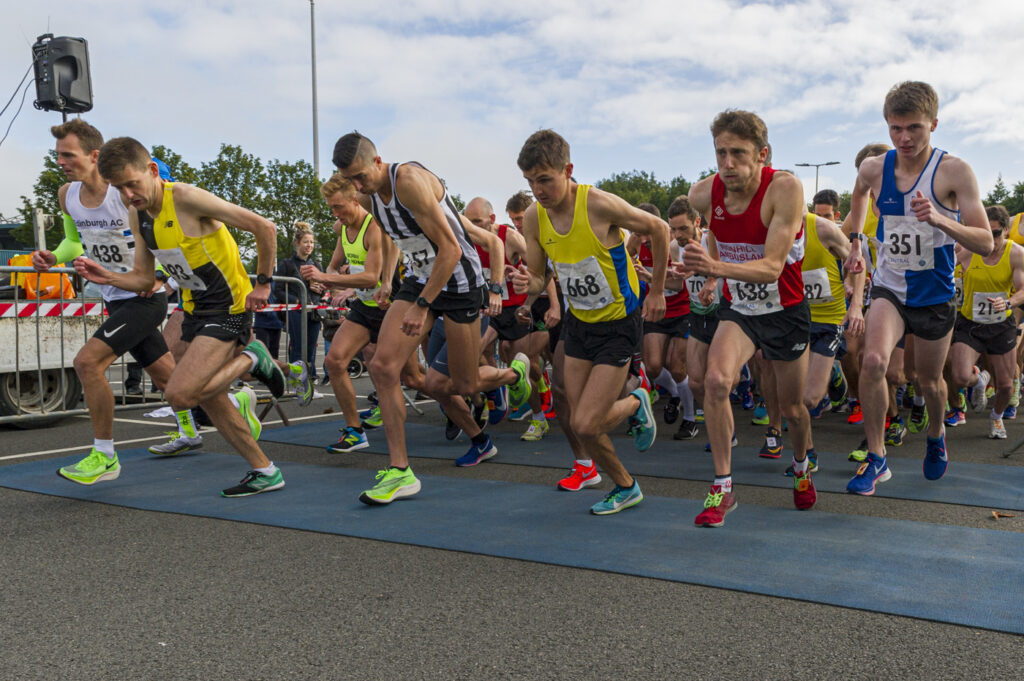 Tags: Central AC, Edinburgh AC, Fionnuala Ross, Grant Sheldon, Omar Ahmed, Scottish 10K Champs, Stirling