Scottish Trail Champs; Masters 10,000 Champs; Scots at UTMB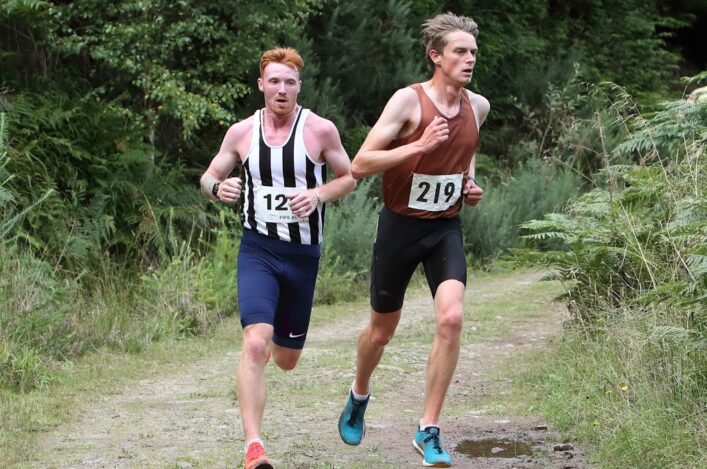 Jonny Glen and Tom Martyn in action at the Scottish Trail Champs (photo by Pete Bracegirdle)
Results of Scottish Trail Champs on RR and CC Archive (click on 2019)
Jonny Glen's teenage years in Scotland feature a number of cross country successes and GB international recognition, including competing at the World Cross.
Now returned from America, the Inverclyde AC athlete served notice of his intention to make an impact this coming season with victory in the Scottish Trail Champs at Falkland.
The event organised by Fife AC had captured imagination among clubs this year with a remarkable 360 entries received to ensure record fields.
Central AC's Fanni Gyurko took the Women's gold in 37.10 as she ensured no repeat win for defending champion, Lasswade AC's Lauren Dickson, who had to settle for silver this time around. Gyurko won by a margin of 34 seconds with her club-mate, Catriona Buchanan, in third place.
Glen's win was narrower, with six seconds the gap between the winner and silver medallist, Tom Martyn, of Hunters Bog Trotters. Cambuslang athlete Alasdair Campbell completed the podium.
With James Waldie in sixth, HBT were to prove easy winner of the men's team golds with Ewan Crawford and Richard Parkis their other counters. Cambuslang took the silvers with the bronze medals for host club Fife AC.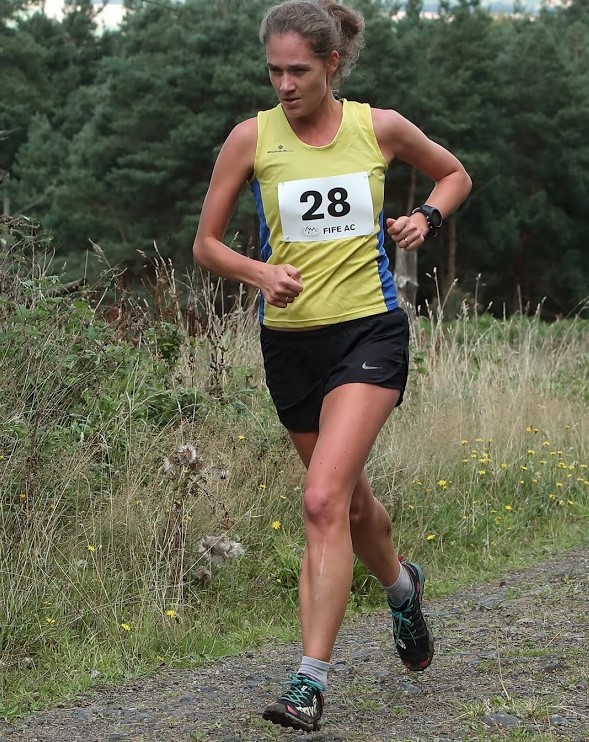 Fanni Gyurko of Central AC on her way to gold (photo by Pete Bracegirdle)
Edinburgh AC won the women's race thanks to the efforts of Hazel Maccormick, Rebecca Frake, Elaine Eadie and Susan Ridley. Only three points adrift were silver medallists Fife AC. PH Racing Club took home the bronze medals.
The age group races were keenly contested, with the U13 and U11 events regarded as development races.
At U17, there were national titles for Miriam Gilbride of Giffnock North AC and Harry Henriksen of Lasswade. There were U17 Women's team golds for Garscube and U17 Men's team golds for PH Racing Club.
At U15, there were national titles for Anna Cairns of Inverness Harriers and Struan Bennet of Fife AC. There were U15 Boys golds for Harmeny AC and U15 Girls team golds for Cambuslang Harriers.
Big thank you to Fife AC as hosts once again for this event and to volunteers, competitors and supporters.
+++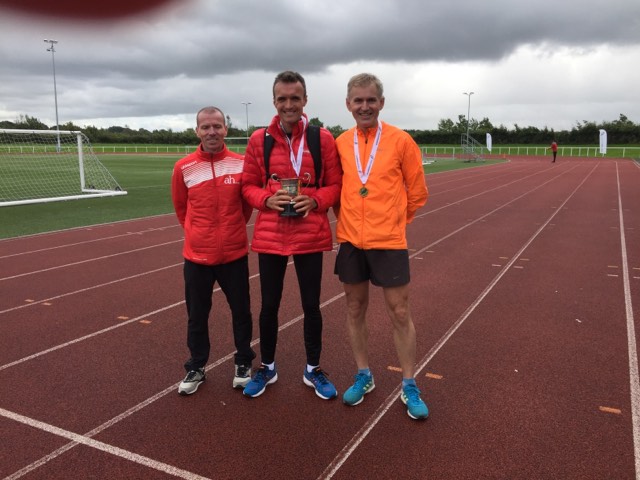 Cambuslang Harriers gold medallists Stevie Wylie, Stuart Gibson and Chris Upson
Results on our Event section page (please scroll on left to bottom of page)
Carluke hosted the Scottish Masters 10,000m Champs on Saturday.
And, despite the damp conditions, there were some strong performances with medals on offer in five-year age bands from V35.
Alastair Walker of Teviotdale Harrers came up with a new V60 Scottish best performance for the 10,000m – with his run of 34.54 breaking a mark of 35.19 set by Bill Stoddart back in 1992.
Cambuslang Harriers had a trip of gold medallists with Stuart Gibson taking the V35 title in 32.00 as the overall race winner on the day. Stevie Wylie won the V45 in 34.21 and Chris Upson took the V55 title in 37.41.
Thanks to all involved at Carluke to the Officials who made the event happen.
+++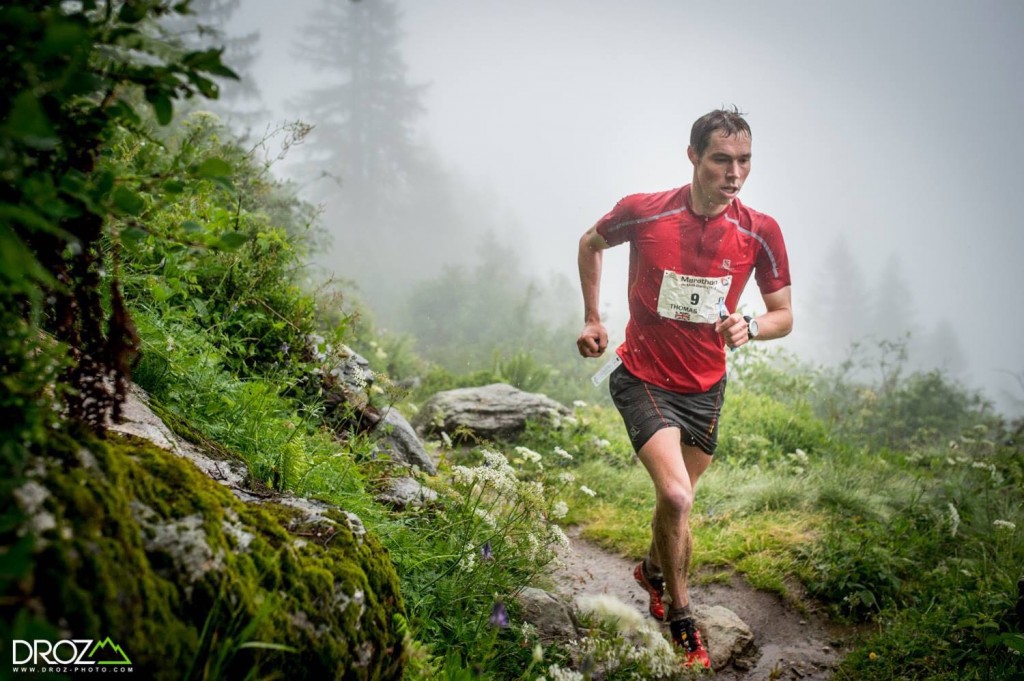 Full results of all UTMB races 
Scottish and GB hill and trail international Tom Owens  (pictured above) had one of the best runs of his career when claiming fourth place at the Classic Tour de Mont Blanc at the weekend.
The annual, week long, trail and mountain festival based in Chamonix, attracts several thousand runners from around the world and culminates in the 170km (106 mile) circuit of Mont Blanc, with 10,000m of climb for good measure.
The Shettleston Harrier had started 2019 barely able to run after an ankle operation but gave a fine performance in his first 100-miler. Paul Giblin was 24th and Kyle Greig 116th. In the Women's 100K race, there was a fine 13th place for Inverurie's Dubai-based Meryl Cooper.
Tom said: 'Wow that was quite an adventure. It was so long!! I had a fall around 90km so my knees were mega sore for all the descents, which made it really tough. I was still able to climb well though. Delighted to finish so high up in such a quality field in my first 100 miler.'
Meryl said: 'I am currently a couple of months into a year's work sabbatical to train full-time to see how I can progress, and I am delighted with the result here and the progress I am making.'
The longest event of the week is the wonderfully named Petit Trotte de Leon which encompasses 300km (190 miles ) with a massive 25,000metres of ascent.
It is run in teams and Carnethy's Spine Race winner Jasmin Paris along with husband Konrad Rawling and good friend Jim Mann finished fifth overall and first mixed team in 103 hours 39 minutes 18secs, almost 4 and a half days.
With thanks to Adrian Stott
+++
Tags: Alastair Walker, Cambuslang Harriers, Edinburgh AC, Falkland, Fanni Gyurko, Fife AC, Hunters Bog Trotters, Jonny Glen, Meryl Cooper, Scottish Masters 10000m Champs, Scottish Trail Champs, Tom Owens