Jemma strikes double gold to make Euro U23 history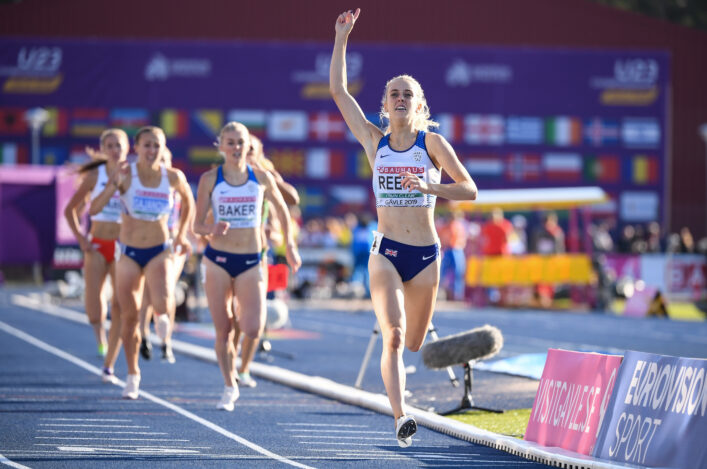 Jemma savours the moment as she wins the 800m title on Saturday evening  (Photo by European Athletics via Getty Images)
Jemma Reekie made history in Gavle as the Scot become the first British athlete to win double gold at the European U23 Championships.
The Kilbarchan AAC athlete wrapped up the 1500m gold less than 24 hours after storming to the 800m title during a hectic four-races-in-four-days trip to Sweden.
Reekie also bridged a 21 year gap as she became the first Scot to win gold at the Euro U23 Champs since Allison Curbishley back in 1997 in the 400m. It's a first in terms of two individual golds, with Curbishley having won
Jemma ensured there was a golden glow to the British team as proceedings concluded in Sweden with the overall medal tally being 14 – three gold, eight silver and three bronze.
For GB and NI, that return is the best from the event since the 2013 European Under-23 Championships in Tampere, where the team won a total of 15.
Unfortunately, while Alisha Rees and Michael Olsen each featured, the 4 x 100m Relay teams could only muster a fifth place for the women and a failure to finish for the men.
Reekie's second gold of the Championships was rarely in doubt. She sat the back during two slow first laps of the women's 1500m final and thereafter took to the front.
Her rivals tried to push ahead of her but with 200m to go, she kicked and that was it as she clocked 4:22.81 for gold – once again showing similarities to her European and Diamond League champion training partner Laura Muir.
'I don't think it has hit me yet,' said Jemma, who is coached by Andy Young.
'I am really tired, my legs are sore and the girls did not make that easy for me in both final. So I am really pleased to get two golds.
'I just wanted it so bad; I know I said coming here that I would be happy with two medals but there was only one colour I wanted in both and I am really please I got it right.
'It has been amazing here, an amazing experience and an amazing team. I can't thank British Athletics enough for all their support, not just here, but throughout the year so far.
'Yesterday I had to try and stay calm [on the podium] and not get too excited but now I can celebrate and I can't wait to go home and see my family.'
In the 800m final, Reekie had to race smart in a messy contest alongside her GB team-mate Ellie Baker, who was to take silver. Despite the scrappy nature, Reekie maintained her composure and would not be caught as she kicked for the line with 200m to go to win by over second in 2.05.19.
'I just knew once I committed I had to commit,' said Jemma, after that 800m win.
'I knew the girls behind me were really strong, they have got more 800m experience than me but I just knew I had to kick. I have never wanted the line to come so badly.
'I was running towards the line and hoping it would come sooner and sooner, so I am really pleased. It is so special [the one-two with Baker]. We have grown up together, we have shared a room, it was so special.'
Not to be discounted, Baker ran a great race for silver, sticking with roommate in Gavle, Reekie, as she broke. Baker clocked 2:06.33 for silver, that comfortably ahead of Ireland's Nadia Power, who was reinstated to third after a series of appeals.
Scottish thrower George Evans missed out on the discus final on Saturday morning, with his best throw in qualifying being 51.90m.
Tags: Alisha Rees, Gavle, George Evans, Jemma Reekie, Michael Olsen, Sweden