#AwesomeEight! Scots picked for Euro Juniors in Sweden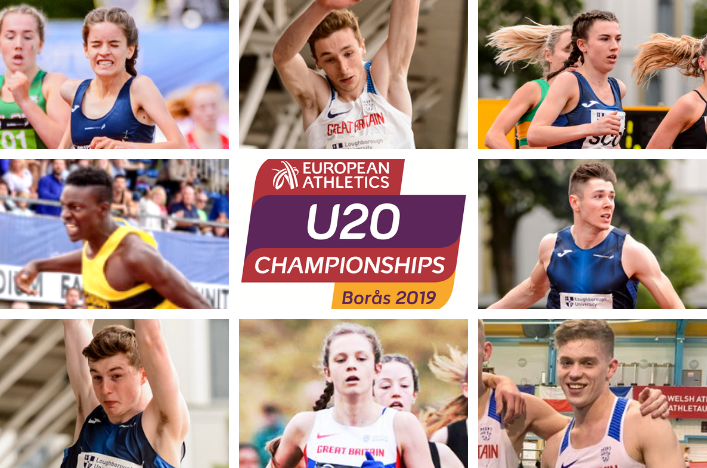 Our #AwesomeEight (from top left clockwise): Calvert, Schenini, Walker, Angus, McFarlane, Wallace, Mackenzie, Olatoke
British Athletics website announcement
Eight young Scottish athletes will represent GB and NI at the European Junior Championships in Sweden.
British Athletics today announced their second wave of selections to complete their team line-up for the event in Boras on July 18-21.
And what a moment for an #AwesomeEight Scots and their coaches as they prepare to compete with the best of young European athletics talent!
It is also a massive fillip for the sport in Scotland with the representation on the team the second (equal) highest in almost half a century of European Junior Championship events.
Nine Scots were picked in 2011 but the tally of eight this year matches the eight selected in 1983. There have been 24 versions of the event since 1970 with this the 25th.
Adding to the feel-good factor is the spread of events with the Scottish selections this time covering jumps, sprints, relays and endurance as well as Combined Events via the selection of Joel McFarlane.
Here are our eight picks (in alphabetical order):
Fraser Angus (Giffnock North AC) Ryan McAllister 4 x 100m
Sarah Calvert (Livingston AC) Sandra Hardacre 800m
Joel McFarlane (Central AC/Arbroath and District AC) John McFarlane  Decathlon
Stephen Mackenzie (Pitreavie AAC) Linda Nicholson Long Jump
Praise Olatoke (Kilbarchan AAC) Colin Sinclair  200m and 4 x 100m
Alessandro Schenini (Giffnock North AC) David Watson/Ryan McAllister  Long jump
Eloise Walker (Edinburgh AC) John Lees 3000m
Erin Wallace (Giffnock North AC) Andy Young 1500m
All at scottishathletics offer our warmest congratulations to all these athletes and their families and coaches as well as the clubs involved in their development over the past few years.
It is personal hard-work and commitment which enables athletes to better themselves but also, in a wider sense, the support structure and the platform offered by the sport in Scotland.
Our National Academy framework looks to be having an influence now, too. Three of the eight selected are currently in the 4J Studios National Athletics Academy programme (Stephen Mackenzie, Eloise Walker and Fraser Angus) and three more are 2018 graduates (Erin Wallace, Alessandro Schenini and Joel McFarlane).
Director of Performance and Coaching, Stephen Maguire, spoke recently about one of the main goals for the 4J Studios National Academy being to maintain and improve representation of Scots at high level events (be that with Scotland at Commonwealth Youths or GB and NI at European/World age group events)
With regard to the other two: Praise Olatoke was with Scotland age group teams in the past and is currently studying in Canada; Sarah Calvert raced for Scotland U20s in the Stirling XC early this year and then, only three weeks ago, enjoyed a race opportunity in Boston set-up by ourselves.
On the female side of the team, there are Scottish athletes through 800m, 1500m and 3000m while the men's long jump is a Scottish 'look-out' with Alessandro Schenini joining Stephen Mackenzie, who was in the first wave of selections.
British Athletics confirm the team is 69-strong overall, so the percentage representation is very strong in terms of the population ratio.
*Arnold Black's website has details on all Scots selected for events like the European Juniors
SEE Complete Record
Tags: Alessandro Schenini, Boras, Eloise Walker, Erin Wallace, Fraser Angus, Joel McFarlane, Praise Olatoke, Sarah Calvert, Stephen Mackenzie, Sweden