Chapman savours return after four years out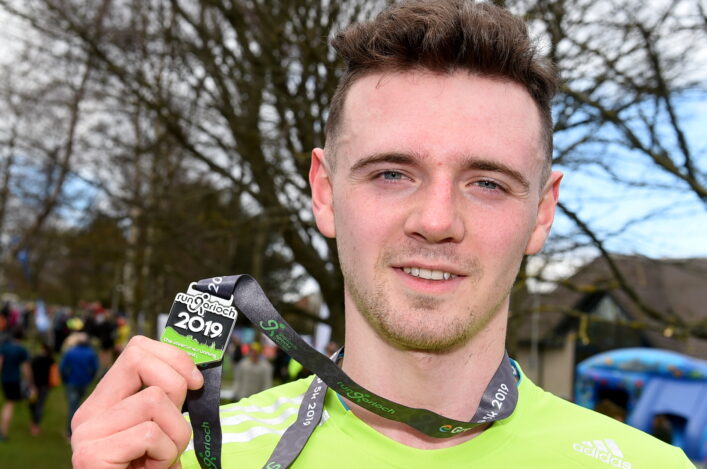 Jordan Chapman celebrates Run Garioch 5K win on his comeback (photo courtesy of Aberdeen Evening Express)
Report by Fraser Clyne
Jordan Chapman has made a remarkable recovery from brain surgery and is planning to fully resurrect his athletics career after a four year gap.
The 22-year-old was one of Aberdeen AAC's most promising up-and-coming distance runners in his mid-teens.
He made his Scotland debut in a schools international cross country match in 2013 but also showed great promise over a range of distances on the track.
The following year he was second in the 1500m and 5000m at the Scottish Schools championships at Hampden Park.
Chapman also emerged as a force on the local road running scene, competing against Senior athletes but demonstrating his potential by winning the Balmoral 5K in 2015 and twice taking top spot in the Run Garioch 5K (2014 and 2015).
But his progress was soon to be brought to a shuddering halt when major surgery was required to remove a cyst from his brain.
'Apparently the cyst had always been there but the problem developed when it began to grow,' explained Jordan.
'I was getting headaches all the time and assumed it was a migraine, but it never went away. I was feeling really tired and was unable to train. I ended up in hospital and underwent a long operation.
'Fortunately it was a success. Now I'm gradually building up my training but I'm not doing as much as I used to yet. I hope to get right back into it.'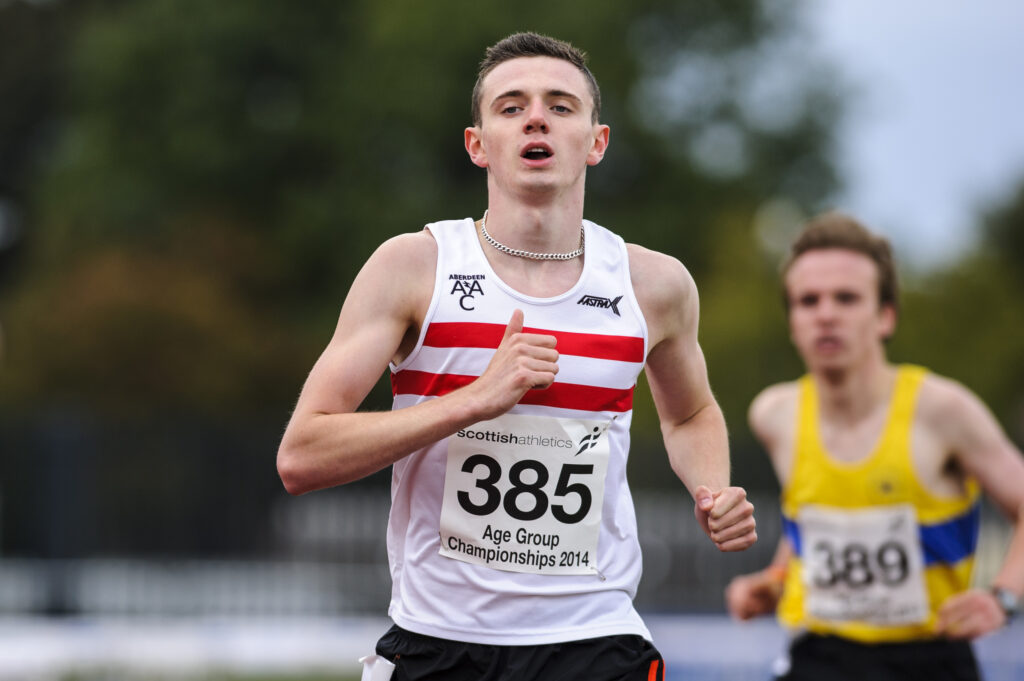 Jordan in action five years ago at the Age Group Champs (photo by Bobby Gavin)
Chapman's first race for four years came last month when he returned to the Run Garioch meeting and won the 5K in 16.57.
It was considerably slower than his last win, in 2015, when he recorded a personal best 15.48, but that mattered little to Chapman who is now aiming to make up for lost time.
'The last four years hasn't been good but I've put that behind me,' he added.
'I really want to get back into athletics. I've been doing sessions on the track at Banff because it's quite easy for me to get there from Turriff, but I'd like to get back with a training group at Aberdeen again.
'My next race will be the Scottish 5K Champs in Edinburgh as I really like that distance.'
Tags: Aberdeen AAC, Fraser Clyne, Jordan Chapman, Run Balmoral, Run Garioch