Laura Double gold joy and silver for Zoey, Eilidh
Photos by Bobby Gavin
Laura Muir made history in fine style at the Emirates Arena – as she completed an unprecedented 'Double Double' in the European Indoors.
No other athlete had successfully defended two titles but the Scot made it look easy as she raced away to 1500m gold to add to the 3000m crown she won on Friday night.
It left Bryan Burnett declaring that 'Glasgow belongs to Laura' and few would argue with that assessment from the event in-field commentator.
Muir, of course, had won the 1500m title for the first time in Belgrade two years ago when she clocked 4.02.39. She also won the outdoor 1500m title in Berlin last August.
This time, it was slower on the results than Belgrade at 4.05.92 but Laura ran the final 400m in around 57 seconds after controlling the pace from the front.
In many ways, it was perfect exhibition of middle distance running – dictating to the field and then running away into open track and never letting anyone else actually join 'her' race.
Muir is a star of world sport – coach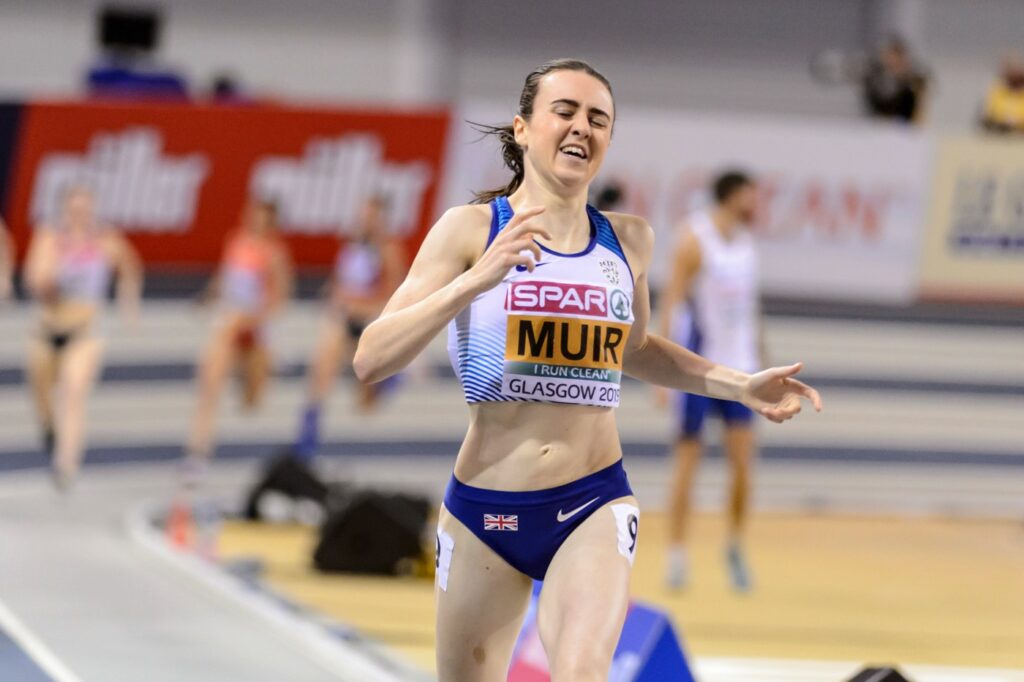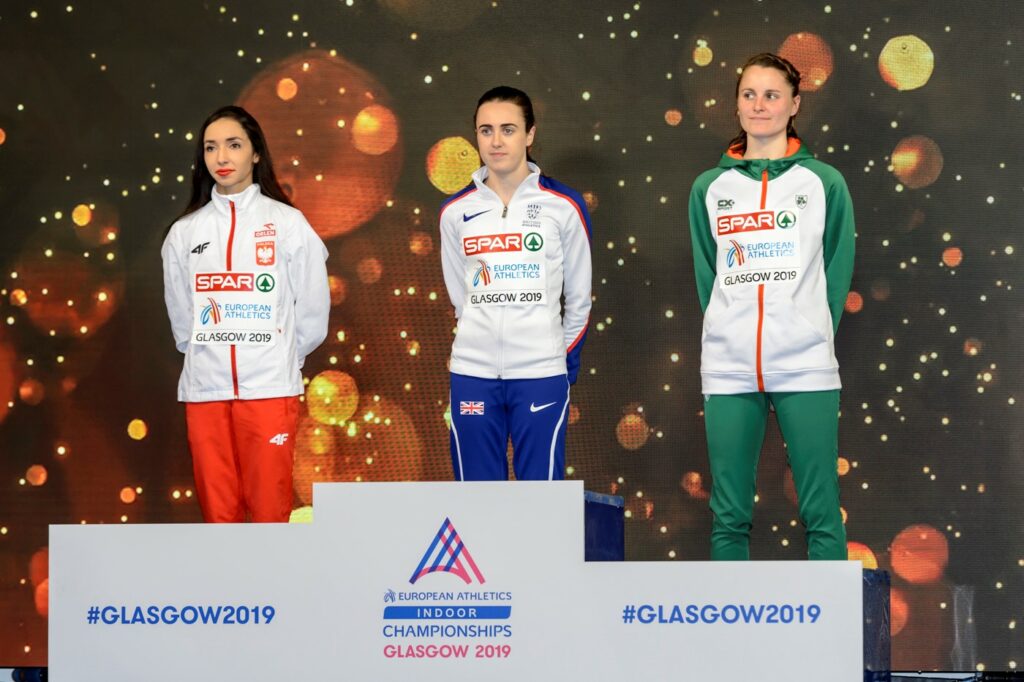 'I set myself a big test this weekend, so I do feel delighted and relieved at the moment,' said Laura, as Polish athlete Sofia Ennaoui and Ireland's Ciara Mageen took the silver and bronze medals – with the margin of Laura's victory at more than three seconds.
'There was a lot of pressure of me but I'm so pleased to have done the job and win the double gold.
'So much hard work has gone until this. People only see the race but so much has gone into making that possible. There is a huge team behind me led by my coach Andy (Young).  It's so special for me to do this on my home track.
'It was such a big opportunity for me so I'm so glad I could deliver. The race went exactly to plan. I controlled it and then put in the kick when I felt nobody would be able to go with it and that's what happened.
'I didn't know what was going on behind me but I was happy just pushing on whether they were 10m adrift or half a metre.'
Many congratulations to Laura, her family and coach Andy Young on a wonderful effort at Glasgow 2019.
Glasgow 2019 concluded with a fine silver medal for GB and NI in the Women's 4 x 400m final.
And there was a strong Scottish element with Zoey Clark and Eilidh Doyle adding to their medal collections – as Poland took gold and France bronze.
It was an exciting race, with Zoey on leg two and Eilidh on the anchor, although Poland's strength in women's 400m always seemed likely to tell in terms of the golds.
Laviai Nielsen and Amber Anning made up the quartet who clocked 3.29.55 with the Poles home in 3.28.77.
We make it Medal No 17 for Eilidh in major international events!
Congratulations to both athletes, their families and coaches Eddie McKenna and Brian Doyle.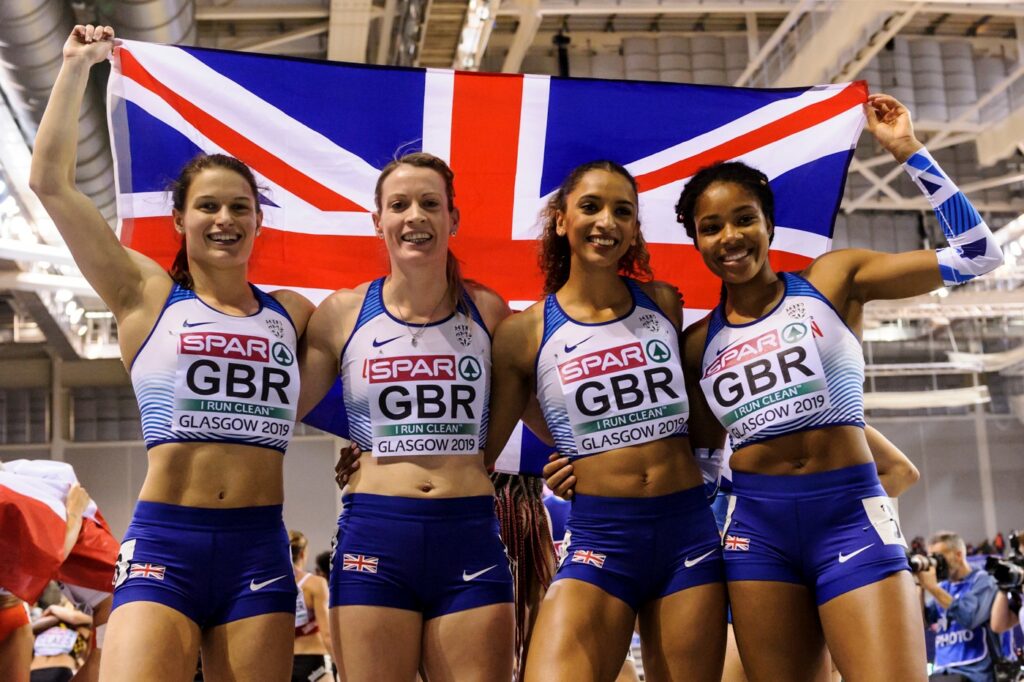 'It's just having the crowd behind you – I really just really wanted to go and run,' said Zoey.
'And I knew we came with a good chance for a medal. The other teams were so strong and we all knew that – we knew it was going to be tight fighting for any medal so the crowd was inspiration.'
Eilidh said: 'We knew we were a strong team especially when we come together, we had such a battle against each other at the British Championships  but we know we're all pretty similar.
'So to come back together as a team and share all our talent, it was fantastic. We knew we could really challenge for the medals and we did such a good job and we're delighted to win a silver.'
+++
Earlier, Neil Gourley had been dramatically withdrawn from the Men's 1500m final at the last minute.
Gourley, competing in his first major championship appearance in a GB and NI vest, was advised not to compete by the GB and NI medical staff. He suffered from sickness earlier in the day and his condition was monitored during the warm-up.
The only Glaswegian from around 600 athletes at the Emirates, the Scot had qualified courtesy of a race win in his heat on Friday lunch-time.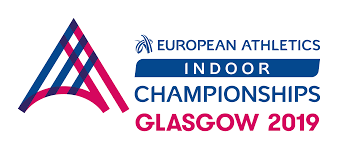 Tags: Eilidh Doyle, Emirates Arena, European Indoors, Glasgow 2019, Laura Muir, Neil Gourley, Zoey Clark