England Athletics Age Groups; Maria double; Rachel win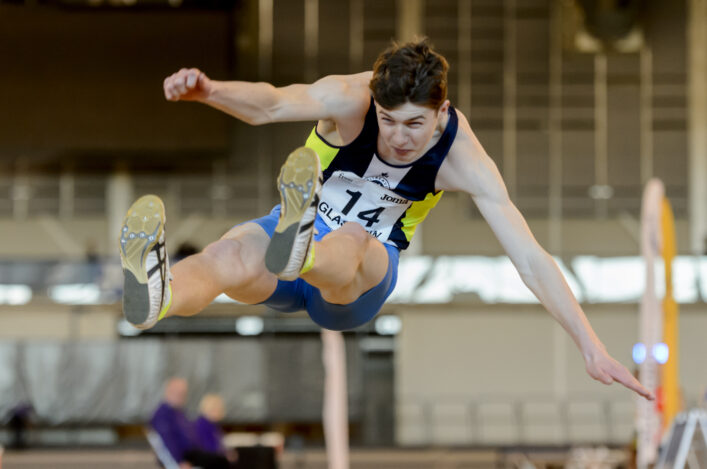 Stephen Mackenzie – two silver medals at England Athletics U20 Champs (photo by Bobby Gavin)
England Athletics website report (with link to Results)
The FPSG Indoor Season concluded early because of Glasgow 2019 – so Sheffield was the focus for a number of our track and field athletes over the weekend.
England Athletics staged their U20, U17 and U15 Champs and once again our young Scottish athletes performed with distinction.
Well done to all athletes and coaches who made the trip in search of deeper competition and to the clubs helping develop these young athletes.
Here's a summary of medal-winning performances, with thanks to our President, Leslie Roy, for keeping an eye on these for us:
Gold:
Rueben Nairne – Pole Vault – U17 – 4m 40; Ellie O'Hara – Triple Jump – U17 – 11m 75; Katie Johnson – 800m – U15 – 2.10.90
Silver:
Stephen Mackenzie – Triple Jump – U20 – 14m 74; Stephen Mackenzie- Long Jump – U20 – 7m 26; Rebecca Grieve – 300m – U15 – 40.65; Murray Fotheringham- High Jump – U17 – 2m 01 ; Evie Greig – High Jump – U15 – 1m 59 ; Oscar Logan – 800m – U15 – 2:03.52; Olivia Vareille – 800m – U20 – 2:13.40
Bronze:
Billy Doyle – 400m – U20 – 49.60; Murray Fotheringham- Long Jump – U17 – 6m 77 ; Andrew McFarlane – Pole Vault – U20 – 4m 55; Fabian Despinoy – 800m – U17 – 2:03.52; Finlay Waugh – 200m – U17 – 22.55; Ellie O'Hara – Long Jump – U17 – 5m 58
+++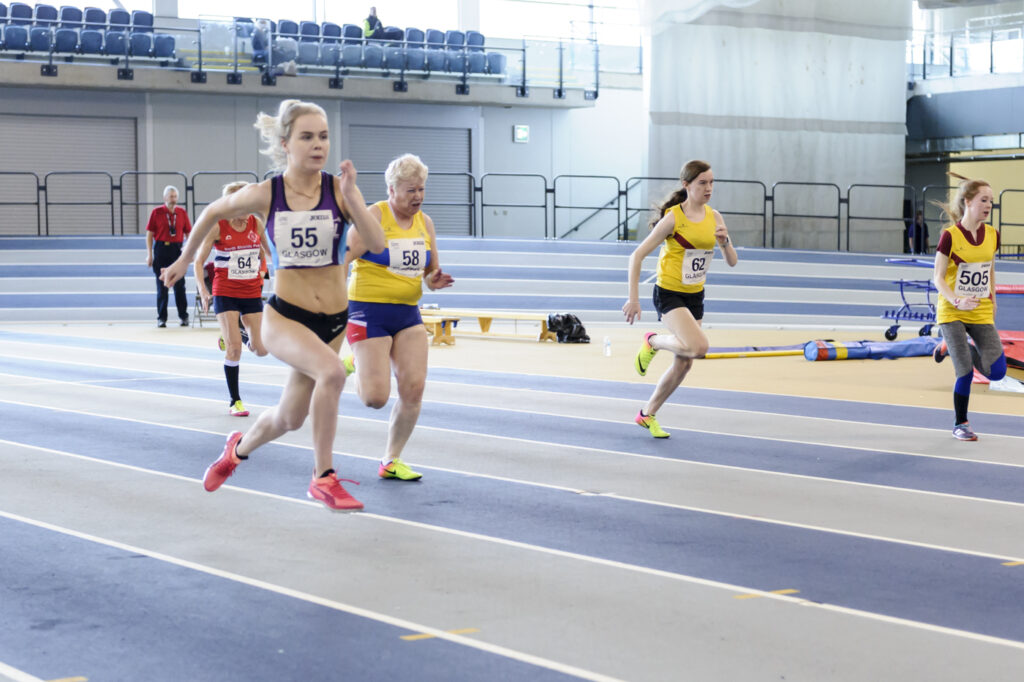 Photo by Bobby Gavin
Maria Lyle has been in action in at the World Para Athletics GP in Dubai and has performed well – winning a sprint double.
After a 60m PB in Glasgow the previous week, Maria opened her outdoor campaign with 30.18 (+0.9) over 200m. Racing in a mixed T35/36 race, she started and showed her strength to set her best 200m time for a couple of years.
Maria, who is coached by Jamie Bowie, followed that up with a good run win over 100m in 14.98 (-2.6).
+++
The Annual Loughborough Winter Throws meet served up some extremely promising performances, despite the start of the outdoor season proper still being a couple of months away.
And it was really good to see Rachel Hunter back in action in a North Ayrshire AC vest. It was a wining return, too, with Rachel taking the Women's hammer comp with a best of 61.64m.
+++
Tags: England Athletics Age Groups, Maria Lyle, Rachel Hunter