New PB edition – with Coe, Cram and Kelly!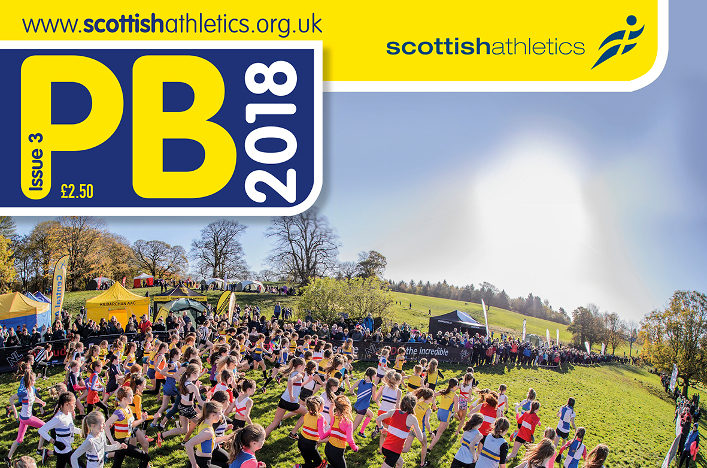 Front cover shot by Bobby Gavin (see full version below)
Lord Coe hails Laura Muir's mental strength
The third edition of our PB magazine is out to scottishathletics members this weekend – and it's a bumper 44-page edition for us to end 2018.
It's packed with interviews, photographs, features and all the news you can think of around the athletics scene in Scotland.
We've eight pages dedicated to the FPSG Awards Dinner with the focus on FPSG Athlete of the Year Laura Muir and Guest of Honour Dame Kelly Holmes as well as FPSG Para Athlete of the Year, Derek Rae, and the scottishathletics Hall of Fame.
With Seb Coe and Steve Cram also covered, there's no shortage of iconic names running through this edition (which has been posted out to adults with an email link to those under 21 to follow in next couple of days).
In our grassroots section, we also look at Falkirk Victoria Harriers and the strong endurance section at Lasswade AC. And have you heard the one about the Scotland road running international who had significant heart surgery aged five?
Lord Coe gives us the benefit of his insight on FPSG Athlete of the Year, Laura Muir, with the double Olympic champion at 1500m joining in the chorus of approval for the 25-year-old Scot who is ranked No 1 at women's 1500m by the IAAF for 2018.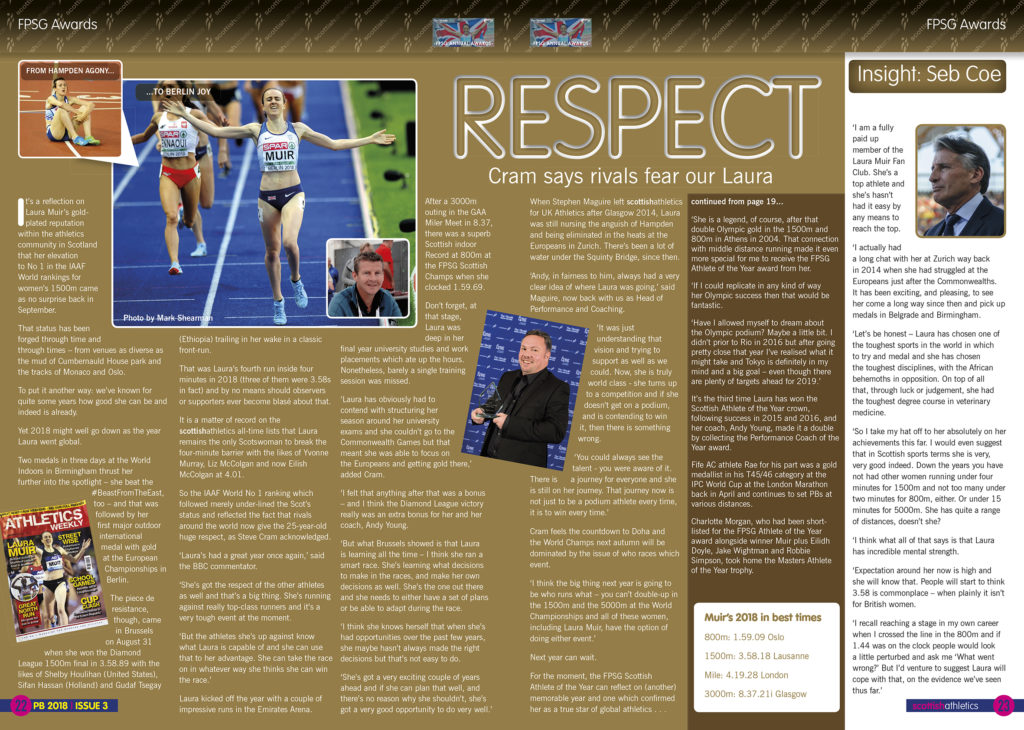 Centre stage – our PB centre pages as Steve Cram and Seb Coe talk about FPSG Athlete of the Year Laura Muir
'I am a fully paid up member of the Laura Muir Fan Club,' Coe told scottishathletics.
'She's a top athlete and she's hasn't had it easy by any means to reach the top.
'I actually had a long chat with her at Zurich way back in 2014 when she had struggled at the Europeans just after the Commonwealths. It has been exciting, and pleasing, to see her come a long way since then and pick up medals in Belgrade and Birmingham.
'Let's be honest – Laura has chosen one of the toughest sports in the world in which to try and medal and she has chosen the toughest disciplines, with the African behemoths in opposition. On top of all that, through luck or judgement, she had the toughest degree course in veterinary medicine.
'So I take my hat off to her absolutely on her achievements this far. I would even suggest that in Scottish sports terms she is very, very good indeed. Down the years you have not had other women running under four minutes for 1500m and not too many under two minutes for 800, either. Or under 15 minutes for 5000m. She has quite a range of distances, doesn't she?
'I think what all of that says is that Laura has incredible mental strength.
'Expectation around her now is high and she will know that. People will start to think 3.58 is commonplace – when plainly it isn't for British women.
'I recall reaching a stage in my own career when I crossed the line in the 800m and if 1.44 was on the clock people would look a little perturbed and ask me 'What went wrong?' But I'd venture to suggest Laura will cope with that, on the evidence we've seen thus far.'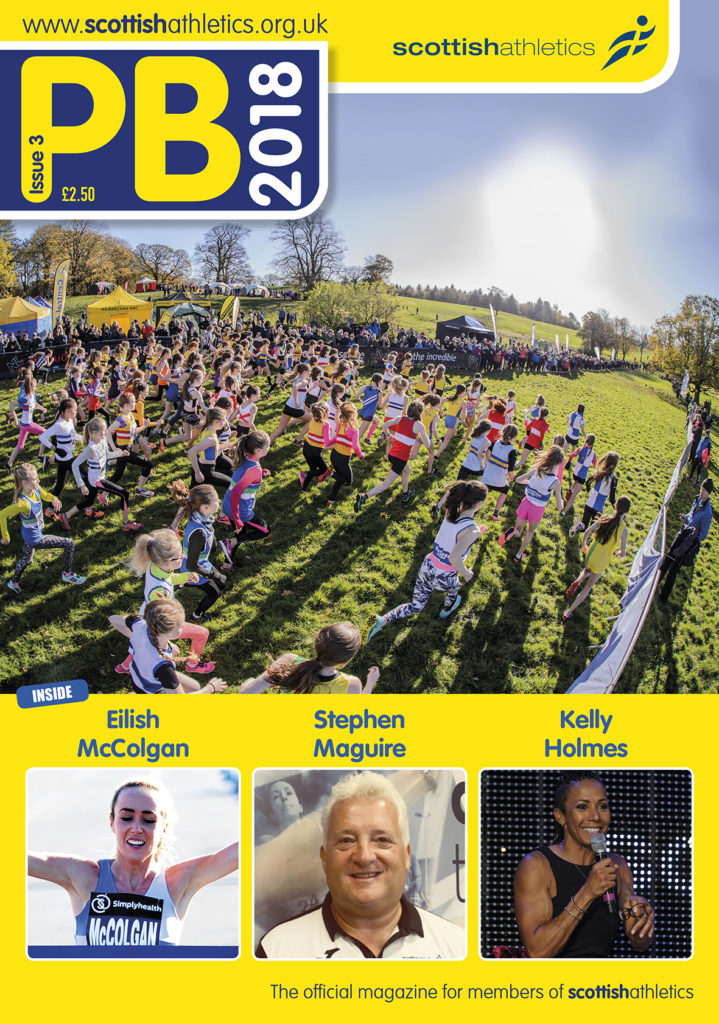 Tags: Laura Muir, PB magazine, Seb Coe