Laura wins Female Athlete of the Year title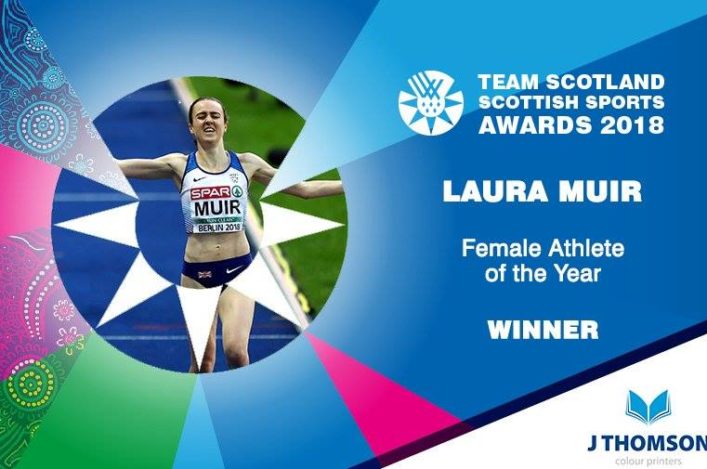 Scottish Sports Awards: all the winners
Laura Muir has been named Female Athlete of the Year for the second time in a row at the Scottish Sports Awards.
The European Champion and Diamond League final winner over 1500m, who also won two medals at the World Indoors in 2018, landed the honour on Thursday night via the Team Scotland awards.
Laura, who is on holiday in Canada at the moment, missed out on the dinner in Edinburgh when it was announced she had beaten off the opposition from Katie Archibald and Grace Reid on a three-strong short-list.
Winning the Female Athlete of the Year title then put Laura forward for the 2018 Scottish Sportsperson of the Year award to receive the Lonsdale Trophy. Swimmer Duncan Scott duly collected that award after a superb 2018.
Congratulations to Laura, her family and her coach, Andy Young, on a superb achievement in again being named Female Athlete of the Year in a terrific year for Scottish sport.
Andy was short-listed for Coach of the Year but the recipient was Steven Tigg, the swimming coach who has guided the career of Scott and others to numerous medals at the Commonwealth Games and the Glasgow 2018 European Championships.
There were a number of other nominations for athletics in the various categories:
*Jake Wightman  was short-listed for the Male Athlete of the Year award after his thrilling 2018.
*Janice Eaglesham was short-listed for the Volunteer of the Year award
*In the Young Athlete of the Year award, there were places on the short-list for Kane Elliott of Falkirk Victoria Harriers and Erin Wallace of Giffnock North AC.
*Team East Lothian were short-listed in the Community Hub/School/Club of the Year category
*Laura Muir's golden moment in the European Championships over 1500m was short-listed in the Sporting Moment of the Year category
Tags: Andy Young, Erin Wallace, Jake Wightman, Janice Eaglesham, Kane Elliott, Laura Muir, Scottish Sports Awards, Team East Lothian