Young Scots dominate Junior Hill International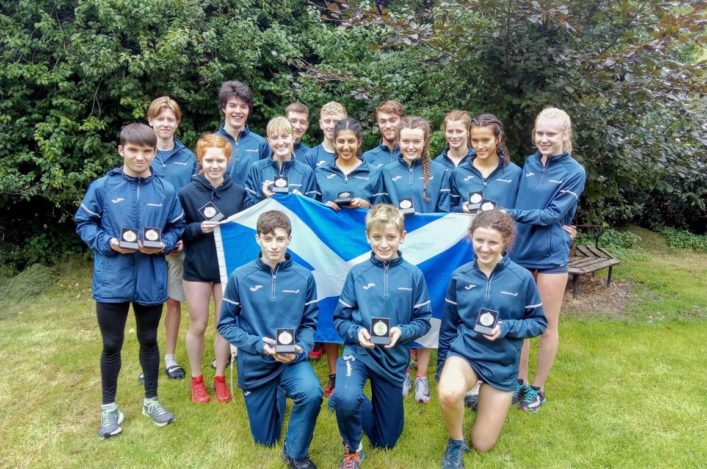 Report by Bill Breckenridge
British & Irish Junior Mountain Running Champs
Sixteen young Scottish athletes made the trip to Ireland to represent their country in the 2018 British and Irish Junior Mountain Running Championships and Home County International.
This year's hosts Ireland had chosen the picturesque village of Glendalough in the Wicklow Mountains National Park as the venue for what proved to be a very successful excursion for Scotland.
The usual format of four races for girls and boys in U20 and U17 age groups was altered slightly due to the tight travel schedules of the various travelling teams from Northern Ireland, Scotland, Wales and England.
A compacted race schedule meant girls and boys racing (but not competing) head-to-head over two races.
First up were the U17 girls and boys setting off at 9.30am on a testing but relatively straightforward, out and back course on the lower slopes of Camaderry Mountain comprising 4.7k and 234m of climb.
From a Scottish perspective it proved to be one of the highlights of the day as the boys, spearheaded by Sunny McGrath in first position and Jack Trainer in third secured two of the individual honours.
The Scots bossed the team race as well with great runs from Harry Henriksen in fifth  position and Ben Cameron in 16th completing the boys golden team effort.
There was also an outstanding performance in the girls race from Scotland's Pippa Carcas who finished strongly to take individual silver behind Sarnia Jones of Wales.
And the U17 girls team also secured gold medals in the team competition with strong runs from Helen Chong in seventh, Ellie Hinks 14th and Beth Hobbs 18th.
Shortly after 10am and it was time for the combined U20 boys and girls race following the same route but continuing further up the hill to extend the course to 6.7k and 338m of climb.
It was England who dominated the boys race with four runners in the top five. Gold went to Matthew Merrick but the Scots packed well to secure a hard fought team silver ahead of Northern Ireland. First home in blue was Gregor Malcom in sixth, followed by Robert Sparks in eighth, Tom Berry 11th and Eoghann Gollan 15th.
Individual gold in the U20 girls race seemed a formality for Northern Irish athlete Grace Carson who romped home nearly two minutes ahead of her nearest rival.
However the Scottish girls, not to be outdone by their fellow countrymen and women put in a gutsy performance over a demanding course to secure another team silver. Rhona Mowat lead the girls home in an impressive fifth position followed by Anisha Badial seventh, Rona Tytler ninth and Lynn McKenna 14th.
And so to the City of Edinburgh Trophy awarded to the best overall team performance!
With Teams rushing off to catch ferries and busses the organisers were under pressure to produce results and award prizes as quickly as possible. Never an easy task, however with England fielding more than one team in all of the races mistakes were made in identifying the correct counting athlete.
This had particular consequences for the U17 girls race. On the day,  England were incorrectly awarded gold medals with Scotland second and Wales third.
After a re-count some 24 hours later the Scottish team were promoted to first with Wales second and, crucially it transpired for the overall standings, England down in third . . .
This placed Scotland in top spot overall with two team golds and two silvers out-running England with one team gold, two silvers and one bronze.
It really was an outstanding overall performance by the young Scottish athletes and only a little disappointing that they missed out on podium glory (it was a picnic bench actually!).
Despite the demanding schedule, all the Scottish athletes were a credit to their national vests on and off the hillls.
Many thanks are extended to our hosts Ireland for organisation and a special mention to Julie Mollison and Malcolm Patterson at scottishathletics for all their hard work in preparation.
With thanks to team managers Jane Robertson and Bill Breckenridge
Tags: Ireland, Jack Trainer, Junior Home International, Pippa Carcass, Scotland, Sunny McGrath