Jones and Ross land Scottish 10K golds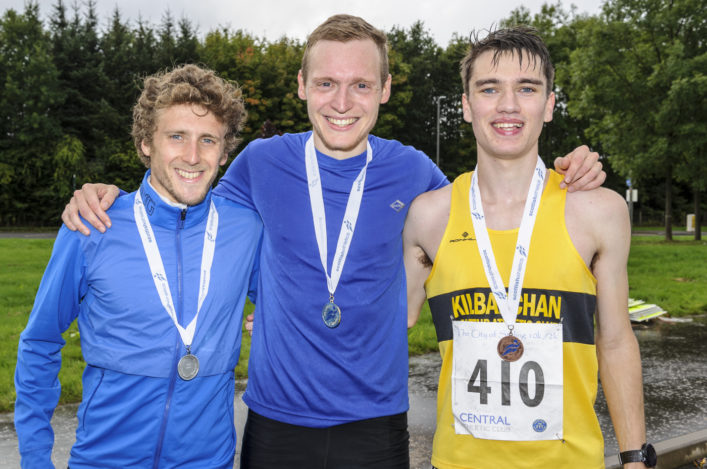 Kristian Jones celebrates with silver medallist Grant Sheldon (left) and bronze medallist Euan Gillham (photos by Bobby Gavin)
A strong second half of the race in breezy conditions took Dundee Hawkhill Harriers athlete Kristian Jones to victory by 50 seconds in the Scottish 10K road championship at Stirling.
Shettleston's Fionnuala Ross led the women's contest from start to finish to retain her title and indeed make it four golds in a row in this particular event.
The top men played cat and mouse in a cautious first mile before Jones made a break and went on to win in 29:56 as the National XC champion and GB orienteering international proved his quality on the roads.
Cambuslang's Grant Sheldon (30:46), last year's winner, then led home a string of six runners all within 30 seconds. Euan Gillham of Kilbarchan (30:48) took the bronze with Alistair Hay (Central – 30:55), Kenny Wilson (Moray – 31:05) and Sean Fontana (VPCoG – 31:14) in close attendance, pressed hard by U20 champion James Donald (31:15).
The top M40 master was Ian Reid of Cambuslang (32:38). Cambuslang (38pts) took the men's team title from Central (49) and Edinburgh AC (64).
PHOTOS on Facebook by Bobby Gavin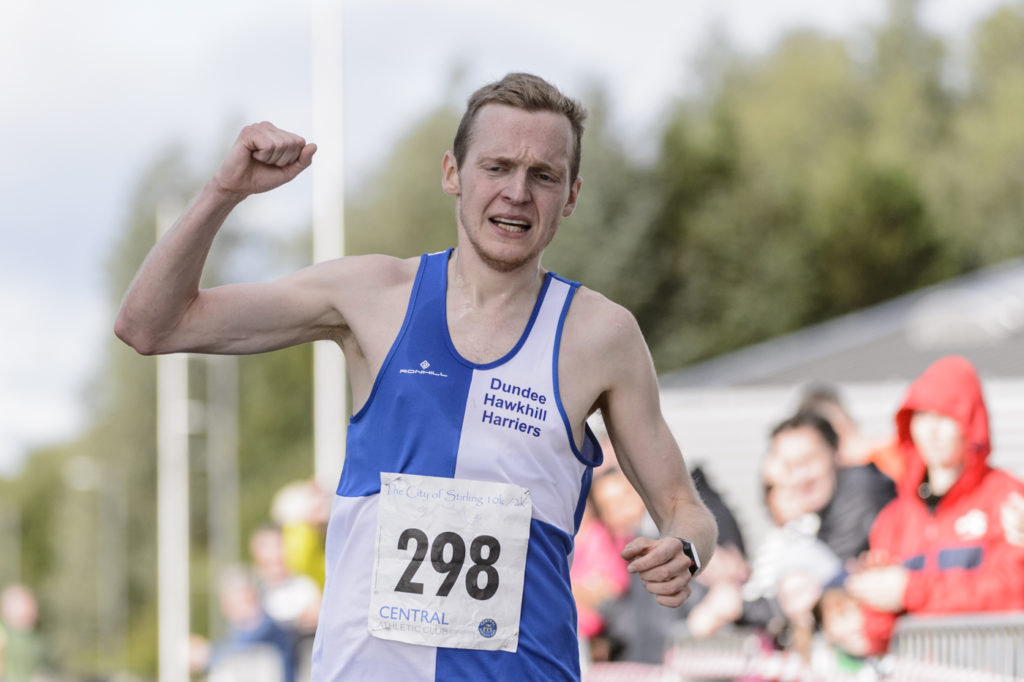 'There was a big pack at the start with lots of different people taking the lead and it was windy,' said Jones.
'I gave it a little bit of effort in the second mile just to see who was going to come with me and who the race was going to be against. Myself and Grant Sheldon got a bit of a gap.
'If there had been more I might have eased back but since it was just the two of us, I just tried to push on. I got away at about six and a half K. He was really right on me so I was quite relieved to get the gap and happy to get away.'
Ross took her latest women's title in 34:05 ahead of Fife's Stephie Pennycook (34:38). Jo Williams (Lothian AC – 35:43) came through in the last mile to take bronze, with Jenny Bannerman (Inverness – 35:57), Elspeth Curran (Kilbarchan – 36:11) and Masters W40 champion Avril Mason (Shettleston – 36:19) in pursuit.
Edinburgh AC (36), Metro Aberdeen (47) and Fife AC (57) were the women's team medallists.
Once again a big thank-you goes out to Central AC and all their volunteers for staging this race. Details on the 2K Fun Run are within the Results via the link at the top of this report.
With thanks to Charles Bannerman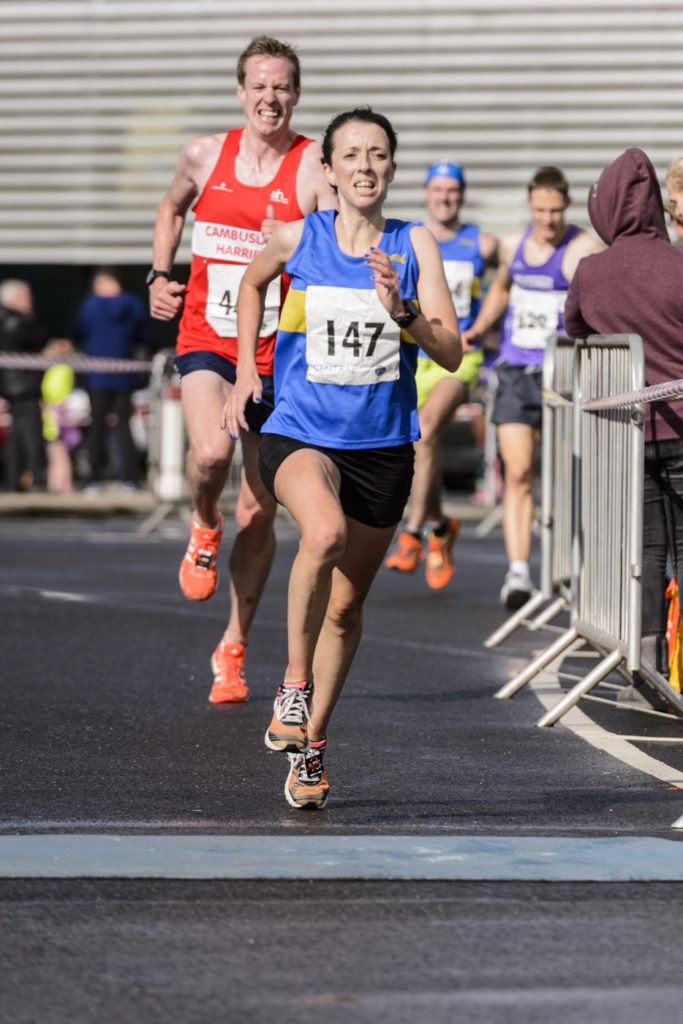 Fionnuala Ross on her way to a fourth successive Scottish 10K win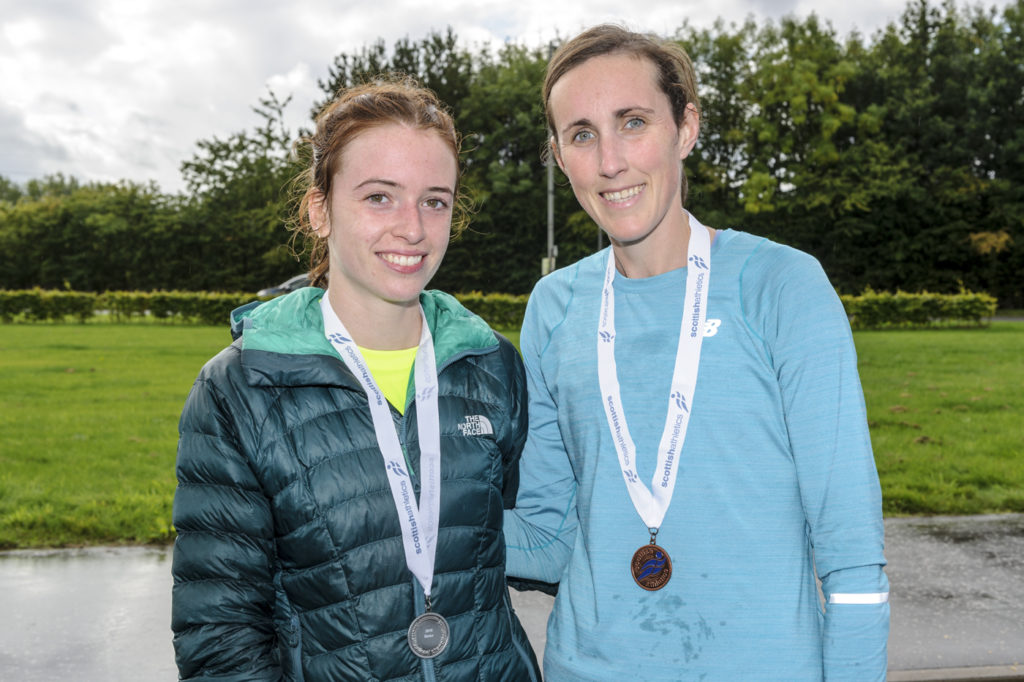 Steph Pennycook took silver and Jo Williams the bronze in the Women's race at Stirling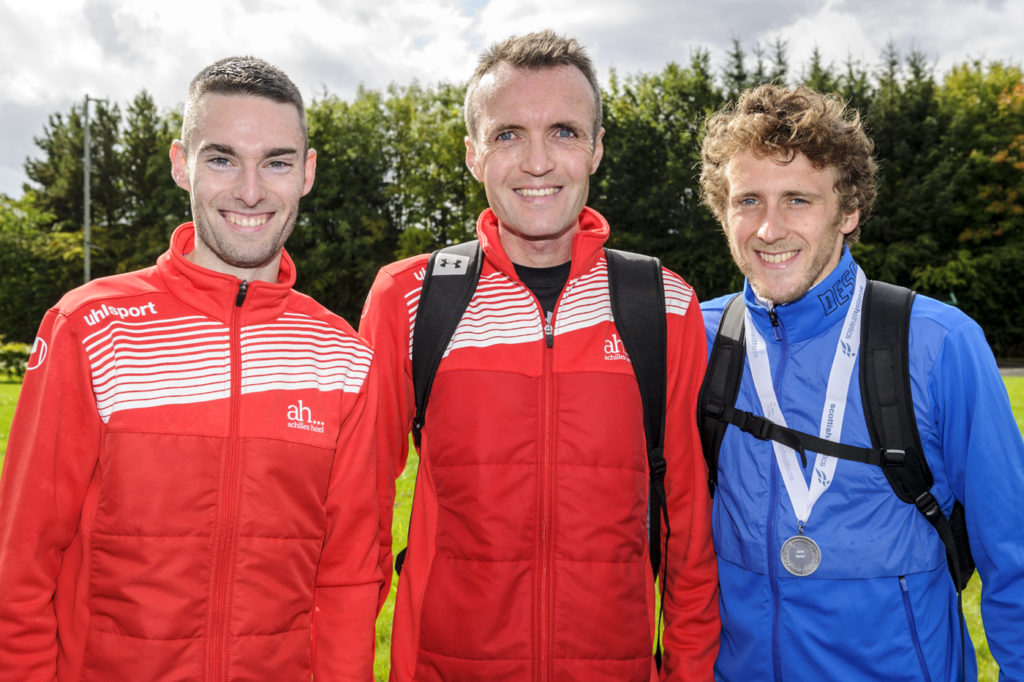 Cambuslang took the men's team golds thanks to the efforts of (L-R) Kevan Harvey, Stuart Gibson and Grant Sheldon
Tags: Central AC, Euan Gilham, Fionnuala Ross, Grant Sheldon, Jo Williams, Kristian Jones, Scottish 10K Champs, Steph Pennycook, Stirling