FPSG Senior Champs – Sunday review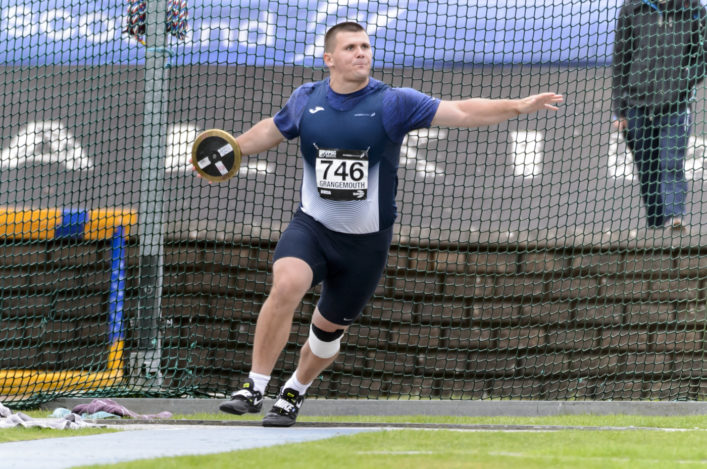 Nick Percy throws beyond the prize pot standard in the discus to win £2000 (photo by Bobby Gavin)
Start-lists, timetable online (LIVE RESULTS on Saturday and Sunday)
LIVE STREAM event footage on Vinco
Two days of competition at the FPSG Scottish Seniors Champs at Grangemouth concluded with a final event performance from thrower Nick Percy which claimed the £2000 prize pot all to himself.
The Team Scotland Glasgow 2014 athlete pitched out to 59.87m in the discus shortly after 5pm on Sunday to go beyond the 59m asked in the standards set by scottishathletics to try and encourage better athletes to compete at Grangemouth.
Medals had come and gone in a whole string of other events without too many really going close to the prize pot standards – with the wet and windy conditions on Sunday counting against the likes of GB internationals Kirsten McAslan and Neil Gourley  after Berlin 2018 throwers, Chris Bennett and Kirsty Law, had fallen short on Saturday.
'I'm delighted to win the money and actually it will help me for next year because I am going back to college in Nebraska but have no eligibility left so will be funding competitions independently – and this is the first time I've ever won money,' said Nick, who took the title with that third round effort his best.
'It was the last event of the day but at least it wasn't the final throw! I did think on Saturday, when conditions were good, that the likes of Chris and Kirsty would make it – and maybe one or two others on the track. On Sunday, the conditions probably counted against people in certain events.
'I'd have thrown it further if the wind had been in the other direction. But I'm happy with it as it is my best performance for a few weeks and I've a slight knee injury. That was the last event of the season for me.'
PHOTOS  by Bobby Gavin on Facebook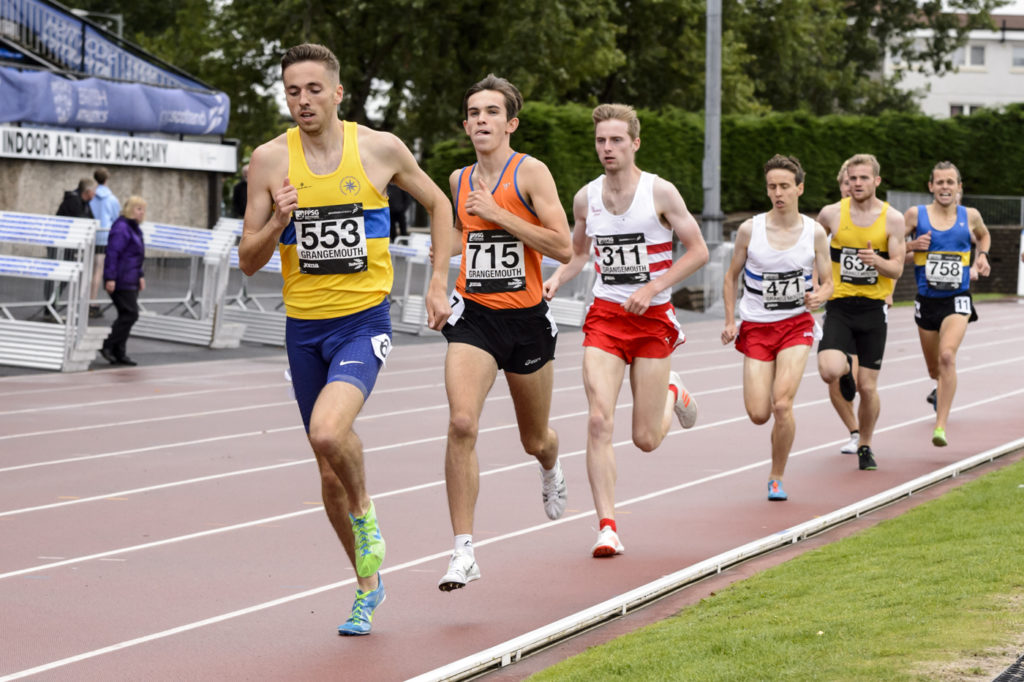 Action from an exciting Men's 1500m final as Neil Gourley and Sol Sweeney battled for the gold and silver
A few minutes earlier Gourley held off the strong challenge of Sol Sweeney to win the 1500m title in 3.48.86– his first Seniors gold in Scotland, having been in America for the past couple of years.
Gourley opted to race after just missing out on GB selection for Berlin after taking third in the trials and third in the Athletics World Cup in London on his debut GB Senior appearance.
'I wanted to try and win a Scottish title and that was a reason for coming here, even before thinking about any £2000 prize pot,' said Neil, with middle distance legend Graham Williamson presenting the 1500m medals.
'The conditions ensured 3.41 probably wasn't going to happen and I had to ease off a bit knowing there would be a big threat coming from Sol with a couple of hundred to go. I managed to use my race experience and force him a bit wider and then held him off – it was a good race and I enjoyed it.
'I'm due to race the Diamond League 1500m in Birmingham next weekend and would love to do that but I do need to chat to my coach about a slight hip/glute injury. I'd want to be able to run my best at that kind of level before definitely decision to race.'
Graham's son Jamie Williamson and Mhairi Hendry were favourites for the two 800m titles and they delivered in style, with Grant Muir chasing Jamie for silver medal as Mhairi's training partner, Philippa Millage, came home second in the women's race. Jenny Selman won the women's 1500m gold.
There were Scottish title wins early in the Sunday programme for Scotland internationals Lauren Stoddart in the 3000m steeplechase and Kelsey Stewart in the 400m – both retaining titles they had won last year at the same Grangemouth venue.
In the men's 400m final, there was a win for visiting athlete, Sadam Kuomi, of Birchfield Harriers, as he headed silver medallist Grant Plenderleith, with the winning time at 47.30.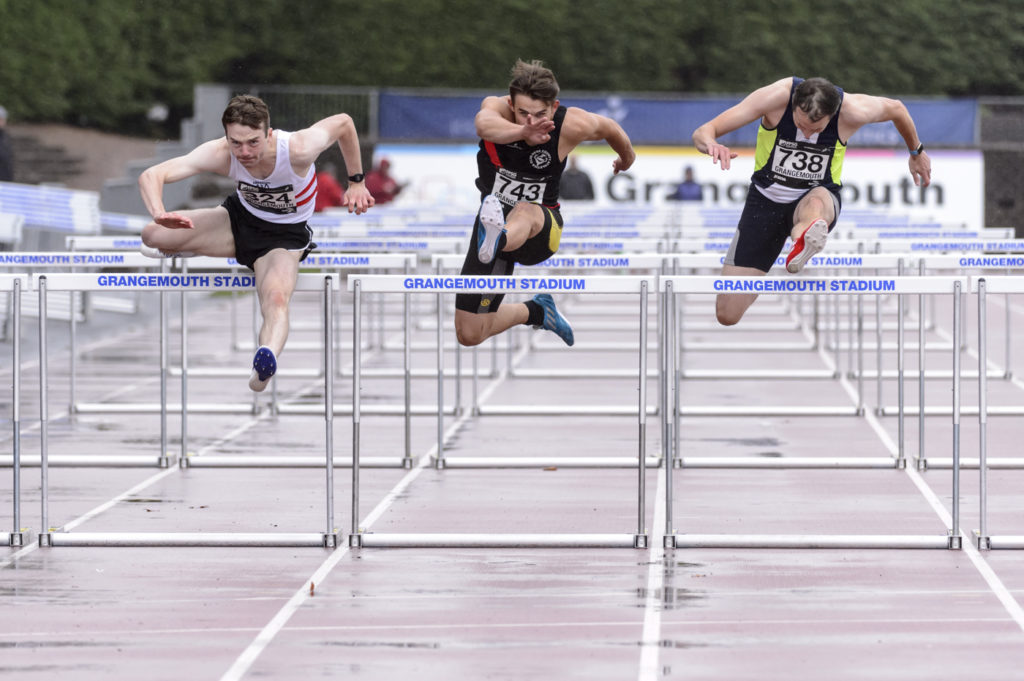 Daniel Rees on his way to the sprint hurdles gold for Aberdeen AAC
Jessica Mayho, another Birchfield athlete, took the Women's Hammer gold with a throw of 62.34m as Rachel Hunter, on her comeback, landed the silver medal in her first competition for a year.
'I've been out for a long time so it was good to get throwing again,' said Rachel, who threw 57.78m.
'I was hoping to get around 60 because I've managed that in training but the main thing was to get a competition in for 2018. I missed winter training and have had shoulder and back injuries – I am still getting a lot of physio on my back – but the work for next year starts now. I think winter training starts this week, in fact!'
Scott Lincoln held the CBP in the shot having won at Grangemouth last year with 18.80m and he improved that again this time with 19.10m. Unfortunately for the City of York athlete, the prize pot only applied to those athletes eligible to compete for Scotland.
Edinburgh AC and Glasgow 2014 Scotland athlete, Sarah Warnock,  won another long jump gold with 6.05m from Rachel Alexander's 5.93m.  The men's long jump was a good competition under all the circumstances and six men went beyond 7m headed by title winner, Shettleston's David Martin at 7.43m.
Alastair Hay won the Men's 5000m in an exciting last lap battle with Sean Fontana – the Central AC athlete taking it in 14.37.91 and Aberdeen AAC's James Hoad landing the bronze medal.
'I've only won one Scottish Senior title before and that was a 1500m race at Pitreavie back in 2010,' said 32-year-old Hay. 'I was watching the Euros in Berlin this week and it just makes you want to get out and compete.'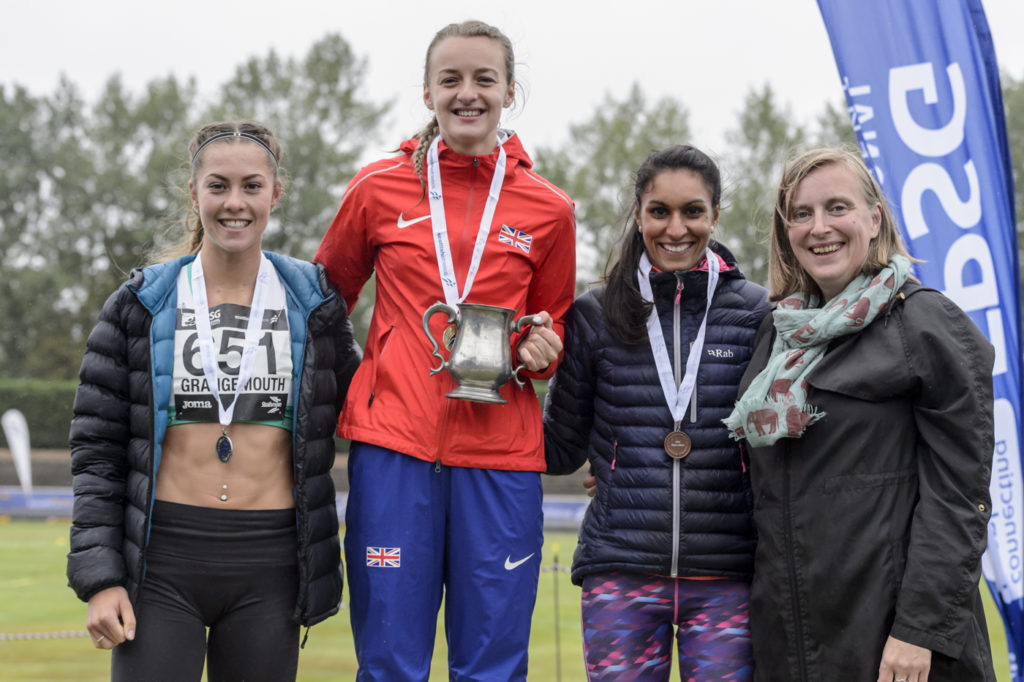 Kirsten McAslan celebrated 400m Hurdles win with Kirsty Peacock of FPSG having made the presentations
Kirsten McAslan flew in from Germany and reaching the 400m Hurdles semi-finals at the European Championships – to try and chase the 57.50 standard.
That look a mission improbable given the conditions but McAslan gave it a decent effort and won her first Scottish Senior gold with a run of 58.89.
'I guess it wasn't the day for it although I tried to get the advantage of the wind down the back straight, but my hurdling wasn't great,' she said.
'I'm glad to get the gold and I wanted to come and try for the £2000 prize pot. Why not? Mind you, when I saw the weather this morning when staying with relatives in Edinburgh I thought 'oh no!'.
'I haven't raced at Grangemouth for quite a number of years – I think it was an U17 300m where I took silver behind Diane Ramsay.'
Jack Lawrie followed on from that women's 400m Hurdles race with a really strong run to take the men's title in 50.75. That was a good performance given the opposition included GB international Efe Okoro
Heather Paton took the women's sprint hurdles and Daniel Rees the men's title in that event, with Lewis McGuire the gold medallist in the men's high jump. Alisha Rees and Allan Hamilton each took the 200m golds. Hannah Lawler retained her pole vault title with 3.66m.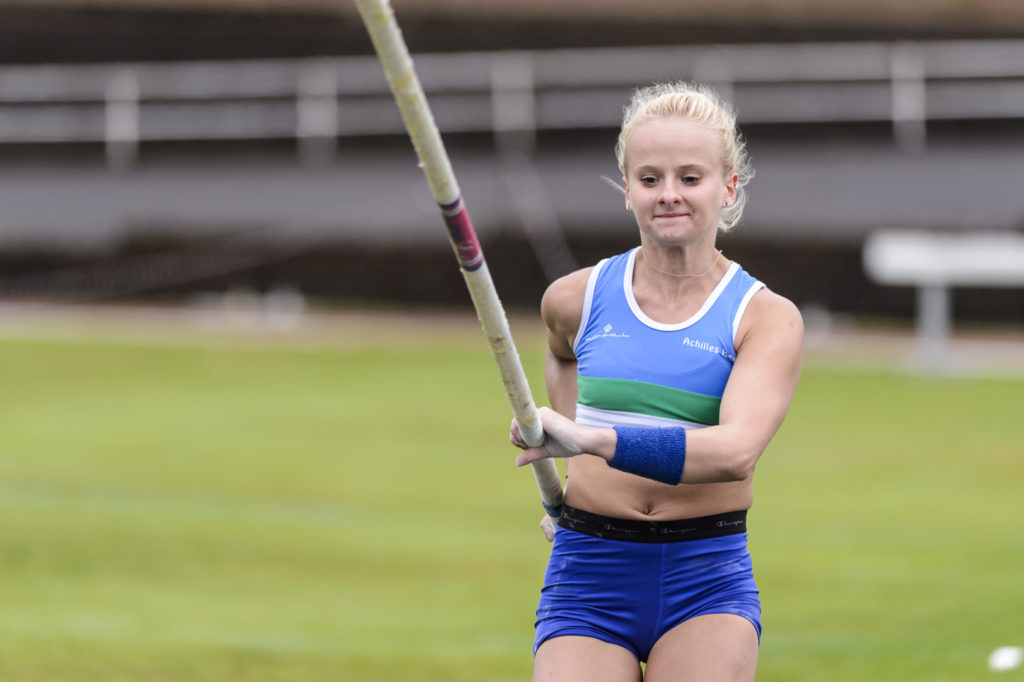 Hannah Lawler retained her pole vault title at Grangemouth

Tags: FPSG Seniors and U17s, Grangemouth, Neil Gourley, Nick Percy