CPISRA Medal rush; Scots in Switzerland; East 10k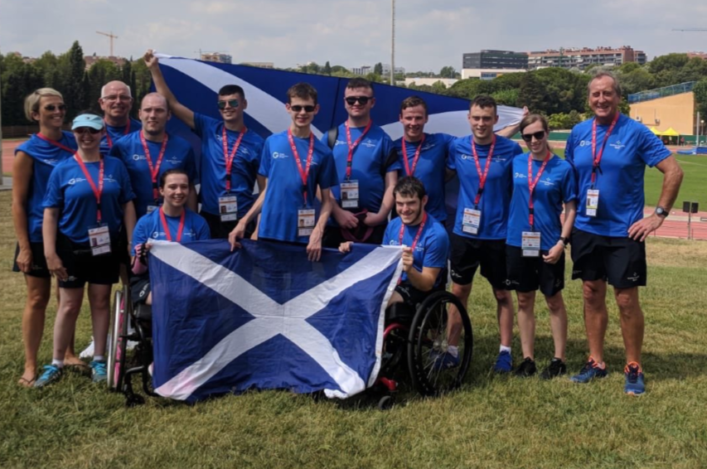 Scotland had a 10-strong team competing in athletics at the CPISRA Games in St Cugat in Spain.
And it was a hugely successful few days for the athletes in track and field action with a string of medals coming home when the championships were concluded.
Gavin Drysdale was one of the four athletes to collect gold in his 100m race before then opting to cut short his programme and travelling at the end of last week to represent GB at the Euro Para Champs in Berlin. Ross Paterson will join him there.
Shelby Watson took no fewer than five golds in distances from 100m to 1500m in the T33 classification and Abbie McNally and Graham Condie were the others to top the podium.
Many congratulations to all the athletes involved and their coaches and families.
Team and results:
Gavin Drysdale (RR3) 1 Gold (100m); Lewis Clow (T37) Long Jump bronze and 100m 4th place; Kirsty Soutar (F32) Club throw and discus 2 x 3rd places (no medal awarded given low entry numbers); Graham Condie (F32) Discus Gold, Club throw bronze
Connaire Mclindon (F37) 5th/6th/7th places in Javelin, Shot and Discus; Abbie McNally (T37) 200m Gold, silver in 100m/Long Jump; Shelby Watson (T33) 5 x gold medals 100m-1500m; Nathan Blackie (T34) 3 x silver, 2 x bronze across 100-1500m
Ewan Waite (T38) 800m bronze, 1500m 4th place; Ross Paterson (T38) 2 x bronze in 200/400m and 1 4th place in 100m
With thanks to Ian Mirfin
+++
Robbie Simpson's quest for victory in the Sierre-Zinal mountain race in Switzerland will continue into another year after the Gold Coast 2018 marathon bronze medallist had to settle for second position in the 45th edition of the prestigious alpine event.
This was the Banchory athlete's seventh appearance in the race and he has now finished runner-up for the past three years, having been third in 2015, fifth in 2013 and 2014 and 35th in 2011.
Simpson completed the challenging 31km course, which includes 2,200 metres of climbing and 800 metres of descent along a stunning route within the shadow of five 4,000m spectacular mountain peaks, in his fastest time of 2.33.11. That, however, wasn't quite good enough to get the better of Spain's legendary ski-mountaineer and long-distance trail-running hero Kilian Jornet who shot to a record-breaking sixth victory in 2.33.39.
Kenya's Robert Panin was seven secs behind Simpson in third position while Andy Douglas finished eighth in 2.38.14. Jacob Adkin, who is coached by Simpson, also performed well to take 10th spot in 2.39.03.
With thanks to Fraser Clyne
+++
The Haddington Half Marathon took place on Saturday and incorporated the East Half Marathon Champs.
It resulted in an East gold win for Michael Crawley of Corstorphine AAC in 69.17 with Ewan Crawford (Hunters Bog Trotters) taking second place and Donald McRae (Portobello RC) in third. McRae was also the first Master.
The Women's East Champion was Chloe Cox (Edinburgh AC) in 85.39 with Mary Western (PH Racing Club) in second place and also the first Masters athlete home. Third place went to the Mari Bremner (Portobello RC).
With thanks to Alex Jackson
Tags: Andy Douglas, East 10K Champs, Haddington, Jacob Adkin, Robbie Simpson, Scottish Trail Champs