Trio set to return for FPSG Seniors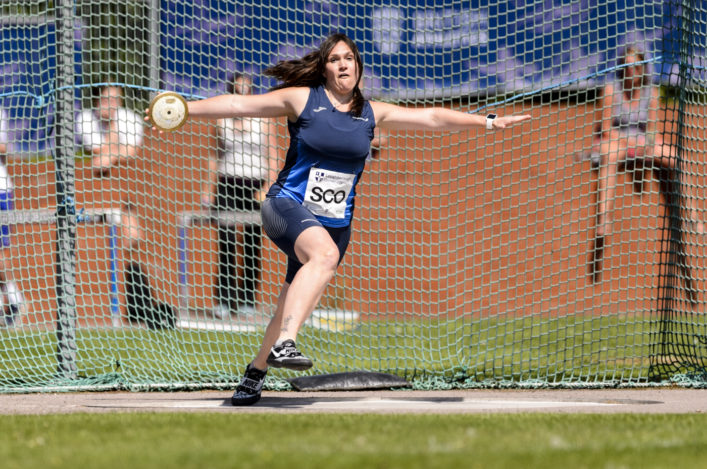 Kirsty Law – now set to throw at the FPSG Scottish Champs and then represent Scotland at the Manchester International
Scottish throwers Kirsty Law and Chris Bennett are set to swap Germany for Grangemouth to compete at the FPSG Senior and U17s tomorrow – with Kirsten McAslan also set to race in the 400m hurdles.
The duo have been representing GB and NI at the European Championships in Berlin on Thursday and Monday respectively.
Bennett had made plans to compete at Grangemouth given his schedule at the Euros and with a 71m target for the Men's hammer in the £2000 prize pot standards.
And now Kirsty, who missed out on getting through in the discus qualifying in Berlin with a best of three throws at 52.37m, has booked her flights back to Scotland as she attempts to win a remarkable 11th Scottish title.
'Unfortunately it was one of these competitions which went quite well technically but there just wasn't as much force as I wanted behind my throws,' said Kirsty, after the Berlin throws.
'I'm very disappointed with the three efforts because 56 and a half would have got me through to the final and I was less than 20 centimetres short of that when I qualified for the championships last month.
"So since I've not made Saturday's final, I now want to try and redeem myself at the Scottish Championships. I'm going to try to get an earlier flight back to Scotland and with any luck I'll be able to get to Grangemouth in time for the discus at 12.45pm on Saturday.
'The Scottish Championships have always meant a huge amount to me, as has competing in internationals for Scotland, so since I've not made the European final I can't think of a better way to end the season than throwing at Grangemouth and then in the Manchester International on Wednesday.'
McAslan made it through round one of the 400m Hurdles in Germany before then bowing out in the semi-finals and was not involved in the Women's 4 x 400m Relay heat on Friday morning.
Unfortunately, it didn't go well in the field for the Scottish duo in the Men's High Jump as both missed out on making the final.
Allan Smith cleared 2.21m but lost out on countback while David Smith was at 2.16m.
'I should be in that final,' said Allan. 'I don't know what has gone on today. I just felt slow in the last four strides. I was well clear at 2.21m, it was just with the wrong attempt so it was countback in the end.'
David said: 'That was tough. I thought I'd finally made a breakthrough in the trials doing the qualifying standard but since then I've had some problem with my ankle. I couldn't find my rhythm.' 
With thanks to British Athletics for comments from the athletes in Berlin
Tags: Allan Smith, Berlin, Chris Bennett, David Smith, European Championships, Grangemouth, Kirsten McAslan, Kirsty Law