Young Scots again impress in Bedford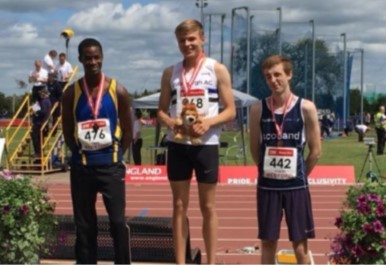 Scots 1 and 3 on the podium in the U20 Men's long jump with Calum Henderson taking the win and Alessandro Schenini third (photo via EAC website)
England Athletics website report from Sunday
England Athletics website report from Saturday
Scotland's 'next generation' maintained the current feelgood factor around the sport with some fine performances at the England Athletics U23 and U20 Championships over the weekend.
The Bedford event is of course effectively a British championship in these age groups and it was great to see no fewer than 16 Scottish medallists over Saturday and Sunday.
In addition to those on the podium, there were a handful of impressive U18 performances, too, and hopefully this will be reflected in selections by British Athletics for the European Youths event in Hungary and the World Juniors in Finland.
Five golds were won with congratulations due to Calum Henderson, Megan Davies, Jamie Williamson, Jack Lawrie and George Evans. A further seven silvers made it a round dozen top two finishes for Scots.
If the medal tally was ever so slightly down on the past couple of years then a couple of high profile absences probably explained that – and the overall recent record for Scotland now is very good at these championships.
2015: 24 medals
2016: 19 medals
2017: 19 medals
2018: 16 medals
Watch replays of all the action via Vinco's broadcasts
Looking through the results, it is noticeable how large a contingent of Scots made the effort to make the journey to Bedford to experience at this deeper level of competition. Well done to all the athletes, coaches and parents involved.
Here's the breakdown for those who made the podium for Saturday:
Gold: Calum Henderson (U20 LJ), Megan Davies (U23 1500)
Silver: Lewis McGuire (U23 HJ), George Evans (U23 DT), Jenna Wrisberg (U23 100)
And the breakdown from Sunday:
Bronze: Alessandro Schenini (U20 LJ), Rachel Alexander (U23 LJ)
Gold: Jamie Williamson (U23 1500), Jack Lawrie (U23 400H), George Evans (U23 SP)
Silver: Ciaran Wright (U23 HT), Erin Wallace (U20 1500), Mhairi Hendry (U23 800), Alisha Rees (U20 200).
Bronze: Emily Craig (U20 400H), Kelsey Stewart (U23 800)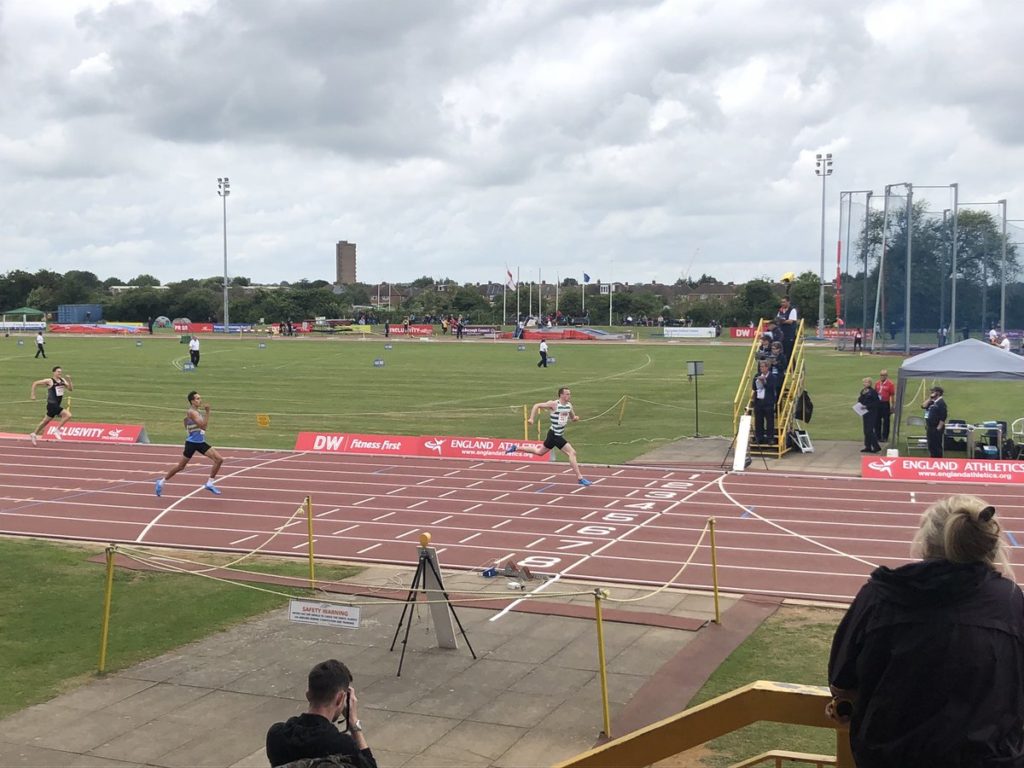 Jack Lawrie on his way to U23 Men's 400m Hurdles gold to repeat his success of 2016 (photo via Twitter)
So there was an U23 medal double for George Evans with silver in the discus on Saturday with 55.18 followed up by a win in the shot on Sunday with 15.54.
There were two Scots on the podium in the U20 Men's long jump as Edinburgh AC's Calum Henderson took the win with 7.35m and Alessandro Schenini of Giffnock North landed the bronze with 7.25. In the U23 Women's 800m, VP-Glasgow's Mhairi Hendry took the silver in 2.0745 with Aberdeen AAC's Kelsey Stewart taking the bronze in 2.09.83.
In additions to those performances, Lasswade's Sarah Tait was second in an U18 Women's 2000m steeplechase on Saturday with a run of 6.59.96 that was inside the European Youths qualifying standard.
Similarly, on Sunday, Kilbarchan's Cameron Wright was second in an U18 Men's 2000m steeplechase with a run of 6.00.23 that was inside the European Youths qualifying standard. Lasswade's Magnus Tait was third in that race.
Michael Olsen was fourth in the U20 Men's 100m final with 10.54 and should be in the hunt for relay selection for the World Juniors.
Alisha Rees and Erin Wallace are very much in the fame for the Finland event, too, with Erin having run the 1500m standard previously and second in the trials at Bedford.
Young thrower Kirsty Costello of Kilbarchan was third in the U18 weight hammer. Similarly, Finbar Bunne of Inverness Harriers was third in the U18 shot with 12.52m.
There was a fourth place tie in the U20 Men's pole vault for Pitreavie AAC's Dylan Thomson.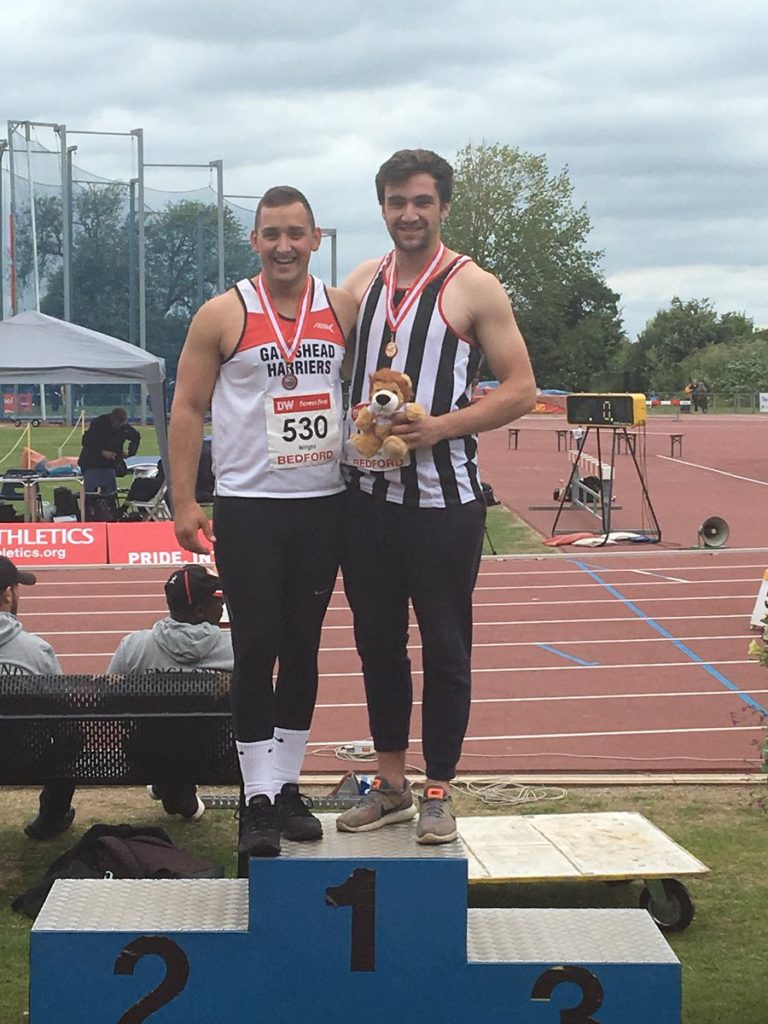 George Evans was on the podium twice in the U23 throws (photo via Twitter)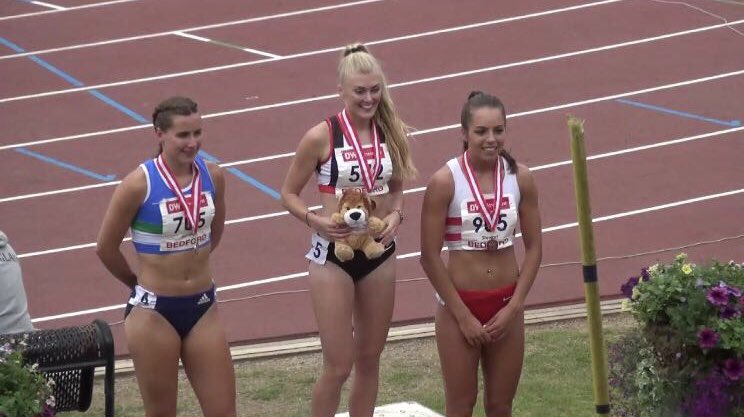 Mhairi Hendry and Kelsey Stewart took silver and bronze in the U23 Women's 800m (photo via Twitter)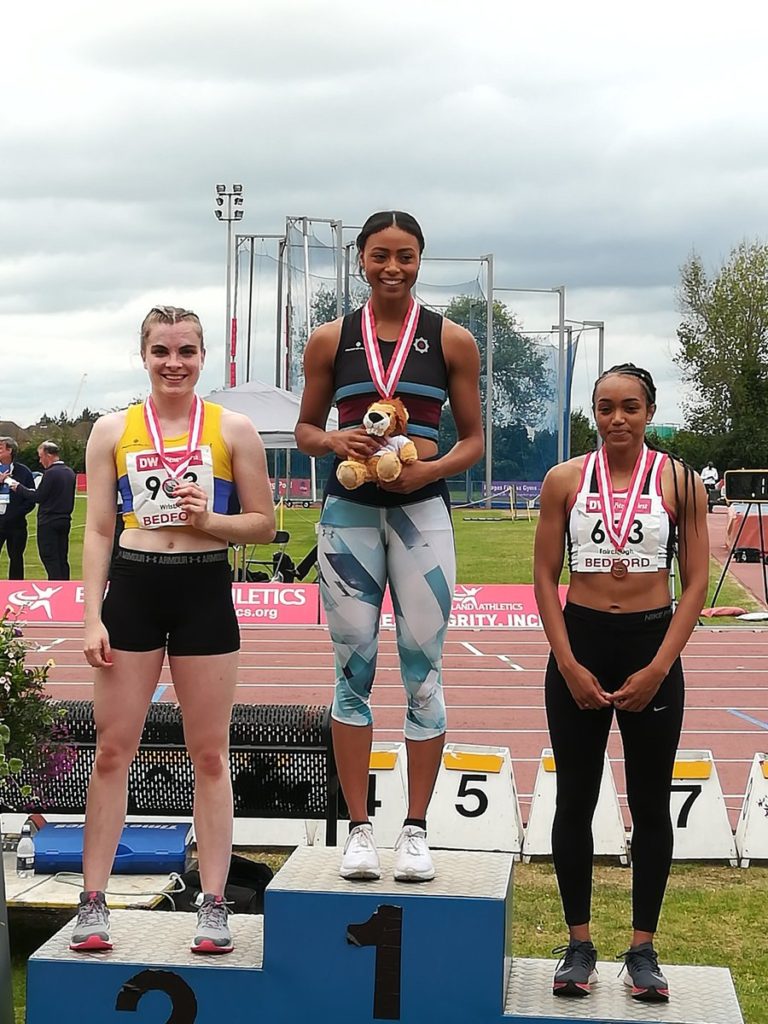 Jenna Wrisberg took silver in the U23 Women's 100m (photo via Twitter)
Tags: Bedford, Calum Henderson, England Athletics, George Evans, Jack Lawrie, Jamie Williamson, Megan Davies