Record-breakers! Joy for Jake and Beth (again)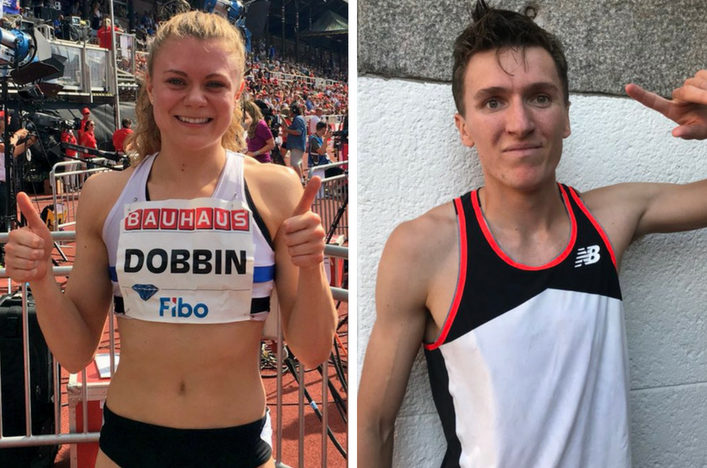 Beth Dobbin broke her Scottish National Record for the 200m only eight days after ending Sandra Whittaker's 34-year reign at the top of the all-time rankings.
And, within an hour of Beth's latest big moment in Stockholm, Jake Wightman had eclipsed another mark from 1984 – as he took down Graham Williamson's 1000m Record.
Two National Records in one day in Sweden made it a sweet afternoon for our sport and, remarkably, pushed a Laura Muir run of 3.58.53 for 1500m ever so slightly down the batting order in terms of the Scottish weekend highlights!
In fact, at the Diamond League meeting in Stockholm, there were two second places (for Beth and Laura), a third (for Jake) and a fifth for Lynsey Sharp in the 800m to once again emphasise the rarefied level at which our elite athletes are competing.
Also performing well over the weekend were Eilish McColgan, Steph Twell, Josh Kerr, Jemma Reekie, Zara Asante and Katy Wyper.
Dobbin had every reason to be thrilled with a 22.83 run which shaved one hundredth off the 22.84 from the previous week as she took second in the race.
Beth had a busy week indulging in media interviews – as well as her work commitments – but she proved emphatically where her form is at by following up the British Women's League Record performance from Eton in Sweden.
Jake for his part bounced back well from ninth place in the Dream Mile in Oslo to take third in Sweden in a time of 2.16.27 – with Williamson having run 2.16.82 at Meadowbank way back in 1984.
'I'm really pleased with that and it's a Scottish Record which is great,' said Jake.
'Oslo on Thursday was a bit of a shock to the system. It was a lot better here. I think that if 1000m was a championship distance it would be my perfect race.
'I knew that they would go off fast and that if I was patient, I would be able to close them on the last 200. The first couple of laps were a bit of a mess, all over the place, so I had to be decisive in the last lap. Perhaps I could have run faster if I've been more evenly-paced but it was a good step forward for me.
'I'm on an upward curve and shaping up the way I'd like to, which hopefully will leave me in a good spot.'
Muir's 3.58.53 was actually inside the meet record at Stockholm, with a PB for Gudaf Tsegay in 3.57.64 taking the win.
'I knew what the pace was supposed to be but they didn't really hit it so I knew I had to trust my own judgement and I think I went through in pretty even splits which is good,' said Laura.
'I was closing on the last straight but it was just too much. I didn't want to go off too hard at the start like the rest of them as that was very fast. I'm getting there race by race. It was a second quicker than what I ran at Eugene so I'm pleased with that.'
Lynsey Sharp was fifth in the Women's 800m race in a time of 2.02.78 and has another race this midweek as she prepares for the British Champs and Euro Trials.
With thanks to Stuart Weir in Stockholm
+++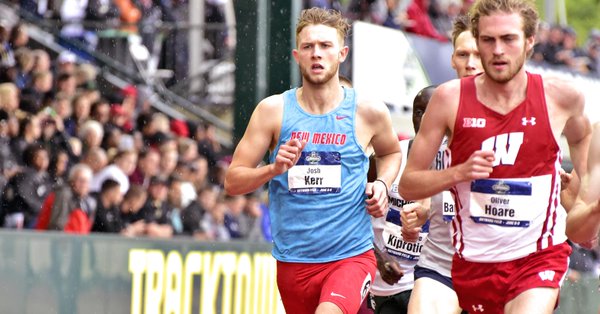 Josh Kerr placed third in the 1500 metres on Friday at the 2018 NCAA Division I Outdoor Track and Field Championships.
The 2017 champion in the event, Kerr clocked a time of 3:45.02 at Hayward Field in Eugene as his patented last-lap kick fell just short at the line. Kerr finished exactly a quarter of a second behind Wisconsin's Oliver Hoare, who won in 3:44.77 and finished just 0.003 behind the silver medallist.
'It was very tactical and very physical,' Kerr said of the race. 'There was a tight pack all the way through. There was a lot of clipping and jumping around. It was a tough race to be in.'
Kerr missed out on what would have been an incredible four-in-a-row- at the NCAA having won the indoor mile in 2017 and 2018 and the outdoor 1500 in 2017.
Nick Percy, the 2016 champion, completed his NCAA career with an eighth place in the discus with 56.72,  and fellow-Scot George Evans, in his first NCAA, came 13th with 54.41.
With thanks to Arnold Black
+++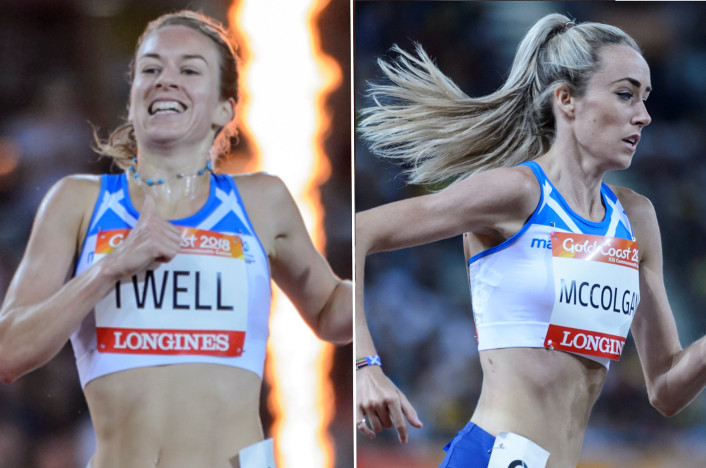 Results from Holland on Friday confirm that Eilish McColgan and Steph Twell were both were well inside the 15.30 being asked by British Athletics for the European Champs in Berlin.
Eilish was second in 15:17.01 and Steph fourth in 15:18.77  in a race won by Welsh athlete Melissa Courtney.
In Poland, there was another 1500m PB for Jemma Reekie as she clocked 4.09.54.
Triple jumper Zara Asante is now a V35 athlete but came up with a PB and the third best distance all-time by a Scot with 13.02 in Geneva.
And, in Manchester, Katy Wyper won the Northern Champs Women's 100m with a run of 11.88 in the heats which is third best by a Scot for 2018.
Tags: Beth Dobbin, Eilish McColgan, George Evans, Jake Wightman. Laura Muir, Jemma Reekie, Jposh Kerr, Katy Wyper, Lynsey Sharp, Nick Percy, Steph Twell, Stockholm, Zara Asante