Ultra special by Scotland; Glasgow Pole Vault School GP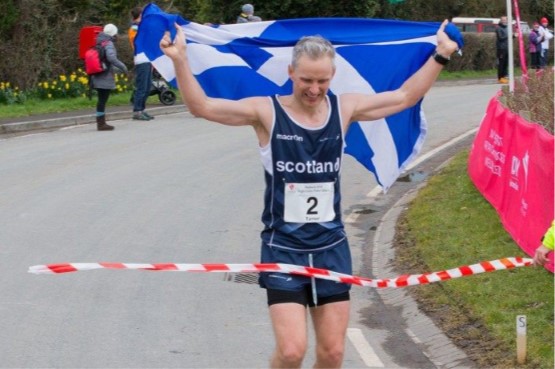 Rob Turner won the British 100K champs in Wales – and helped Scotland score a superb success over England at the Anglo Celtic Plate International in Redwick on Easter Saturday.
The 24th edition of the annual 100km international also incorporated the British Championships for the distance and an open event over 100km and 50km.
Steve Way was the first finisher home in the 50km race, achieving his target sub-three-hour time with a 2:58:03 clocking.
England's Anthony Clark led the field through the halfway point in the main race with a time of 3:26:17. Scotland's Turner followed just two seconds behind. The last several kilometres saw a battle between the two athletes with Turner taking the lead with around four of the 32 laps left to run.
Turner's winning time of 7:00:30 was a huge lifetime best for the 45-year-old who took the Scottish 100km title in 2016 and won the Gloucester Marathon in January.
Clark came home just seven seconds later followed by Michael Stocks of England who made his debut over the distance with a time of 7:16:54
'It's been a fantastic event and even better to win it obviously,' said Turner. '"It's one of the better 100km courses that I've run. I'm delighted to win the national championships.'
Dave Ward and David McLure were the other counters for Scotland alongside Turner, with those three backed up on the day by Grant Jeans.
Tp results
100km men
1 Rob Turner, Scotland 7:00:30; 2 Anthony Clark, England 7:00:37; 3 Michael Stocks, England 7:16:54
100km women
1 Samantha Amend, England 7:53:57; 2 Sophie Carter, England 8:29:42; 3 Jayne Angilley, Wales 9:27:00
+++
The Glasgow Pole Vault Grand Prix 2018 staged their sixth and final meeting on Saturday.
After a long indoor season, 13 athletes competed  and for the Debutants/Espoirs we were able to put on two competitions for these athletes.
Success was many and varied: Dylan Thompson showed his consistency, this season, by vaulting 4.70m and narrowly missed 4.80m. Reuben Nairne consolidated current form by vaulting 4.12m.
Clark Marshall, Rosie Brown and Sara Barbour all jumped PBs. And all athletes looked as if they are ready for a long outdoor Season. Meanwhile focus returns conditioning, focus on technical skills and hopefully the outdoor temperature warming up!
GP Prizes:
Sports Council for Glasgow Trophy – Reuben Nairne, GNAC/GPVS
Highest Vautler – the GAA Trophy – Jax Thoirs, VP-Glasgow
*Debutants/Esports – the Fitzgerald Trophy – Aidan Brindley, NAAC/GPVS
*Coaches Award – Eamon FitzGerald
With thanks to Brian Donaldson
Tags: Anglo-Celtic Plate, Glasgow Pole Vault School GP, Ultra running