Muller Indoor GP review and Club Relays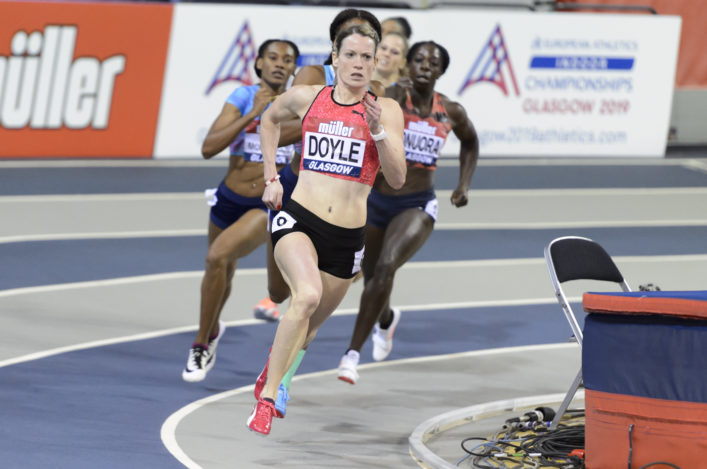 Eilidh Doyle races at the Emirates Arena (photos by Bobby Gavin)
British Athletics website coverage including Results
The Muller Indoor GP brought world-class athletics to Scotland on Sunday with an Emirates Arena audience left thoroughly enthused and entertained.
It was indoor athletics right at the top of the scale with a host of big names in action including Brits like Greg Rutherford and Dina Asher-Smith and a World Record for Tom Bosworth.
After a couple of late additions, there were no fewer than 11 Scots given an opportunity to experience this level and, it must be said, they didn't look out of place in a number of events with two second places, a third, and three or four PB performances worthy of attention.
There was also an opportunity for our young club athletes from the U17, U15 and U13 age brackets to take centre stage to claim Scottish medals in our 4 x 200m Relay Championships (summary of results at the end of this article).
Video interviews with Eilidh Doyle and Lynsey Sharp (with thanks to Stuart Cameron)
Eilidh Doyle was the first of the Scottish contingent in action in a classy 400m field – and she came up with a 400m indoor Native Record. It was a fine performance by Eilidh to take second place to current World 400m champion, American athlete Phyllis Francis.
Doyle actually went ahead on the second lap but Francis managed to come through to win in 52.00 with Eilidh in second in 52.38 as Stephenie Ann McPherson of Jamaica took third in 52.69.
'I'm really looking forward to the World Indoors,' said Eilidh. 'This gave me the perfect warm-up for that event; it's all part of an exciting first half of the year for me.
'I've been fortunate in my races over the last couple of weeks because I've been able to break reasonably comfortably and been able to hold it but I really had to fight to get ahead of Phyllis (Francis).  I'm happy with how I ran it; I had to be strong but I'm happy with my performance.'
Next up, Grant Plenderleith stepped onto the big stage after a late call-up to the GP event. Once again the Falkirk Victoria Harriers athlete was inspired to perform superbly – with his 47.28 just one hundredth of a second off the 47.27 PB he set at the British Champs.
Grant was sixth for much of the race but pulled off a fifth place finish with a big late effort. American Fred Kerley ran a Stadium Record of 45.86.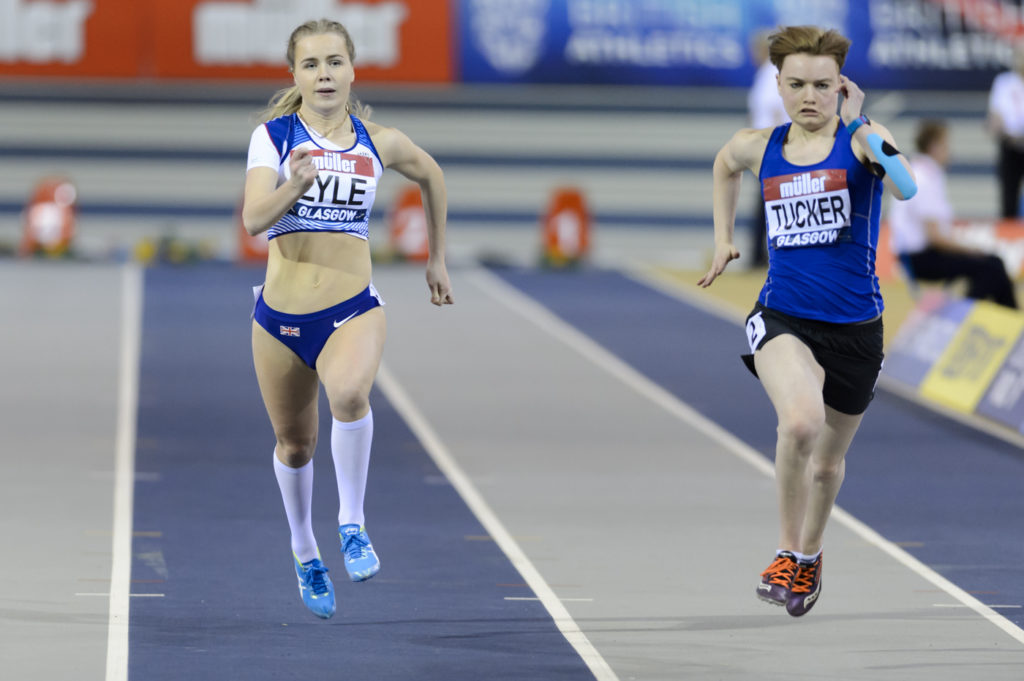 In the T37-38 Women's 60m final there was a hat-trick of PB performances from the Scottish trip of Maria Lyle, Amy Carr and Abbie McNally.
Maria was the highest place at 5th with a run of 9.25 and Amy was just behind at 9.29 with Inverness Harriers athlete Abbie at 9.91.
'I cannot believe I've set a PB! I've had a really difficult season so to PB . . . I'm so happy,' said Maria.
'I gave it my all at the start of the race so I'm glad my hard work's paying off. I'm really excited for the Commonwealths now, especially after hearing my result. Indoors has been good preparation for Gold Coast so for Glasgow to put on these para events is a great opportunity.'
Jake Wightman isn't accustomed to running 800m indoors but he came up with a strong performance to finish third in a new PB of 1.47.69 – sixth best on the Scottish all-time list.
'I didn't really know what to expect because I have only been racing 1500m this year,' he said.
'I knew I'd done the speed-work but the tough thing was the positioning. If you get it wrong, it's hard to get out of there which I found out on the last lap. Third isn't too bad and I've only been beaten by two very experienced 800m racers so I felt like I held my own.'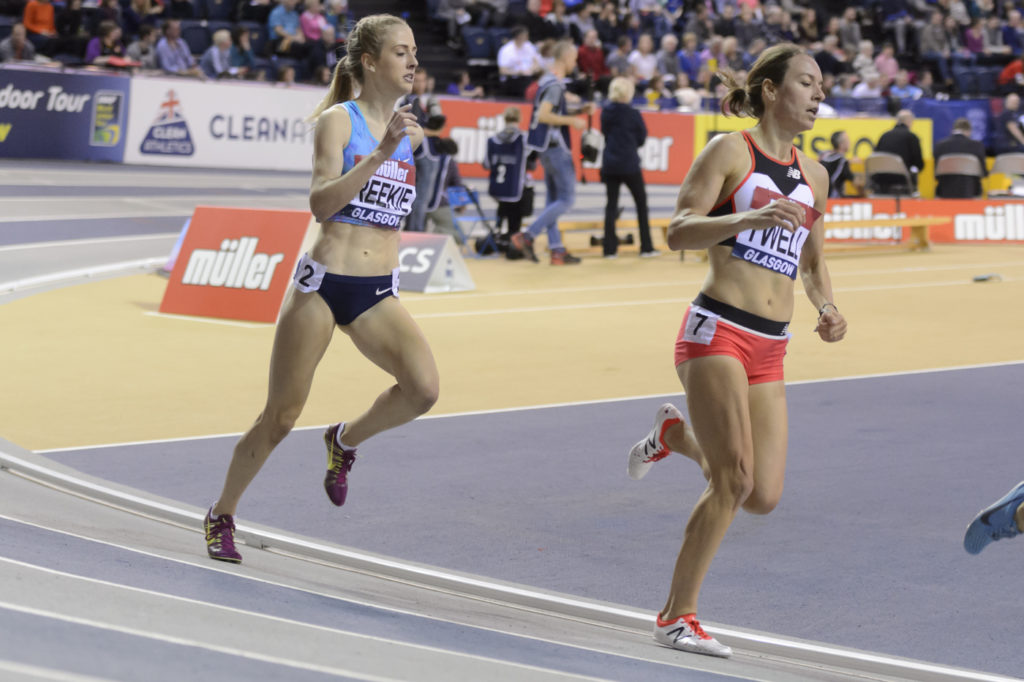 Steph Twell and Jemma Reekie featured in the Women's 1500m and finished 11th and 12th with 4.13.09 and 4.13.46 respectively – with that an indoor PB for Kilbarchan AAC athlete Jemma.
Nikki Manson finished eighth in the high jump with a clearance of 1.84 – with no fewer than five athletes at that height in a competition won at 1.95 by Mariya Lasitskene.
In the 800m, there was a second place for Lynsey Sharp with a run of 2.02.39 as Latvian Liga Velvere won it with a National record of 2.02.10. Mhairi Hendry made her GP debut in that race, and came home in sixth place in 2.0428.
'I would have loved to have got the win but I didn't get it quite right tactically,' said Lynsey. 'Indoors are not my strong point so I probably went a bit too early but I'm happy overall.
'It was nice to have my family and friends here and to compete in front of a Scottish crowd was very special. I've been looking forward to coming home and racing for ages so I really enjoyed it.'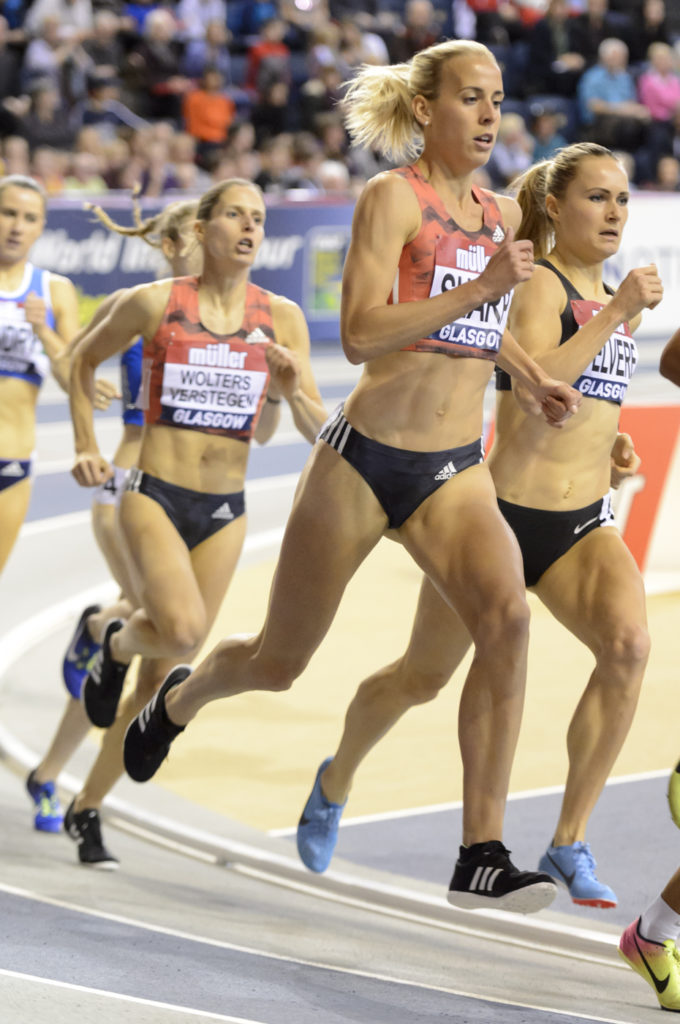 +++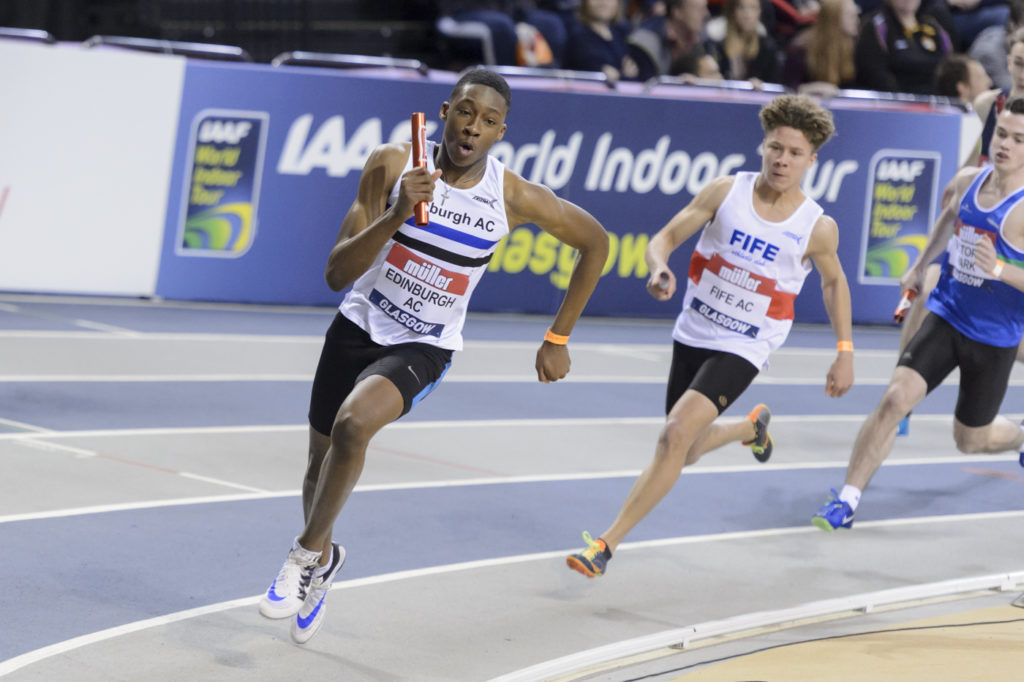 Club Relays – photos by Bobby Gavin on Facebook
Edinburgh AC won the U17 Men's final in 1.32.91 from VP-Glasgow (1.33.38) and Fife AC (1.32.64).  Central AC won the U17 Women's final in 1.44.77 from Edinburgh AC (1.46.28) and Dundee Hawkhill (1.46.87).
VP-Glasgow won the U15 Boys final in 1.46.86 from Airdrie Harriers (1.47.76) and Kilbarchan AAC (1.50.80). And VP-Glasgow also won the U15 Girls final in 1.48.81 from Giffnock North (1.54.34) and Edinburgh AC (1.54.79).
Giffnock North won the U13 Boys final in 1.56.04 from Inverclyde AC (2.00.26) and Giffnock North (2.01.82). Ayr Seaforth won the U13 Girls final in 1.54.53 from Larkhall YMCA Harriers (1.54.59) and VP Glasgow (1.56.25).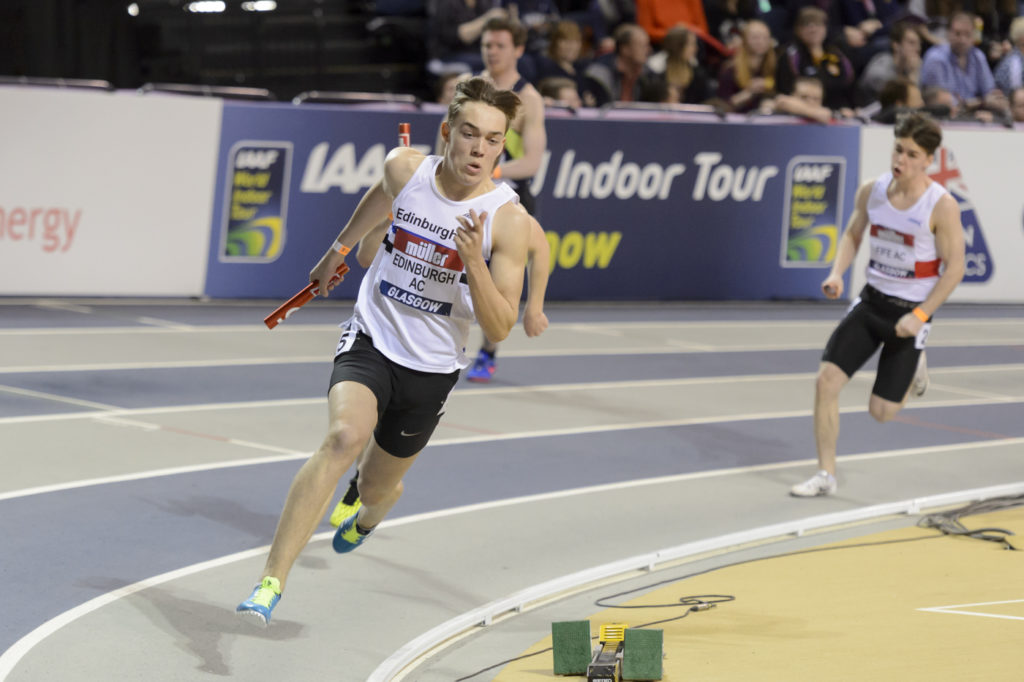 Tags: Abbie McNally, Amy Carr, Eilidh Doyle, Emirates Arena, Grant Plenderleith, Jake Wightman, Jemma Reekie, Lynsey Sharp, Maria Lyle, Mhairi Hendry, Muller Indoor GP, Nikki Manson, Steph Twell