Top Scots ready to savour Great Edinburgh XC experience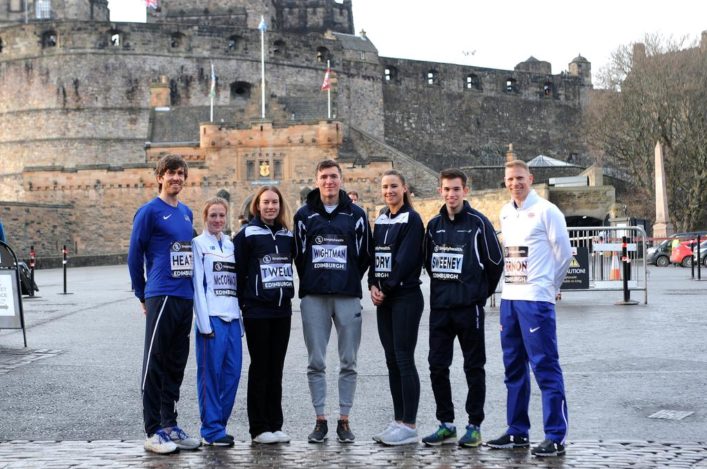 Scotland internationals Steph Twell, Jake Wightman, Mhairi Hendry and Sol Sweeney join the eve-of-race photo-shoot at Edinburgh Castle (photo via Twitter)
GB team additions for Great Edinburgh XCountry
Holyrood Park once again provides the ideal backdrop for the Great Edinburgh XCountry this Saturday – on a day which features everything from top-class cross country to the Inter-Districts to fun runs on the road.
It's an event which never fails to fire the enthusiasm for the sport and with it being free to spectate there's an ideal opportunity for clubs, or family and friends of athletes involved, to come along and watch the action.
Four Scottish athletes are due to wear GB and NI vests – Laura Muir in the International 4 x 1K Relay, Mhairi Maclennan in the Senior Women's race and Erin Wallace and Eloise Walker in the Junior Women's race.
Eight more will represent Scotland in that International 4 x 1K Relay and seek to make an impact on the Stewart Cup podium, with the host nation having won gold and bronze in this event since it began in 2015.
Since that Scotland selection was announced in December, there has been one change with Cameron Boyak forced to withdraw through injury. It means a call-up now to the Scotland B selection for Ben Potrykus of Pitreavie AAC. Jamie Williamson, originally named in the B team, has moved up to Scotland A.
So here are our Stewart Cup teams (race at 1.23pm):
Scotland A Team: Jamie Williamson (Springburn Harriers); Steph Pennycook (Fife AC/Edinburgh Uni Hare and Hounds); Jake Wightman (Edinburgh AC); Steph Twell (Aldershot, Farnham and District)
Scotland B Team: Sol Sweeney (Perth Strathtay/Glasgow); Mhairi Hendry (VP-Glasgow); Ben Potrykus (Pitreavie AAC); Philippa Millage (VP-Glasgow)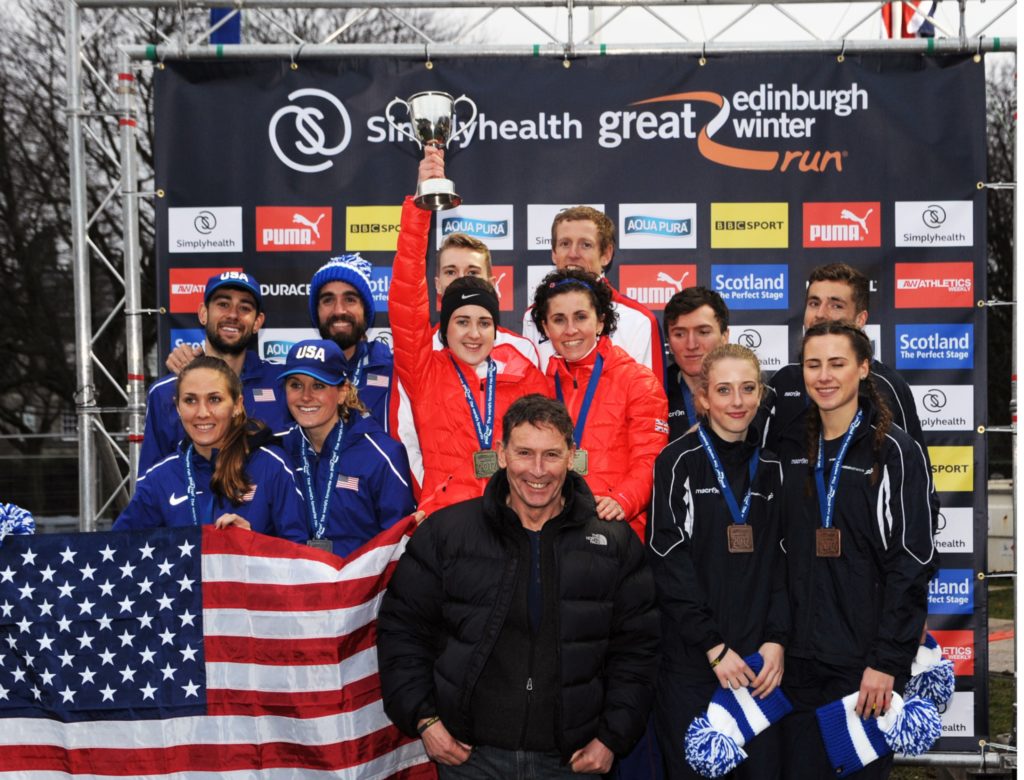 The Stewart Cup podium last year with Ian Stewart; Laura Muir with winners GB and a Scotland team of Jake Wightman, Neil Gourley, Jemma Reekie and Mhairi Hendry 
Muir, fresh from that Scottish 3000m gold medal at the GAA Miler Meet at the Emirates Arena last Sunday, is set to anchor the GB and NI team – as she did last year, leading them home to victory with the United States only just pipping Scotland A on that occasion.
Edinburgh Uni Hare and Hounds athlete Maclennan., who came through the ranks at Inverness Harriers, races over   having helped GB and NI to team gold medals at U23 level at the Euro Cross in Slovakia in December.
Saturday is a first Senior appearance at GB level for Mhairi, who is part of a strong group coached by John Lees in the capital.
Walker is one of the youngest members of that group and steps into the Junior Women's race in good form after leading Scotland to glory with a win in Antrim last weekend in the British Cross Challenge and Celtic xc U20 race.
Giffnock North AC athlete Wallace, who is coached by Dudley Walker,  was selected for the Euro Cross after a good run in the trials in Liverpool but was nursing an injury at that time and will be looking to make up for that absence come Saturday.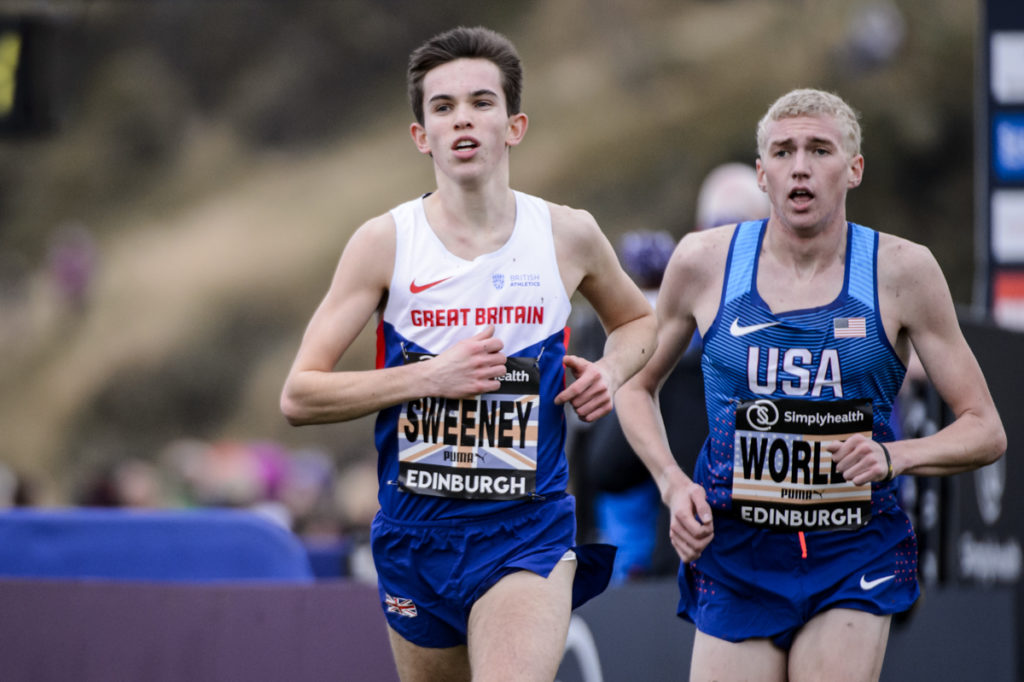 Sol Sweeney of Perth Strathtay competed for GB and NI in the Junior Men's race last year (photo by Bobby Gavin)
In terms of the International 4 x 1K Relay, this event really has backed up the assertion from scottishathletics four years ago that more international opportunities of this kind would help develop athletes.
'I'm really looking forward to racing for Scotland at Holyrood Park and there's always a good atmosphere around the Great Edinburgh XC event, said Sol Sweeney, who won 3000m gold at the Emirates, like training partner Muir.
'I've raced there of course in the Inter-Districts for the East a number of times and for GB last year in the Junior Men's race. But because of that I've not really had the chance to watch the International Relay.
'The fact it is one kilometre means it is quite short and sharp and it should be exciting for us all with the TV coverage and people lining the course.
'Being selected for it actually gave me a lift just after Liverpool because the Euro Cross trial didn't go the way I had hoped. I made one or two tactical errors at times in the race and missed out on selection for Slovakia.
'The 3000m indoors was a good start to 2018 with a PB and hopefully I can keep that going again in Edinburgh.
'I'm looking to improve my 1500m time in the summer and I'm doing that at the Senior Indoors in a couple of weeks, too.'
SCHEDULE OF RACES ON SATURDAY
09:40
09:46
10:06
10:12
Simplyhealth Great Edinburgh Winter Run – WHITE WAVE
Simplyhealth Great Edinburgh Winter Run – GREEN WAVE
Simplyhealth Great Edinburgh Winter Run – PINK WAVE
Simplyhealth Great Edinburgh Winter Run – RED WAVE
5k
10:15
U15 Girls Inter District + U15 Boys Inter District
4k
10:40
Senior + Junior Women Inter District
6k
11:10
Senior + Junior Men Inter District
8k
11:45
Simplyhealth Junior Great Edinburgh Winter Run
2.5k
11:50
U13 Girls Inter District + U13 Boys Inter District
3k
12:15
Simplyhealth Great Edinburgh XCountry
Junior Men's 6km*
Inc. U17 Inter District
6k
12:45
Simplyhealth Great Edinburgh XCountry
Junior Women's 4km*
Inc. U17 Inter District
4k
13:15
BBC coverage starts
13:23
Simplyhealth Great Edinburgh XCountry 4 x 1k Relay*
4 x 1k
13:55
Simplyhealth Great Edinburgh XCountry Women's 6k*
6k
14:35
Simplyhealth Great Edinburgh XCountry Men's 8k*
Tags: Eloise Walker, Erin Wallace, Great Edinburgh XC, Holyrood Park, Laura Muir, Mhairi Maclennan, Sol Sweeney