Eilish breaks Leeds 10K course Record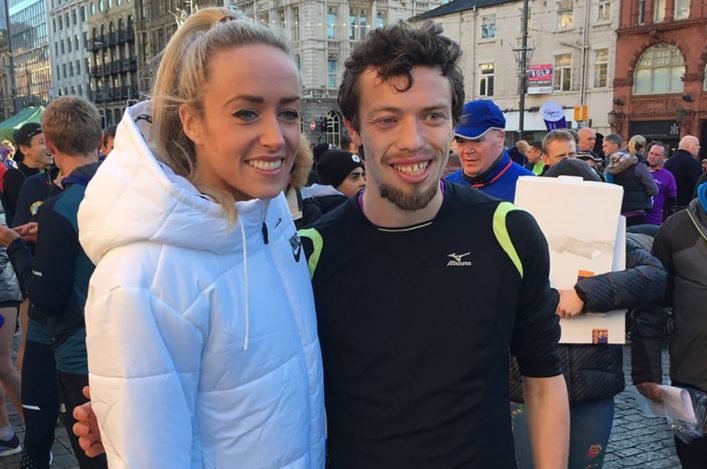 Eilish in Leeds with men's race winner Sam Stabler
Eilish McColgan ran the second fastest 10K of her career to retain her title and break her own course record at the Leeds Abbey Dash – and is now looking to go even faster.
The Dundee Hawkhill Harrier recorded 32:05 to take the honours from Emma Mitchell of Belfast (32:51).
McColgan's only faster run is 31:58 when both conditions and timing were more advantageous and she was especially pleased at this Leeds effort so early in the season.
'I'm really pleased with that, I wasn't sure what shape I was in,' said Eilish, short-listed for FPSG Athlete of the Year the previous evening in Glasgow.
'After the track season I went on holiday and had a nice two weeks off and was just getting back into my training again. I knew the 10K distance was going to kill me because I've just not done that kind of volume or that length of training but my mum thought I was in 32-minute shape and she was bang on.
'I'm really shocked. To run close to 32 minutes and that close to my PB which was in Doha where I had perfect weather, it was nice and warm. It was also in January so I'd had a good winter spell behind me, I'm very happy with that.
'With better pacing I think there's a 31:40 definitely there and with another couple of months training I'd love to try to get down to 31:30 or low 31s if I could; but it's definitely a great start to my winter season.'
The seven-strong Scotland team produced four PBs, and Logan Rees (Fife AC) slashed over half a minute of his with 29:28 in sixth place.
There was almost as big an advance – 22 seconds –  for Lachlan Oates of Shettleston (19th in 30:11) while Kenny Wilson (Moray Road Runners) made his international debut with 30:44 in 28th place.
Annabel Simpson (Fife AC) led home a tightly packed Scottish women's team in 34:56. She was closely followed by Fiona Brian, also 34:56, and Jenny Bannerman (35:07), both of whom also ran PBs. Nicola Gauld (Aberdeen AAC) ran 35:54 in a Scotland vest to finish first overall in the V35 category.
Outwith the national team there was a near PB for Jo Moultrie (VP-Glasgow) who ran 33:38 and an advance to 33:55 for Mhairi MacLennan of Edinburgh University.
With thanks to Charles Bannerman
Logan Rees – outstanding run in Leeds for a big PB at 10K
Tags: Annabel Simpson, Eilish McColgan, Fiona Brian, Jenny Bannerman, Josephine Moultrie, Kenny Wilson, Lachlan Oates, Leeds Abbey Dash 10K, Logan Rees, Mhairi Maclennan, Nicola Gauld