Scots duo land JHI golds in Peebles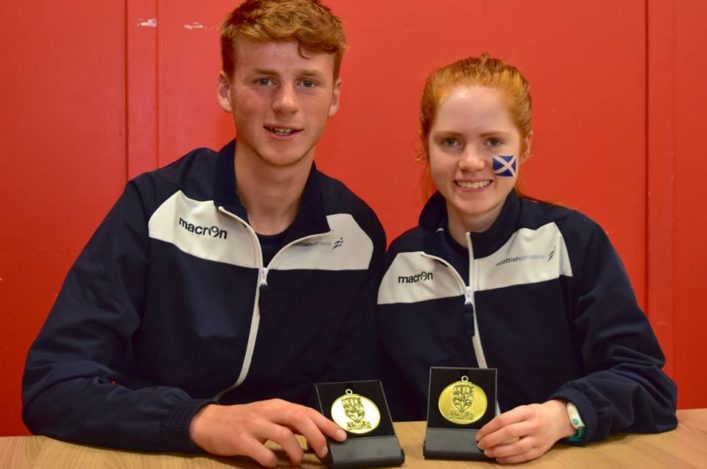 Scotland's JHI gold medallists – Freddie Carcas of Edinburgh AC and Giffnock North AAC's Lynn McKenna (photo by Neil Renton)
RESULTS on our Events page (scroll down on left)
It finished Scotland 2 England 2 in terms of individual golds at the hill running Junior Home International on Cademuir Hill on the south side of Peebles on Saturday.
But it was England, with four team gold wins, who ran out overall winners of the event to retain the City of Edinburgh trophy.
Lynn McKenna (Giffnock North) helped the home nation off to a fantastic start in the U17 Women's race, which was over 3.8km with 187m of ascent.
Second in this race last year, and setting off to the skirl of the pipes on Morning Hill, she made clear her intention to go one better by establishing a good advantage over the chasing pack on the very first climb and led at the turn by 20 seconds from England's Rosie Woodhams.
PHOTOS by Neil Renton on Facebook
At that point, Lynn's twin sister Charlotte was vying for third with Emily Field, also from England. Back into view down the final descent it was clear that Lynn was not to be caught and she crossed the line in 17.21, some 33 seconds ahead of Woodham. Field finished fast to claim the bronze.
With the third England counter sneaking in for fourth just ahead of Charlotte McKenna it was team gold for England with nine points to Scotland's 13. Cliona McCheyne completed the Scottish points in 7th. Not far behind her and 8th overall as an open championship entrant was Moorfoot Runner Beth Hobbs.
The U17 Men raced over 5.8km/321m and it was a clean sweep of the individual medals for England courtesy of Matthew Mackay, Joe Hudson and Euan Brennan. Robert Sparks (Fife) led the Scottish team home with his fifth place finish in a time well over a minute quicker than his trial win.
Ian McWhinnie (Fife) was eighth and Gala Harrier Yousuf Khursheed also improved on his trial time coming home 11th and third Scotland counter. Wales pipped Scotland to team silver by one point.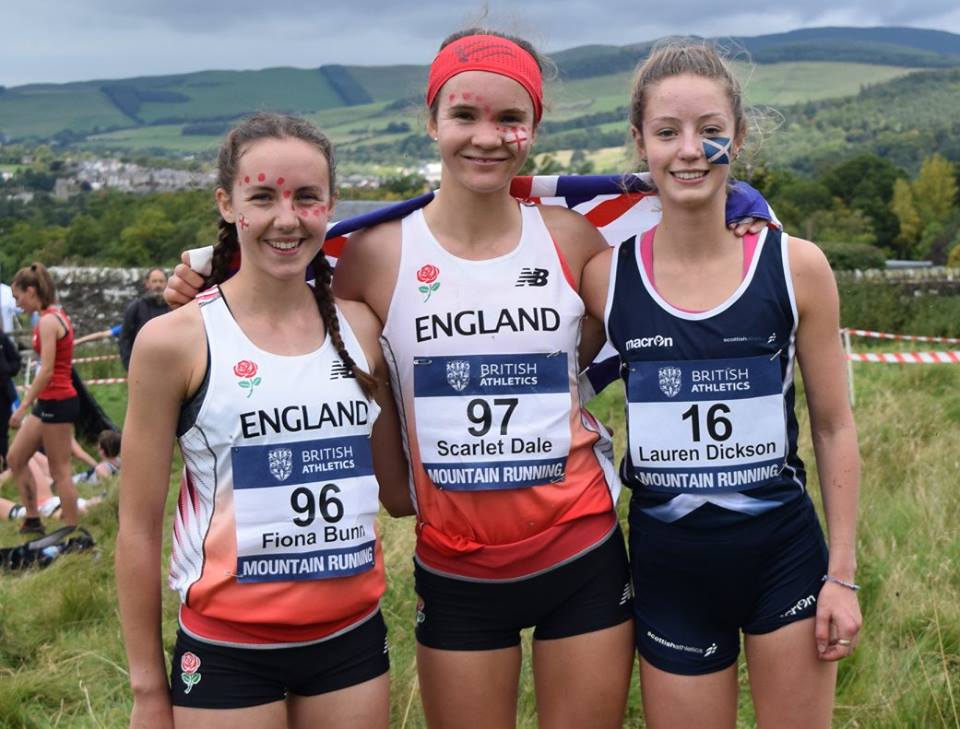 Bronze medal for Lauren Dickson of Lasswade in the U20 Women's race
In the U20 Women's race over the same course, it was an England, Scotland, Wales 1-2-3 at the summit.
Scarlet Dale, who already this season has been seventh in the World Championships and sixth in the European Championships in the GB vest, extended her lead on the descent to take the gold for England in 29.24.
Lasswade's Lauren Dickson, second at the summit, was pressed hard on the final descent by a flying Fiona Bunn of England who just got ahead over the final stretch for the silver in 29.47 with Lauren home in 29.53, an excellent bronze medal given her inexperience on the hills.
It was another team gold for England with eight points to Scotland's 16. Laura Stark (Kilbarchan) was returning from an injury lay-off and ran well for sixth, Anisha Badiel (Aberdeen) was just behind her in seventh and Grace Whelan (Moray) ninth.
The U20 Men had the pleasure of running the steep climb to the summit of Cademuir from its south side a second time making for a race of 8km/433m.
England looked to hold the strongest hand with three of this year's GB internationalists in their team.
Through the high point of the course for the first time, three runners had opened a bit of a gap and were locked together, the England duo of Joe Dugdale and Rory Domville and the Scotland trial runner-up Freddie Carcas (EAC).
But after a 2K loop and the second steep climb to the summit Carcas had established a near 30-second advantage which did nothing but grow from there. He crossed the line in 33.59, a full minute ahead of Dugdale who just held on to silver by two seconds from Domville.
Next Scot home in sixth was Gavin Bryson (EAC) in 35.48, a time 19 seconds quicker than his trial win over Carcas – who improved on the day by an amazing margin of over three minutes. Rory Abernethy (Ochil) was seventh and George Rees (Fife) ninth. England made it a clean sweep of team golds with nine points to Scotland's 14.
With thanks to Gregor Nicholson for this report and Neil Renton for photos.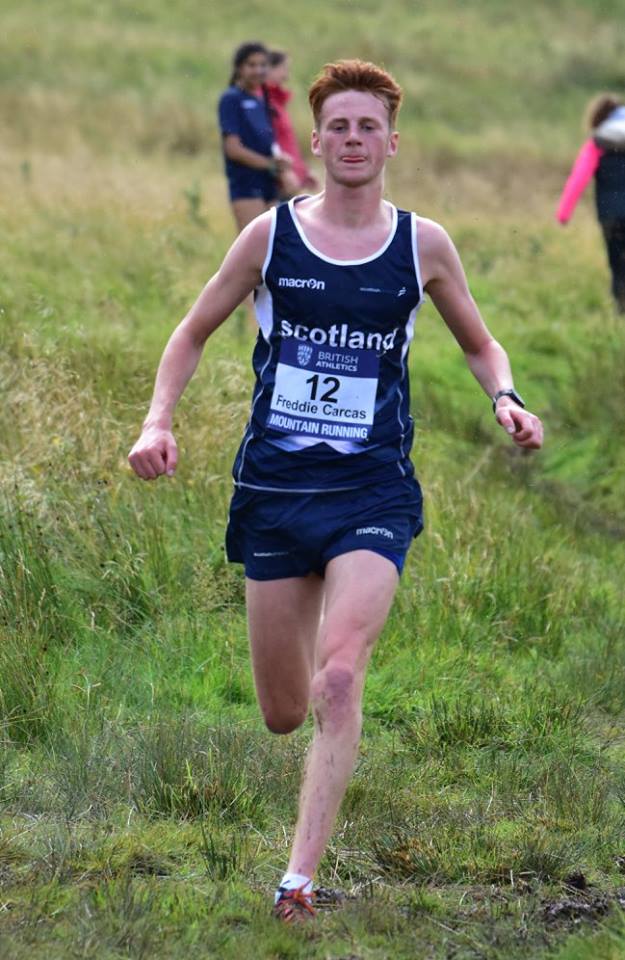 Freddie Carcas en route to a superb U20 Men's gold at Peebles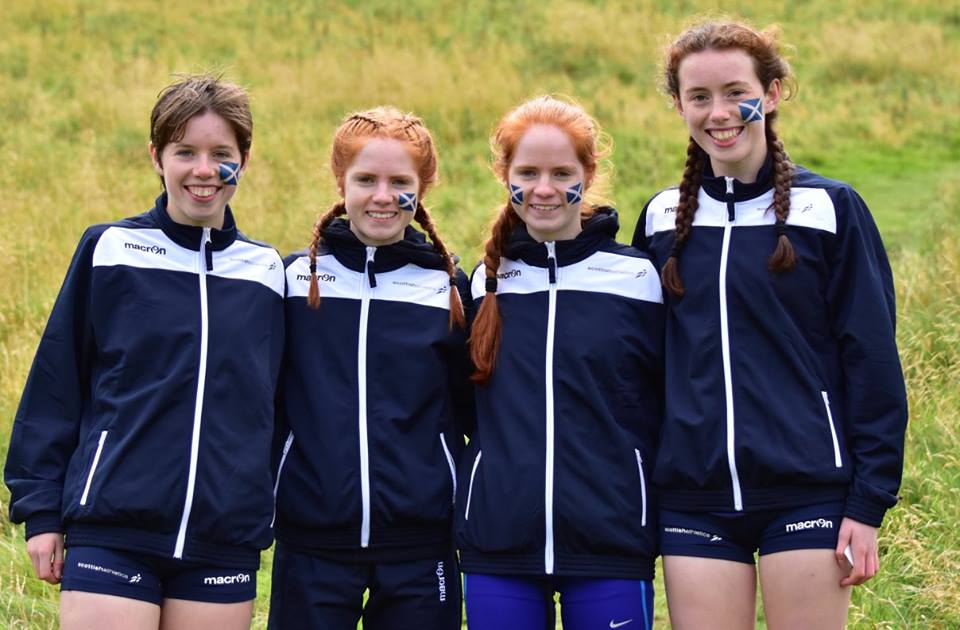 Scotland U17 Women's team at the JHI
Tags: Freddie Carcas, hill running, Junior Home International, Lauren Dickson, Lynn McKenna, Peebles