Scotland hope to rise to JHI challenge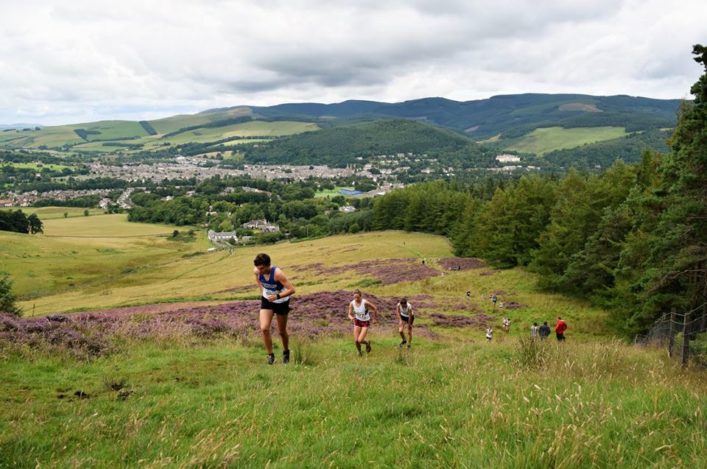 The tough slopes of Cademuir Hill in Peebles are the venue this weekend for the Junior Home International in hill running.
Scotland teams at U20 and U17 compete with England, Ireland, Northern Ireland and Wales for the City of Edinburgh Trophy.
Each team comprises four runners in each of the four races which also incorporate the British and Irish Junior Mountain Running Championships and are open for non-international runners to enter on the day.
Scotland Team Manager Jane Robertson said: 'We can hopefully maximise our home advantage in trying to wrestle back the City of Edinburgh Trophy, which England narrowly won last year.
'It has helped that, thanks to the local club Moorfoot Runners, we were able to hold our selection races over the same course in August. The testing course is very spectator friendly with great views over the Border hills so we hope the locals will come out in force to support our young Scottish Internationalists.'
Gala Harrier Yousuf Khursheed ran well for third place in the U17 Scotland selection race to secure his first Scotland vest and joins ex-clubmate Gavin Bryson, also from Galashiels but now running for Edinburgh AC, who returned to form to win the U20 selection race.
A relative novice on the hills, Lauren Dickson is from just up the road in Lasswade and was a convincing winner of the women's U20 selection race. She is joined in a strong looking Scotland team by Scottish U20 hill running champion Anisha Badial (Aberdeen), GB internationalist Laura Stark (Kilbarchan) and Grace Whelan (Moray Roadrunners).
In what must be a first, two sets of twins – the McCheynes from Inverclyde AC and the McKennas from Giffnock North AAC – make up the Scotland U17 Women's team.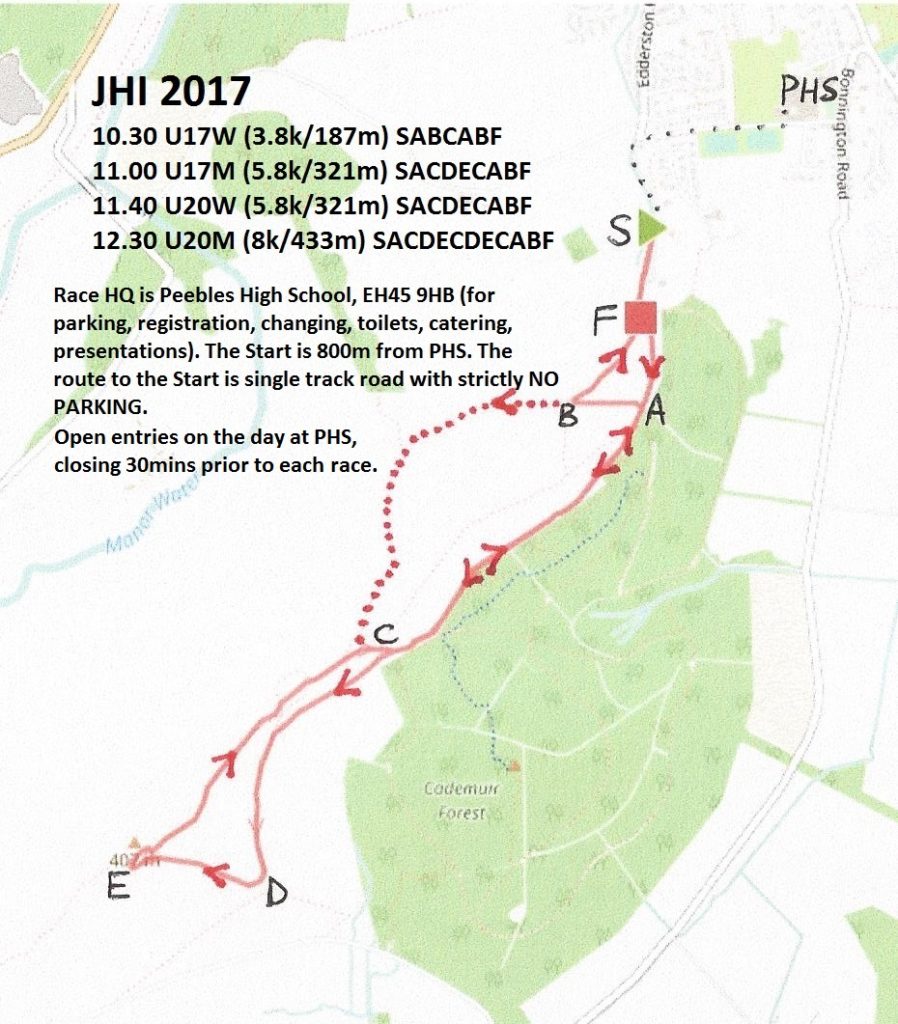 A former participant in this event for Scotland is Euan Jardine from Galashiels, now Councillor Jardine and Scottish Borders Council executive member for culture and sport, who finished just outside the medals in 4th in 2000.
Councillor Jardine was a regular Scotland hill running internationalist in his day, racing in two World Championships as a junior and two as a senior.
'The Junior Home International is a really important event in the British hill running calendar. It is an event I competed in as a junior athlete and I have very fond memories of the occasion.
'It has also been an important catalyst in the career of many Olympic athletes, including Jonathan and Alastair Brownlee. For the Scottish Borders to host such a prestigious athletics international is fantastic for the area.'
Race Details and Scotland Teams
U17 Women, starting 10.30 (3.8km):
Cliona and Nuala McCheyne (Inverclyde AC), Charlotte and Lynn McKenna (Giffnock North).
U17 Men, starting 11.00 (5.8km):
Elliot Duff (Garscube Harriers), Yousuf Khursheed (Gala Harriers), Iain McWhinnie (Fife AC), Robert Sparks (Fife AC).
U20 Women, starting 11.40 (5.8km):
Anisha Badial (Aberdeen AAC), Lauren Dickson (Lasswade AAC), Laura Stark (Kilbarchan), Grace Whelan (Moray RR).
U20 Men, starting 12.30 (8km):
Rory Abernethy (Ochil HR), Gavin Bryson (Edinburgh AC), Freddie Carcas (Edinburgh AC), George Rees (Fife AC).
With thanks to Gregor Nicholson
+++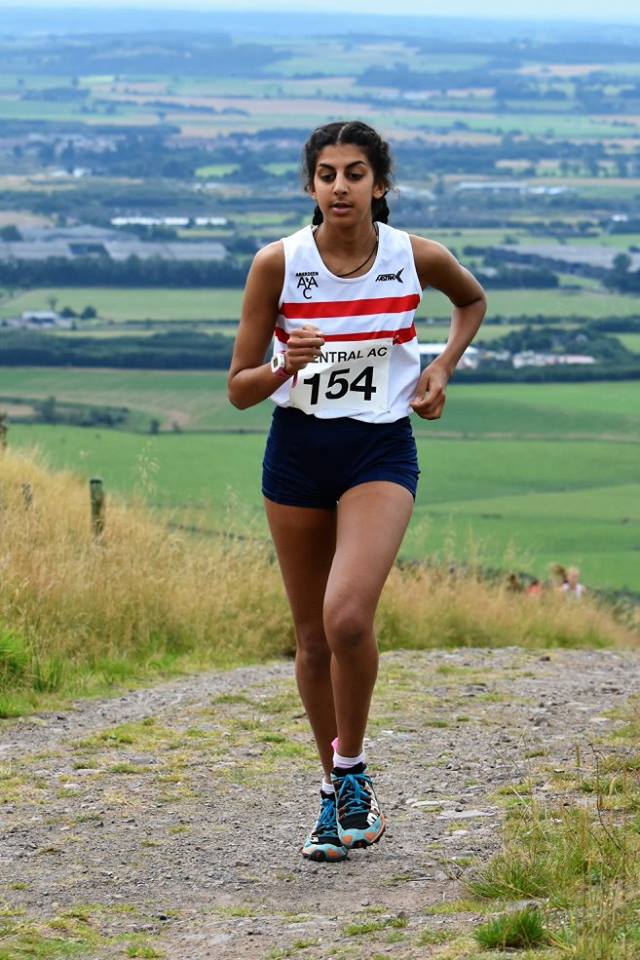 Anisha Badial – Junior League winner at U20 and represents Scotland on Saturday
JUNIOR HILL LEAGUE
In 2017 the junior hill league consisted of five races from across Scotland. These races included the scottishathletics junior hill championships (held at East Lomond) and the trial race for the Junior Home International (at Peebles).
To gain a final position athletes have to complete three races. The title winners are as follows:
Females: Anna Hedley (Fife AC) – U15; Cliona MacCheyne (Inverclyde) U17; Anisha Badial (Aberdeen AAC) U20
Males: Ben Cameron (Forres Harriers) U15; Levi Sweeney (Strathearn Harriers) U17
In all 11 junior hill runners completed the league. Aside from the winners they were: Libby Smith (Fife AC, 2nd U15); Ailsa Bennet (Fife AC 3rd U15); Struan Bennet (Fife AC, 2nd U15); Sam Griffin (Aberdeen AC, 3rd U15); Andrew Winter (Inverclyde, 4th U15); Ross Wyse (Fife AC, 2nd U17)
Congratulations to everyone! Many thanks to Run For It Dundee for the prizes.
With thanks to Mark Harris
Tags: hill running, Junior Hill League, Junior Home International, Peebles