Chris makes London final and Lynsey, too !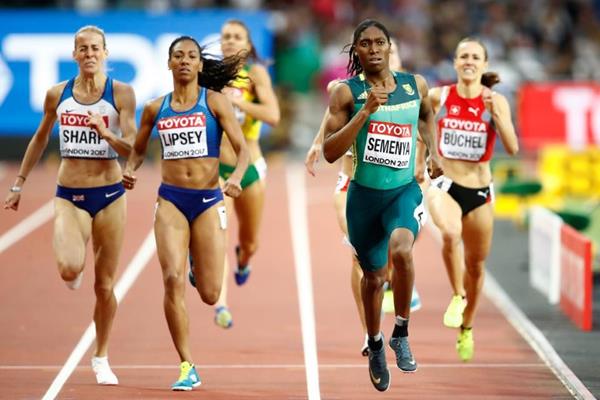 Lynsey and Charlene Lipsey of USA battle for the line as Semenya wins
Chris O'Hare reached the final of the 1500m at London 2017 to repeat his feat of four years ago in Moscow.
And Lynsey Sharp will be there, too, come Sunday evening as eight athletes contest the Women's 800m showdown.
Yet those two sentences barely do justice to three races featuring Scots in the London Stadium on Friday night and a couple of hours of high drama.
We will come to O'Hare in a moment but, first, Sharp was the victim of a DQ decision in the second heat of the 800m, which was then over-turned after an appeal by British Athletics.
American Charlene Lipsey was the athlete involved as she an the Scot battled for the line to finish third and fourth.
The DQ decision was a quick one, and the reinstatement on appeal then took more than 100 agonising minutes before finally it was announced that Sharp was in the final as the last of the two 'fastest losers'.
When the decision was finally ratified it confirmed that 'Sharp advanced to the final placed four in heat two. But the Jury of Appeal also stated the Scot was given a 'Conduct Warning' for unsportsmanlike behaviour.
Nonetheless, the reinstatement was the right outcome and now Lynsey will look to focus on a final on a last session programme which will feature a minimum of four Scots – including her Edinburgh AC team-mate O'Hare, although unfortunately Jake Wightman missed out in those 1500m semi-finals.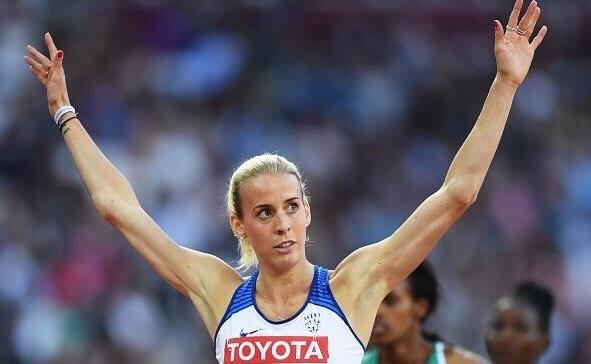 Lynsey Sharp – through to the final after appeal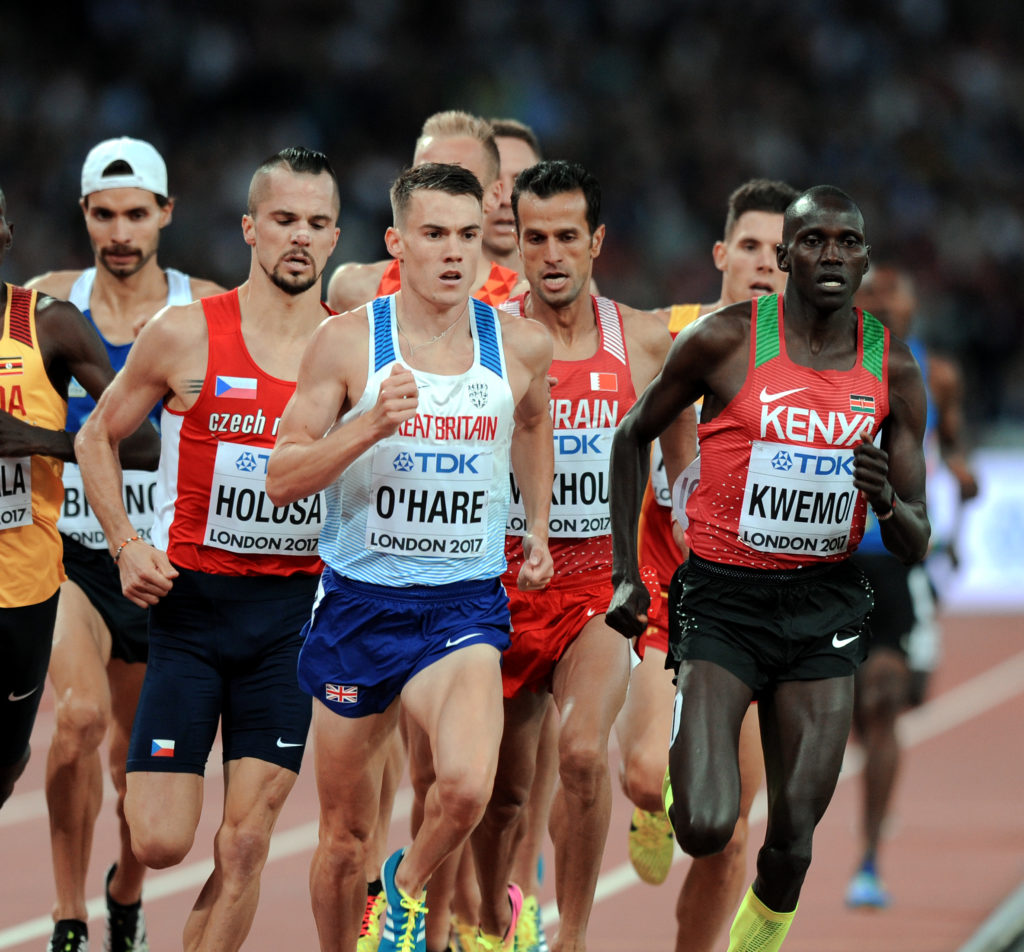 Chris in action in Thursday night's heat – photo by Mark Shearman
A second World Champs final of O'Hare's career now looms on Sunday evening but the Scottish Record holder is a far more mature athlete now than back in 2013.
Chris finished in fourth place in 3.38.39 to nail one of the automatic places in the second heat and now can't wait until Sunday after missing out on the final at the 2015 World Champs and the 2016 Olympics.
'I had a job to do and I executed my plan well and that was it, so I'm happy,' said Chris.
'I'm in the World Champs final on the last night of the event and that's the place to be. I had disappointments in 2015 at the Worlds and in 2016 in the Olympics when I had injuries and it had an effect.
'Now I've a deep-rooted confidence that I can do well, although there will be 12 guys out there on Sunday thinking they can win a medal.
'I feel like my race management has always been there or thereabouts, it's just this year I'm strong enough to execute a plan.
'With 200m to go tonight I was smooth and happy with where I was and I had a couple of gears left. That's the main thing, I've come in happy and fit and to be fair I've not had a year like that ever before. It's big for me just to come in healthy and happy.'
Jake Wightman clocked 3.41.79  to finish eighth in the first semi-final and that wasn't enough with five plus two more to qualify.
'I was just completely flat at 150 metres to go and I think the lesson from that is I need to get better at going through rounds because I think yesterday took more out of me than I thought,' said Jake. who ran 3.38 on Thursday night.
'It's gutting because top five was a real possibility there and with a lap to go I felt like it could have been on, but I was just a bit too frantic throughout and I think I wasted too much energy in the first two laps.
'I could have done with having a Championships like this before, but it'll come (in time) hopefully.
'I look at people that have raced Championships for years and they're so calm, they don't panic and they know that the option to move forward or gaps will open, but I'm not confident enough to do that style of racing.'
Tags: Chris O'Hare, Jake Wightman, London 2017, Lynsey Sharp, World Champs