'Final place has to be my target' – Eilidh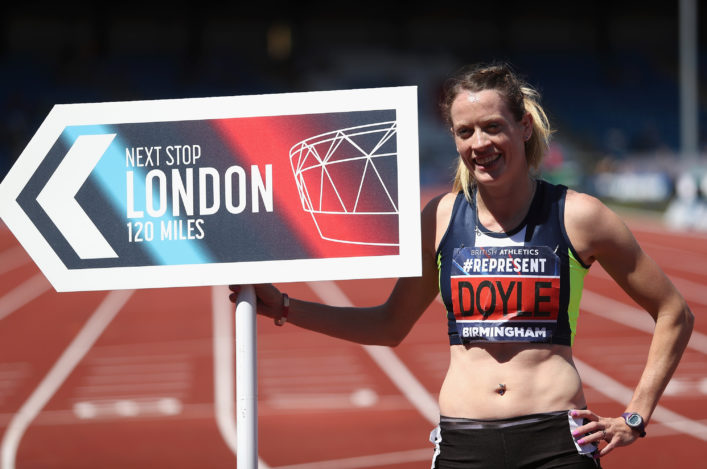 London-calling – World Champs No 5 is on the route map for Doyle (photo courtesy of British Athletics/Getty Images)
It's fully eight years since Eilidh Doyle first experienced the kind of excitement inspired by being selected by GB and NI for a World Championships.
Eilidh Child as she was back then, the Pitreavie AAC hurdler had represented her country at the Euro U23s and then stepped up to make the Senior team for Berlin.
The 'journey' since then has taken her to the World Champs on three more occasions and a fourth successive British Championship gold at the Trials back on July 2 duly ensured selection No 5 for the double Olympian.
And, last week, came the huge honour of being bestowed the GB and NI captaincy for London following a vote by her team-mates – and then a retrospective medal award for the 2013 World Champs in Moscow.
The Women's 400m Hurdles looks a tough event once again this year – with three Americans breaking 54 seconds at their World Champs trial – Doyle's target for London 2017 is clear: make the final if at all possible.
Here, in a special blog post interview for scottishathletics, Eilidh reflects on the past and looks ahead to the next couple of weeks . . .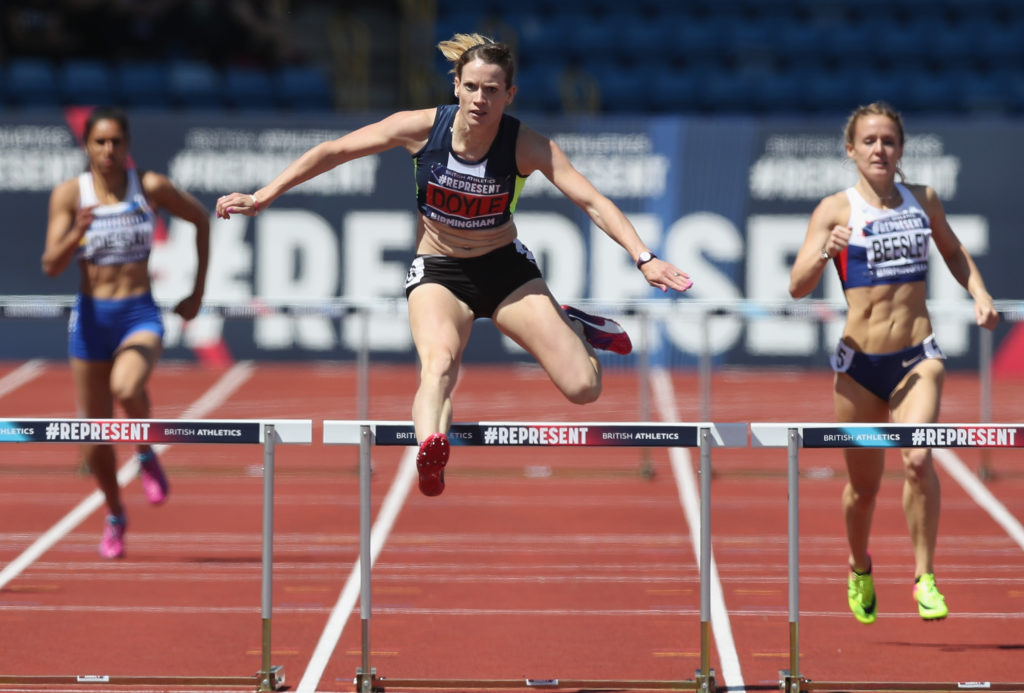 Doyle wins the 400m Hurdles gold in Birmingham to clinch selection for London (photo courtesy of British Athletics/Getty Images)
'It really is quite a thought that this will be my fifth World Champs,' said Eilidh.
'I went to the first one in Berlin back in 2009. I was at the Euro U23s that season and then went on to make the Senior team at the Worlds.
'Jenny Meadows won a medal that year and she was back at Birmingham on the Sunday at the World Trials doing interviews now she has retired!
'But, to be honest, for me it doesn't feel like all that long ago. Sometimes I think my career is just flashing by as the years go on and that's why I try and enjoy it and savour every moment.
'In terms of the World Champs, I've been to Berlin, Daegu, Moscow, Beijing and now it will be London. It is quite a journey, looking back.
'I have said before I was overwhelmed a bit at London 2012 when I went to my first Olympics. I look back now and realise it was something I had to go through and learn from.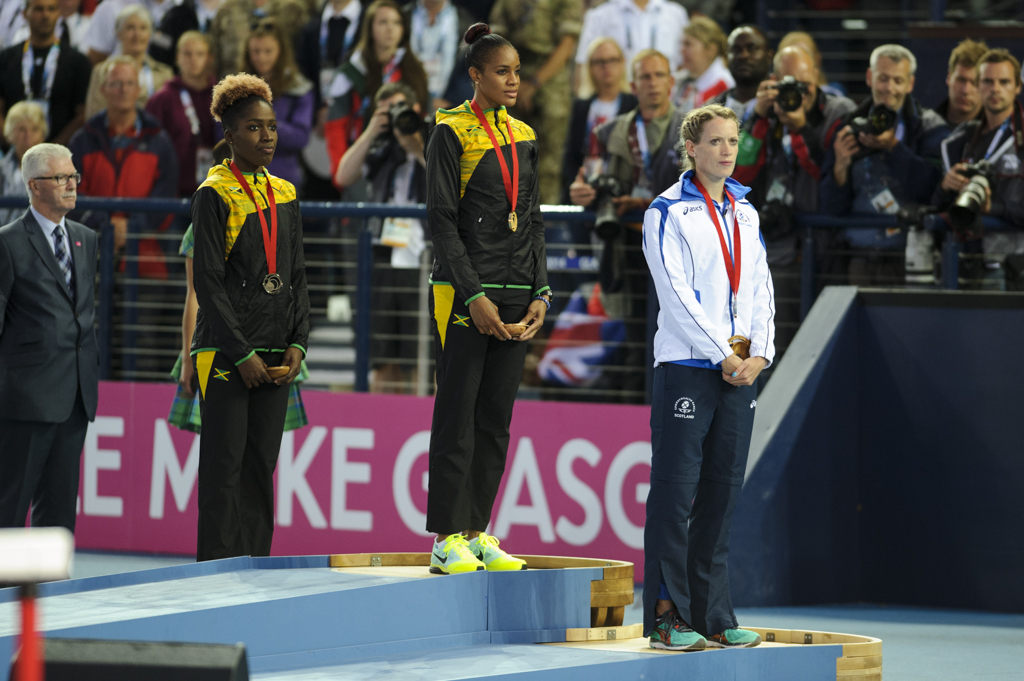 Hampden home crowd pressure – but Eilidh still took silver medal
'I won't make those mistakes again and, in fact, I didn't at Glasgow 2014, when there was a lot of pressure as one of the main Scottish names (and took silver), or the Europeans that year in Zurich when I was the No 1 ranked in the event (and won it).
'At London 2012 it was all so big for me and we were bumping into people like Prince Harry and Sir Chris Hoy and I was just a wee bit in awe of the whole Olympic occasion.
So now I look upon it as being very fortunate that I've another chance to go into the same arena for a World Champs and try and make another final. I think that's where the goal is because there are a lot of good athletes in the Women's 400m Hurdles at the moment.
'We saw what happened in the American trial, where three girls went under 53 seconds and three more were under 54. But we will see what happens. It is different when you are in competition.
'I look back on Rio and I wasn't too disappointed with my performance. I made the final but finishing third in the semi cost me a decent lane draw.
'Then, in that final, people just ran faster than I was capable of that day. You can over-analyse it or beat yourself up but sometimes it's not worth it.
'For me it is about getting the hurdling right on the day. If that happens, I'll race fine and see if that is good enough to get into the final.'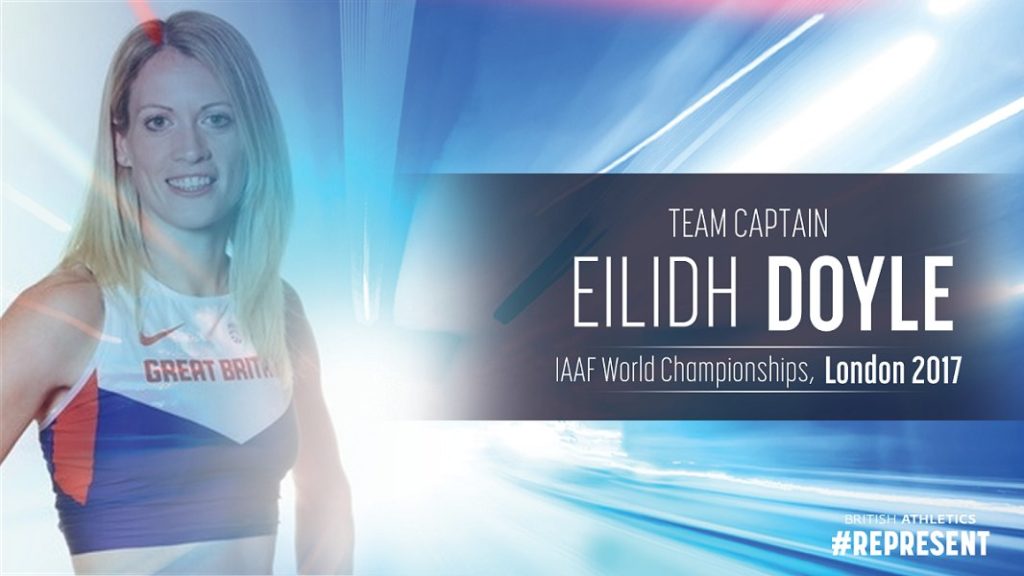 Tags: Birmingham, Eilidh Doyle, London 2017, World Champs