Metro marathon joy; Muir bid; SUPERteams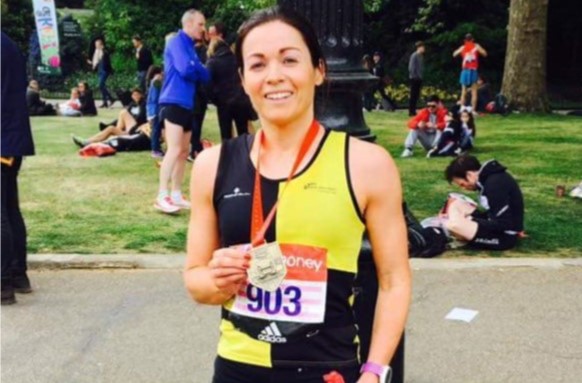 Hazel Wyness helped Aberdeen to British team golds at the London Marathon (photo via Twitter)
British Athletics announcement
Metro Aberdeen are celebrating a superb achievement after claiming team gold medals in the UK Marathon Championships.
Three women from the club each achieved Personal Best runs at the Virgin Money Giving London Marathon, which hosted the British and Scottish Championships, last month.
And now UK Athletics have announced that the efforts of Fiona Brian, Jennifer Elvin and Hazel Wyness, with the collective time of 8:44:59, are gold medallists after finishing comfortably up (in terms of combined times) on silver medallists Kent.
Here's how the three Metro Aberdeen women – who also won the Scottish team golds – ran in London:
Fiona Brian 2:53:50; Jennifer Elvin 2:54:41; Hazel Wyness 2:56:28
Fiona (Rudkin) Brian represented Scotland at XC last year and set a PB by around 14 minutes while we understand Hazel Wyness has a jogscotland background and, now being coached by Derek Hawkins, improved her marathon PB by around 13 minutes in London!
Kent were led home by GB international ultra-runner Amy Clements (Peter Boxshall) in 2:39:11, a personal best by exactly one minute, with the supporting pair of Sarah Hanley and Jennifer Smith posting 2:59:49 and 3:08:21 respectively, as the trio achieved 8:47:21 combined.
The distance in time between silver and bronze was considerable as Dulwich claimed the last podium place in 8:59:03. Scottish athlete Shona McIntosh the fastest finisher in red and blue in 2:47:52, with support coming from Helen Lister, a 3:05:09 finisher; and Mel Edwards, in 3:06:02.
There was a gold team medal for Craig Ruddy with Belgrave Harriers.
Scottish Marathon Champs (up-dated)
+++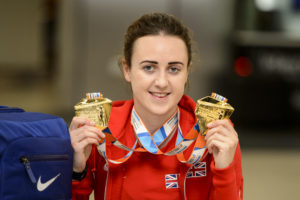 European double gold for Laura Muir – and now another record bid
Laura Muir will use The Müller Anniversary Games on 9 July to attempt to break Zola Budd's 32 year old British record for the women's one mile.
Muir has recently set new British records for 1500m and 3000m and is now aiming to follow Sir Mo Farah with a clean sweep of British middle-distance records.
Since it opened in London 2012, the London Stadium has established a reputation as a super fast track, having seen five world records in four years, including the 100m hurdles at last year's Müller Anniversary Games.
'I am in the form of my life and want to make the most of it,' said Laura.
'With the mile being a non-championship distance, The Müller Anniversary Games is the best possible chance I have to claim the record. The mile is such an iconic event and to become the British record holder would be massive for me.
The Müller Anniversary Games is one of the best events in the global athletics calendar. It's always a wonderful experience to return to the London Stadium where there is such a passionate crowd and I encourage people to come and support not only myself as I challenge for this record, but also give the British team a great send-off for the IAAF World Championships.'
+++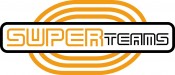 The U12s SUPERteams event is heading north this year, with Inverness the venue on Saturday 17 June with an 11am start.
Entries are being taken online for this great development event which features four young athletes in a team getting involved in four disciplines.
We do appreciate the location this year is asking many clubs to travel but it does fit with the policy of the Track and Field Commission to try and 'rotate' national events where possible. Last year, the summer SUPERteams were in Ayr.
Closing date for entries is June 5.
Tags: Anniversary Games, Invernes, Laura Muir, Metro Aberdeen, SuperTEAMS