Scots impress in Port Talbot and Kampala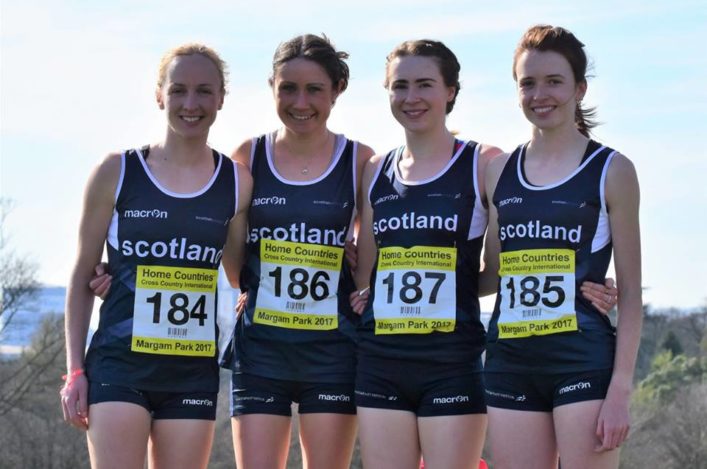 Scotland Senior Women – silver medals in Wales at the Home Countries XC
RESULTS (Home Countries and SIAB)
There were some fine performances by Scotland at the Home Countries XC International in Port Talbot in Wales.
Three of the four teams collected silver medals and the Senior Men's team were just one point adrift of England after finishing 2, 5 and 6.
In the other race, the Scottish Schools team led home by race winner Erin Wallace collected the U20 Women's Silver medals in a race where five Scottish girls finished in the top nine as more evidence of decent depth in our U17 Women.
Murray Strain of Hunters Bog Trotters was back in a Scotland vest after something of an exile and he made the most of it with a superb run to finish second.
Strain was backed up by Calum McKenzie at fifth and Ross Matheson at sixth, with Lachlan Oates finishing ninth.
PHOTOS on Facebook (with thanks to Neil Renton)
Scotland Senior Men took silver at Home Countries XC
'We packed really well in the race and knew it was going to be close for the golds,' said McKenzie, who completed a hectic weekend with a good run at Livingston on Sunday to help Corstorphine AAC to bronze medals at the National Road Relays.
'Murray was in a battle for the gold and myself, Ross and Lachlan were in a group behind fighting for high finishes. It came down to just one point in the end.
'It is always a great honour to wear the Scotland vest and it had been a couple of years for me since I'd done that.
'But I've been with Corstorphine since I was 10 years of age and was pretty keen to run the Relays, too. We've been fourth the past couple of years so really it was an all-out effort to improve on that.
'I was back up the road very late – it was 3am before I was home to Edinburgh – and then back out to Livingston in the morning but it has been worth it.'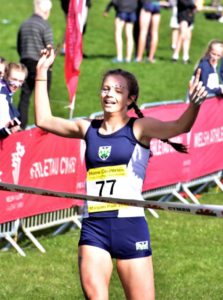 Erin Wallace wins the U20 race
Like McKenzie, Sarah Inglis and Steph Pennycook raced at Livingston after making the trip back from Wales the previous evening.
The Scotland Senior Women won silver medals with the team at 5,6,7 via the performances by Rosie Smith, Pennycook and Inglis. Mhairi Maclennan was 12th.
Scotland U20 men took silvers, also, with England winning every team race (as is often the case). Logan Rees led the team home in fifth place from Broc Drury in seventh. Joe Arthur of Scottish Schools finished ninth, as he headed Euan Gillham (12) and Jamie Williamson (13) in that race.
In the U20 Women's race, there was a fine win for Erin Wallace of Scottish Schools and that helped her team to the silver medals, with Lauren Dickson and Kate Gallagher 6 and 7, with Anna Tait, representing Scotland, in fourth place, also.
For Scottish Schools, Clare Stewart was ninth, while Anna was backed up by Catriona Graves (12) and Sarah Dempsey (20).
+++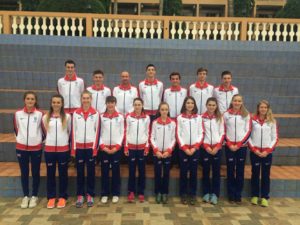 Scotland's U20 effort in Wales would have been even stronger – had Gillian Black and Anna Macfadyen not had the alternative arrangement of competing for GB and NI at the IAAF World Cross!
As 'excuses' go, that counts as one of the best and the Scottish teenagers took full advantage with good runs in the Junior Women's race in very conditions in Kampala.
Team-mate Victoria Weir was the best-placed of the six Brits at 40th place and Black and Macfadyen were then the next two home in 46th and 48th place respectively.
There were 104 athletes in the field and 97 finishers with a few DNFs so it really was a commendable effort by VP-Glasgow's Gillian and Anna, who is with Forres Harriers. Many congratulations to both athletes, their families and their coaches and clubs.
Weir was 40th in 20.43 with Gillian in 46th at 21.59 and Anna five seconds back. Looking at the Results, it is worth noting the two Scots eclipsed all but one of the six-strong team from the United States!
'I had to keep reminding myself that I might never get an opportunity like this again, so I tried to go hard and give everything that I had,' Gillian told British Athletics.
'I tried to not keep an eye on what was behind me too much because I think that might've meant other athletes seeing it as a chance to overtake, so I tried to hold, be strong and keep looking forwards.
'Once I've recovered and reflected on the race, there are definite lessons I'll be able to take away from this.'
Tags: Anna Macfadyen, Erin Wallace, Gillian Black, Home Countries XC International, IAAF World Cross, Kampala, Murray Strain