National XC joy for Callum and Morag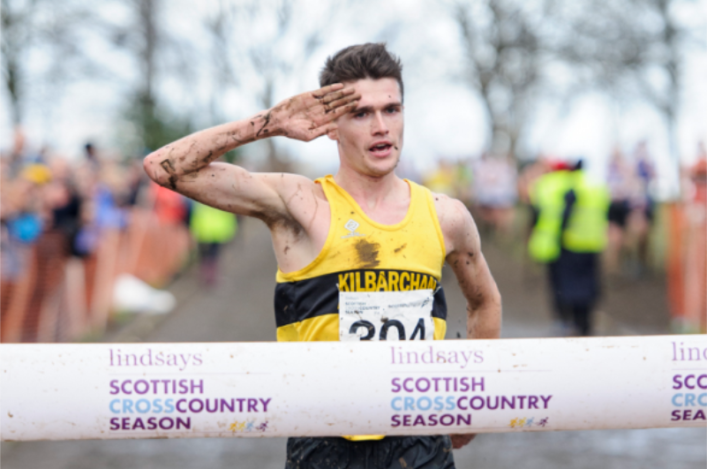 Command performance – Callum Hawkins come home for his 2nd Senior Men's National XC title (photo by Bobby Gavin)
Olympian Callum Hawkins and Scotland international Morag MacLarty stormed to victory at the Lindsays National XC across the mud of Callendar Park on a superb day for the sport.
Hundreds of club athletes battled team-mates, opponents and the elements at Falkirk in the contests for podium places.
Hawkins more than justified his status as pre-race favourite for the Senior Men's race as he led from early on – with Kris Jones of Dundee Hawkhill taking the silver medal before Lachlan Oates of Shettleston took the bronze.
But Callum's Team GB and NI team-mate from Rio, Beth Potter, had to settle for silver in the Women's race, which attracted a Record entry, as MacLarty established an early advantage which she never relinquished to win Senior gold for the first time at the age of 31. Lothian's Sarah Inglis took third.
Central AC's yellow topped the podium, too, in the Senior Men's and Senior Women's race – with the Men making it Seven-in-a-Row even without the assistance of Andy Butchart.
In the U20 races, there were wins for Broc Drury of Aberdeen AAC and Gillian Black of VP-Glasgow (with a separate report on the age group races to follow on Sunday).
It was the day the Women went up to 10K – and no fewer than 269 finished, the biggest tally since these numbers were recorded. The Men's finishers number of 647 is the best for fully 30 years. WOW.
'It wasn't as smooth as I thought it was going to be, it was pretty muddy out there,' said Callum, who won it in 33.34 from Jones, who recorded 34.02.
'I've the New York Half Marathon in three weeks so this was good for the preparation for that. Even so, I didn't really decide until 10 o'clock this morning that I would run.
'If it was going to be really awful weather it would probably have taken too much out of me for New York, but it turned out a good tune up.
'Without being arrogant, but you can't race all the time when you're at the top end. You don't want to tire yourself out and miss important training. But it was good to be back here basically where it all started for me.
'I wasn't looking to lead it for as long, I was hoping to sit in a bit, but it was a bit slow at the start so I just went for a run out to see what happens, to see if I could hold on.
'That's two Senior titles I've won and Derek (Hawkins) has two. It's a bit off Bobby Quinn's five but getting to that will be difficult over the years with Andy Butchart in the mix!'
MacLarty covered the new 10K distance for Women in 38.32 to win by a massive 67 seconds from Potter, with Inglis a further 11 seconds back.
'I wouldn't want to say it was easy, but I'm pleasantly surprised at how far ahead I was,' said Morag. 'I'm so happy. It's been a long, long time. The past few years have been so tough, but I train at Central and the group I'm with there is absolutely amazing.
'My boyfriend Lewis (Millar) has been helping me out so much, so I feel really lucky and really positive about how things are going.
'He's good pals with Andy Butchart and they were telling me on the last lap 'go and enjoy it now' but even so you can't really relax.
'I've missed this a lot of years with injuries but the highs you get in this sport do make up for the lows. I've never won it as a Senior so it is special and it's come off a healthy winter and a good season.'
Central AC won the Women's team title with 48 points from Edinburgh Uni Hare and Hounds on 76 and Metro Aberdeen on 90 points.
In the Men's, it was clear-cut again for Derek Easton's Central as they won from Shettleston Harriers and Cambuslang Harriers.
'We're pleased to win it again because we have had real strength in depth today – I think all the guys were in the top 20 or close to that,' said Ross Houston.
'We've younger guys like Jamie Crowe coming through – he did really well for fifth – so I think it is down to other clubs to see if they can try and catch us. We even let that guy Butchart have a day off.'
At U20 level, Drury came home for the U20 title from Euan Gillham of Kilbarchan and Jamie Williamson of Springburn. Black was followed home by Anna Macfadyen of Forres Harriers and Sarah Dempsey of Kilbarchan.
Taking home the gold medals in the U17 age group were Erin Wallace of Giffnock North AAC and Freddie Carcas of Edinburgh AC.
The U15 National XC champions are Hamish Armitt of Giffnock North AAC and Lily-Jane Evans-Haggerty of VP-Glasgow.
And taking the tape first in the U13 races were Anna Hedley of Fife AC and Harry Henriksen of Lasswade AAC.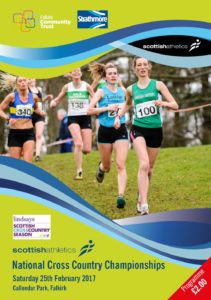 Tags: Broc Drury, Callum Hawkins, Central AC, Falkirk, Gillian Black, Lindsays National XC, Morag MacLarty