Muller Indoor GP preview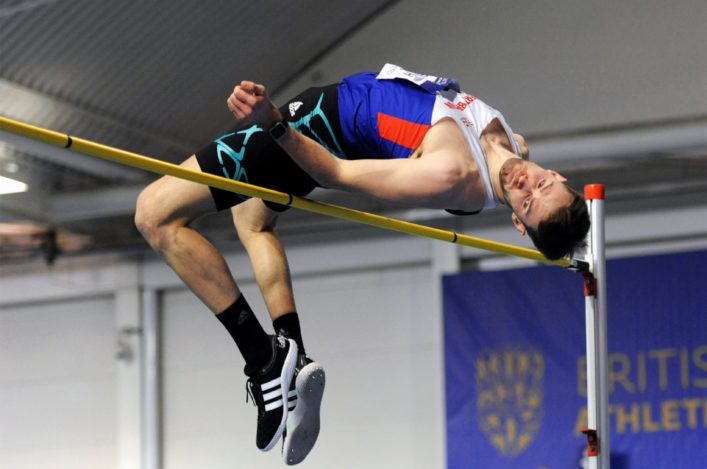 Allan Smith – won British high jump title last weekend and now looking for European Indoors slot (photo by Mark Shearman)
Seven top Scots compete in an eagerly-awaited Muller Indoor Grand Prix in Birmingham on Satruday – with no fewer than 25 global medallists on the start-lists, including five Olympic champions from Rio.
Andy Butchart races with Sir Mo Farah in the 5000m at the conclusion of an exciting programme which also has Laura Muir's British Record bid at 1000m as a highlight.
Allan Smith will look for the European Indoors qualifying mark in the high jump while Eilish McColgan and Steph Twell, who went 1-2 in the British Champs in Sheffield over 3000m last Sunday, race again over the same distance in a high quality field.
Eilidh Doyle's unbeaten start to 2017 will face a strong examination in the Women's 400m and Guy Learmonth, with his place assured for Belgrade, will be looking to improve on his recent indoor PB at 800m.
A total of five Rio Olympic champions will be among 25 current global medallists competing at the world's top indoor athletics meeting, which is the final of the IAAF World Indoor Tour.
Glasgow of course staged this event last year and will do so again next year.
Farah is one of those Olympic champions as he competes in the 5000m. The four-time Olympic champion and five-time world champion will face a field including Butchart, who ran the third fastest 3000m in the world this year with a time of 7:41.05 in New York on Saturday.
Muir, for her part, is aiming for another British Record held by Dame Kelly Holmes, this time over 1000m. This year Muir has already set British indoor records over 5000m with a time of 14:49.12 and 3000m with a time of 8:26.41 and will be hoping for another on Saturday.
Holmes clocked 2.32.55 back in 1997 and many believe that kind of time for five laps is very much within Laura's compass.
Eilidh Doyle – #IndoorTeamTrials

Her main aim at the #IndoorTeamTrials was to secure her spot on the British team for the Europeans in March so to go home with the gold medal was an added bonus for Eilidh Doyle

Posted by British Athletics on Monday, 13 February 2017
Doyle is headed for the Europeans and has made a great start to 2017.
'It felt good to get the win at Sheffield last weekend in a good race and to get the gold,' she said.
'I've had a good winter and I hope to build on that. Last year, after getting married towards the end of 2015, I came back a bit later. So this time we went back to the plan of having an indoor season and hopefully that helps for the summer.
'We've looked back and in 2013, when I won a 400m silver at the Europeans, I had one of my best outdoor seasons after a good indoor season. We've gone back to that approach, really, and it is all about planning for what is coming up later in the year.'
Smith was another British title winner with his 2.25m clearance – but needs 2.28m to get the nod for Belgrade.
'I do believe I could do well if I could make the team for the Europeans,' said Allan.
'It is just that bit tougher because our (GB and NI) qualifying standard is tougher than the ones set by European Athletics. Most of the guys who will be there, I've taken them already so I see no reason why I couldn't do well – if I can get that 2.28m.'
Allan Smith – #IndoorTeamTrials

It was a win he was looking for and he duly delivered.We spoke to Allan Smith following his gold medal at the #IndoorTeamTrials to reflect on another thrilling high jump competition in Sheffield and his targets for the season ahead.

Posted by British Athletics on Monday, 13 February 2017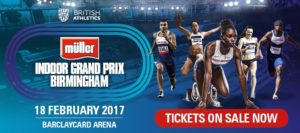 Tags: Allan Smith, Andy Butchart, Birmingham, Eilidh Doyle, Eilish McColgan, Guy Learmonth, Laura Muir, Muller Indoor GP, Steph Twell