VIDEO . . . and our Scottish Seniors diary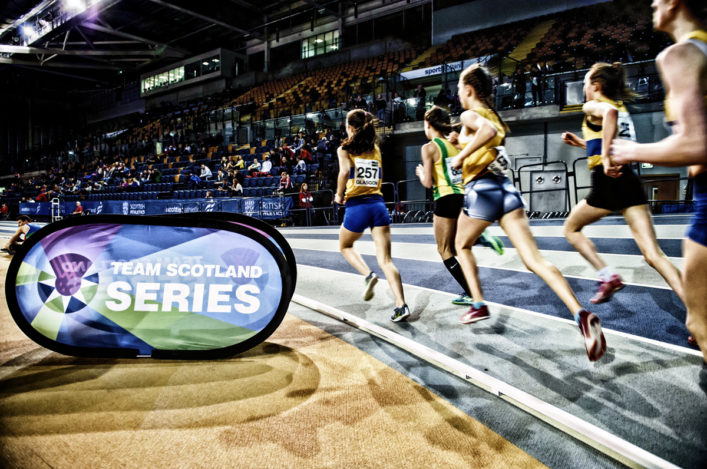 Photo: By Bobby Gavin
Check out our superb Video highlights package from the Scottish Senior and U17 Champs at the Emirates Arena last Saturday.
We asked Sergiu Timar from Youth Football Scotland to follow-up his fine work from the National Open by taking in the action in the Senior and U17 Champs.
A number of athletes across both age groups are featured as well as a few finals at Senior level and a good spread across the run, jump and throw disciplines.
Below the video footage, we've a few diary items from the Seniors with comments from a number of athletes.
+++
When Laura Muir broke a Linsey Macdonald indoor 800m record at the old Kelvin Hall some five years ago, it created the first stir around a Scottish athlete ranked No 1 in the world last year at 1500m.
Laura had actually raced the previous day at Falkirk to win the Scottish U20 cross country title and then recorded 2.08.12 to eclipse Linsey's mark of 2.08.4 from February 1982.
Safe to say, since then, the Scottish U20 indoor record for 800m has become a hot topic within the age group and the endurance community – with Jemma Reekie the latest athlete to break it, doing so for the third time in the past five years.
Mhairi Hendry broke it in December 2014 with 2.06.36. Then, at the Scottish Seniors last Saturday, Hendry's victory saw her actually lose the U20 Record to Reekie's run of 2.05.52.
Erin Wallace, not yet 17, came home in third place with a time of 2.06.84, which has now taken her in at No 3 on the all-time U20 list ahead of Muir and McAulay.
Muir of course is coached by Andy Young and he was in that role for Hendry at the time of her Record in 2014. Kilbarchan AAC's Reekie is now being coached by Andy, too.
+++
Back in 1982, Linsey Macdonald followed up that 800m run with the Scottish U20 Record over 200m at 24.20 seconds. She was already an Olympic medallist by then, having been at Moscow in 1980 as a 16-year-old.
Now Alisha Rees has taken that time down with her run of 24.18 to win the Scottish Seniors 200m gold on Saturday – to add to her victory at 60m.
But it might not have happened if Banchory Academy pupil Alisha hadn't decided to drop her interest in football.
'I've always wanted to do rugby and I've always thought I'd be quite good at it,' said Rees.
'But I played football when I was younger and when I was 13, 14, I considered it as my main sport. I liked being part of a team. There was a boys team for the school in S1 and S2 and I was always in the team!
the lineup! I liked getting down the wing where I could sprint after the ball and then cross or shoot.
'But I was quite shy back then so, while I really enjoyed it, I never saw myself becoming good at it. Becca Flaherty was in my team and she's now at Liverpool Ladies. I was doing athletics at the same time, so I wasn't sure which to go for. But I love athletics and I love competing every weekend.'
+++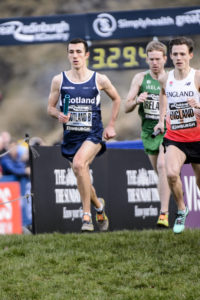 Ben Greenwood – busy January
Back on the 800m theme, and there was a Senior Scottish title for Ben Greenwood as the Perth Strathtay athlete continues his good progress.
It has been quite a hectic January for Ben, with four races across four different distances as he merged indoor action with cross country.
The 18-year-old opened the year by improving his own Scottish U20 600m indoors record in 1.18.98 at the GAA Miler Meet and followed that up by representing Scotland B in the International 4 x 1K Relay at the Great Edinburgh XC.
Then, six days before the Emirates win at 800m in 1.49.81, Ben raced for Scotland in the Celtic Nations XC event at Cardiff in the same team as his club-mate Sol Sweeney, with both taking medals in the Celtic event.
'It was supposed to be 6.9K last week but most people had it on the Garmin at 7.6K,' laughed Ben. 'I enjoyed it but in terms of the Results it was confusing with the Celtic Nations XC part of the British Cross Challenge and Ireland fielding a couple of teams, one of which didn't count!
'I'm happy with a big indoor PB in the 800m and in February I will only race twice – with the next one the British Senior Champs.
+++
The Women's Triple Jump generated a fair bit of excitement on Saturday – as Carolyn Harvey took the gold with a superb PB on the final jump of the competition.
Gillian Cooke had won her fifth Long Jump title by a single cm earlier in the day, to claim her 14th Scottish Senior gold medal. When she reached 12.02m in the TJ, she certainly applied the pressure on Harvey – who had come into the event with a PB of 11.75m.
Fair play to Carolyn, then, for duly coming up with 12.08m.
'I've no idea really where that came from – you would have to ask my coach (David Watson),' said Carolyn. 'Seriously, I am thrilled with that because I came in here with a PB of 11.75m from the Open and now it is at 12.08.
'I was standing there for the last jump knowing I had to get beyond 12.02 from Gillian for the gold. I had buckled a bit on the fifth round jump and still reached 11.70 so thought 'if I can do that buckling then I can still get over 12m and have a chance to win'.
'I've only been in the triple jump since 17 or 18 and enjoy it. The event has been bypassed a bit in Scotland recently and we must try and improve the standards.  It was a really good competition and that helps.'
+++
Hammer thrower Rachel Hunter tried her hand at the shot and came away with gold at the Emirates – in a new club vest.
'It's always nice to be a Scottish champion and I hardly ever throw the shot – I did about 15 minutes of training last midweek,' smiled Rachel.
'I'm representing North Ayrshire AC now and they are a really progressive club. They've said they will help me out and they want me to talk to young athletes, that kind of thing, and I'm very happy to do that.
'I wore the vest for the first time at the Scottish Champs, so I feel it was good for them to have someone on the podium at Senior level.'
Tags: Alisha Rees, Ben Greenwood, Carolyn Harvey, Emirates Arena, Erin Wallace, Gillian Cooke, Jemma Reekie, Mhairi Hendry, Rachel Hunter, Scottish Senior and U17 Champs