Muir and Hawkins are top notch – Sir Mo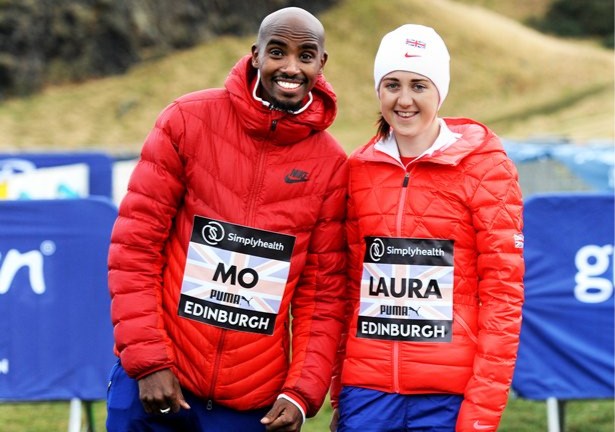 Photo by Mark Shearman
Saturday interview with Laura Muir in The Scotsman
Scottish stars Laura Muir and Callum Hawkins have been given a regal seal of approval by British athletics royalty – Sir Mo Farah.
The double Olympic champion made his first public appearance today since receiving a knighthood in the New Year Honours List.
And 'Sir Mo' wasn't slow to talk-up his Team GB and NI Senior Men's team-mate, Olympian Callum Hawkins, and the Holyrood XC team captain and new British indoor 5000m Record holder, Laura Muir.
'Laura is an amazing athlete, she's got great potential and she's learning quick,' said Farah, at the media conference ahead of the Simplyhealth Great Edinburgh XCountry.
'And she's already (at 23) competing against the best in the world. Hopefully we can see her among the medals at the World Championships. It's not going to be easy but she has experience of last year at the Olympics.
'I had struggles myself. It took me years to get to where I wanted to be.  I know it's not what she wanted (seventh place in Rio) but she would have learned something from that.
'Laura is a fighter, she'll go out and give 110%. I have been with her at Font Romeu and seen her train and she trains like a beast. And that's what it takes to become a champion.'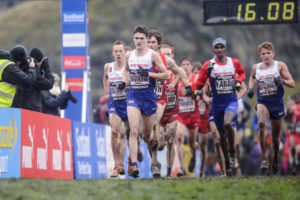 Farah hasn't been beaten by a fellow Briton for a number of years in any race but admitted he will be wary of Hawkins at Edinburgh on Saturday afternoon.
'Callum is a great athlete and he was right in the mix last year until Garrett Heath just turned on a bit extra on the last lap to win it,' he added.
'He did so well in the marathon in London after that and then had an excellent performance in Rio. I will try and focus on myself but you have to be aware of others around me and Garrett won't make it easy and neither will Callum.'
Farah revealed that with the London 2017 World Champs his last track championships at 5000m and 10,000m before taking on the marathon, his days of racing the Edinburgh XC are numbered. Or down to the last one, in fact.
'I think it probably will be my last cross country race,' he mused. 'That's what happens. I haven't really thought it all through, but I guess so. When I move up to the marathon, I really do have to focus on road racing those distances.'
On his knighthood, he said 'It's been pretty exciting time. It's an honour to be able to called Sir, as an athlete I never dreamed of it. The first time I ran in a Great Britain vest was amazing, so to be recognised by the country and the public is incredible.
'I think it's great for athletics – it gives young kids a dream, and hope. It's a key message for them that if you work hard at something, you can achieve it.'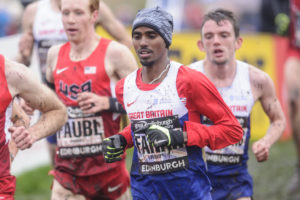 Watch the action from the 2016 event
Tags: Callum Hawkins, Laura Muir, Mo Farah, Simplyhealth Great Edinburgh XCountry