Capital XC moment for 14 Scots at Holyrood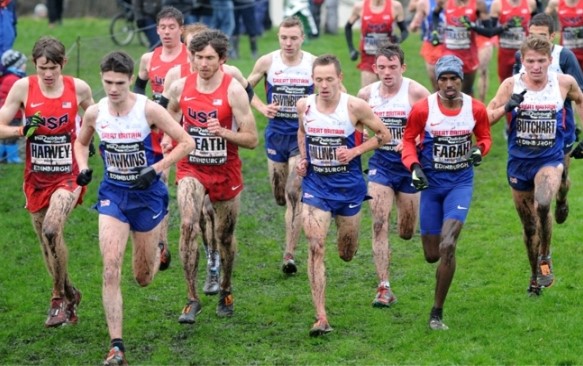 Callum Hawkins can't wait to race Sir Mo Farah again in Edinburgh – and faces a re-match of his Euro Cross duel with Kenyan-born Turkish duo Aras Kaya and Polat Kemboi Arikan at Holyrood Park.
The Scottish Olympian expects Team GB and NI to face a really tough test from Europe and the United States in the Senior Men's 8K race at the Simplyhealth Great Edinburgh XCountry.
Not least of the opposition will be American Garrett Heath, who has won in Edinburgh three times, and who relished the chance to beat Farah last year as Callum finished fourth.
'Both the Turkish athletes are with Team Europe for Edinburgh,' Callum told the Herald.
'Hopefully I might be able to get my own back on them. It should be a stacked race and Mo always brings in a big crowd so the atmosphere around the course should be really good.
'Edinburgh was a great kick-off point for me in 2016. I used it as prep to see where my training was at and, last year, that showed up that training was going well.'
In all, no fewer than 14 Scots will wear either GB and NI vests or the new Macron Scotland kit and in many ways that underlines a growing depth in quality in endurance running in this country and also how this event has grown with the addition of the International 4 X 1K Relay race.
As well as Callum in that Senior Men's race, team captain Laura Muir leads GB and NI in the Relay. Glasgow-based James Bowness is alongside Laura in that team.
The Senior Women race over 6K and Steph Twell and Beth Potter feature in the GB lineup for that one, with Twell always happy to be in Edinburgh.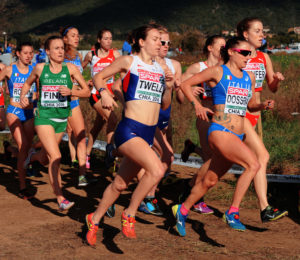 Twell at the Euro Cross – photo by Mark Shearman
'I love it. It's something I have grown up with,' Twell told BBC Scotland.
'There is something so pure and so simple about cross-country running. There is nothing quite like that, and I think Britain – and Edinburgh – does it best.
'It is an encouraging landscape right in Holyrood Park, it is fantastic to have that support and I think it gives you true grit. You come away thinking 'If I have raced here, that is a good sign'.'
And it is a special occasion for Sol Sweeney in the Junior Men's race over 6K as the Perth Strathtay athlete races for GB and NI for the first time following a good run in the British Cross Challenge and European Trials event in Liverpool at the end of November.
Erin Wallace's good run that day has also earned her a place in the Junior Women's race, as the Giffnock North AAC athlete adds a cross country GB and NI vest to honours on the track last summer when she won bronze medal at the European Youths event in Georgia over 1500m.
+++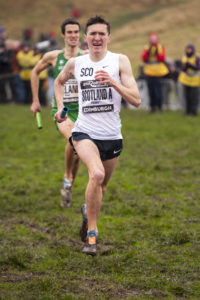 Jake Wightman helps Scotland to Stewart Cup success last year – photo by Bobby Gavin
Jemma relishes Auld Reekie XC chance
Millage savours international debut
Muir's appearance for GB and NI in the same race means there are no fewer than nine Scots in all competing in a field of 32 athletes – in an international race opportunity which did not exist until a couple of years ago.
Scotland won it last year when the Stewart Cup was up for grabs for the first time, with the format being two men and two women per team for a 4 x 1K race across the mud of Holyrood Park and part of the course for the longer international cross country races.
There has been one final team change, with a call-up now to the Scotland B team for Fife AC and Edinburgh Uni Hare and Hounds athlete, Steph Pennycook. Congratulations to Steph, her coach and her family.
Scotland A: Jake Wightman (Edinburgh AC), Neil Gourley (Giffnock North), Mhairi Hendry (VP-Glasgow), Jemma Reekie (Kilbarchan AAC)
Scotland B: Ben Greenwood (Perth Strathtay), Michael Ferguson (Aberdeen AAC), Steph Pennycook (Fife AC/Edinburgh Uni); Philippa Millage (VP-Glasgow).
Good luck to all our athletes racing for GB and NI or Scotland at Holyrood Park and best wishes to their coaches, families and clubs involved in their development over the years.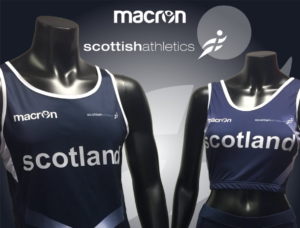 Tags: Beth Potter, Callum Hawkins, Erin Wallace, Garrett Heath, Great Edinburgh XCountry, Laura Muir, Mo Farah, Sol Sweeney, Steph Twell