National 4K XC titles for Muir and Stevenson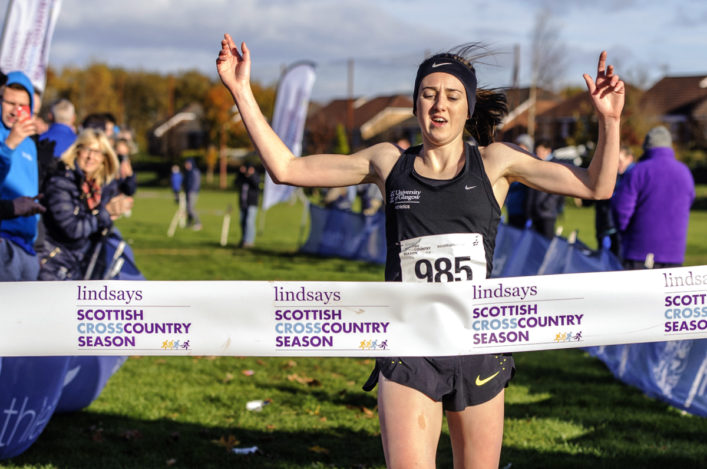 Photo by Bobby Gavin
Results (provisional) on our Events page
Laura Muir captured another Scottish title and captivated the crowds in Renfrew in her first race on home soil since the Olympics.
The 1500m Diamond Race winner defended her Lindsays Short Course XC title in superb fashion – streaking away early to ultimately win over the 4K course in 13.20 by 40 seconds from GB international Rosie Smith of Hunters Bog Trotters.
Central AC's Morag MacLarty took the bronze medal and led her club-mates home to the team golds and overall success in the Scottish Cross Country Team Challenge.
Muir's training partner, Jemma Reekie, came through to snatch the U20 Women's title and will shortly join the Olympian on a warm weather training trip to South Africa with both coached by Andy Young.
Falkirk Victoria Harriers athlete Ben Stevenson took the Senior Men's race in fine style to win by four seconds from Shettleston's Tewolde Mengisteab as Aberdeen AAC's Michael Ferguson won bronze.
'It was fun to be racing again and I always love cross country,' said Laura.
'Really it was about getting back in the routine because I have not raced since a road event at Newcastle at the start of September so it has been two months.
'The course was flat but the wind was really strong today – that makes it all the harder when you are out on your own and I had to fight into it the whole way around.
'Just after I had finished I was aware Jemma had been running well and was high up overall. It is great she is U20 champion because she has been working hard at her athletics and is improving all the time.
'She is joining me in South Africa for warm weather training soon and hopefully that will give us a good base for the track season next summer.'
Central AC took the Women's team race from Edinburgh AC and Reekie's Kilbarchan, who went home with the bronze medals, with winner Muir racing on this occasion for Glasgow Uni.
It was a double for Central AC as they took the men's team race from Cambuslang Harriers and Shettleston Harriers – to land the Scottish Cross Country Team Challenge overall prize-money following three events this autumn.
Connor Maclean won the Men's U20 race after flying in from Stornoway, with Sol Sweeney (Perth Strathtay) second and Logan Rees third (Fife AC). Reekie had been joined on the podium by Annabel Simpson (Fife AC) and Anna Tait (VP-Glasgow).
'I'm really pleased to win it and be a National champion for the Short Course XC,' said Stevenson, who has won Scotland vests in the past year in more than one discipline.
'I wanted to race here, rather than the 10K in Leeds, and I think it looked quite an open field for the medals (with Callum Hawkins and Andy Butchart absent). You really could not predict the podium places beforehand with the likes of Andy Douglas and Jake Wightman in there.
'I didn't go off too fast – some of the younger one were leading it out into the wind and I felt it best to let them and wait for my chance a bit later on.
'I am last year U23 now in terms of the GB Euro Trial at Liverpool so I have got to go there and give it my best shot. I am in good form and this gives me even more confidence for it.'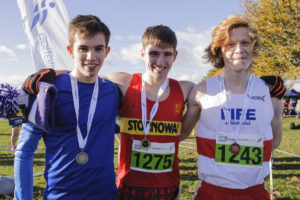 U20 Men's medallists – Connor Maclean with Sol Sweeney (left, silver) and Logan Rees (right, bronze)
Maclean travelled from Stornoway to claim the U20 Men's gold and is looking to the Euro Cross Trials at Liverpool, too.
'I came back from America six months ago and have been training away at home in the Western Isles,' said Connor. 'Robert Hawkins is coaching me now, sending me the sessions, and that has been working really well.
'It was good to win the gold today in my first race of the winter season. I will go to Liverpool now for the U20 GB trial and hopefully can get in the mix.'
Details on the U15 and U17 races in another report on our website on Sunday
Tags: Ben Stevenson, Central AC, Laura Muir, Lindsays Cross Country Season, Renfrew, short course XC Champs