21 Medals – Class of 2017 hit a Record!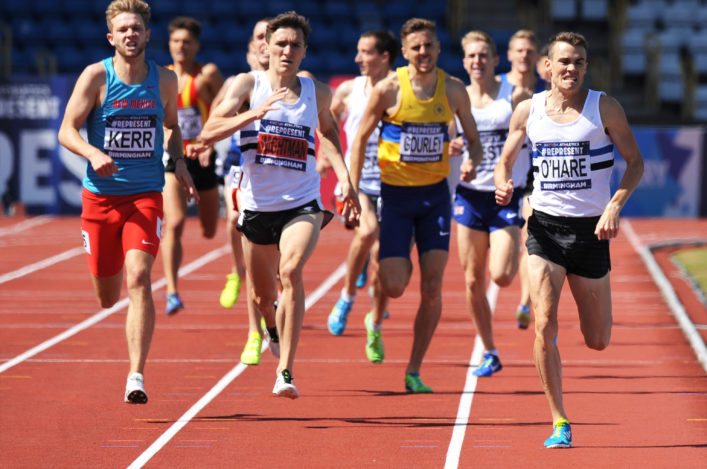 Scotland 1-2-3-4 that amazing 1500m men's final (photo by Mark Shearman)
It was a quite stunning weekend in Birmingham for the Scots at the British Champs and a real demonstration of depth and power by athletes, coaches and clubs.
And the medal haul seems certain to be a new record in this particular event, with statistician Arnold Black (for the moment) confirming it is definitely the best since 2000.
No fewer than 18 medals were landed on Saturday and Sunday, to improve on the 17 that were achieved on the same weekend last year at the Olympic trials.
Add in gold for Beth Potter at the British 10,000m Champs, silver for Steph Twell at the same event at Highgate in May, and a bronze for Andrew Murphy in the England Athletics CE Senior Champs – and the tally hits 21 medals landed by 20 athletes (Twell having landed two).
Here's the list of weekend medallists:
GOLD: Andy Butchart, Nick Percy, Eilidh Doyle, Chris O'Hare, Zoey Clark, Steph Twell.
SILVER: Eilish McColgan, Josh Kerr, David Smith, Jax Thoirs, Guy Learmonth, Kirsty Law, Emma Nuttall, Rachel Hunter
BRONZE: Lynsey Sharp, Jake Wightman, Nikki Manson, Mark Dry.
Ten years ago, at the 2007 British Champs, the medal tally for Scottish athletes was . . .  eight in total, with Andrew Lemoncello the sole gold medallist in the 3000m steeplechase.
And while there is no doubt the endurance scene is strong in Scotland at the moment, and attracting widespread comment, the event breakdown from the 18 weekend medals is interesting.
Throws – four: Percy, Hunter, Dry, Law.
Jumps – four: Nuttall, Manson, David Smith, Thoirs.
Endurance – eight: Twell, Butchart, O'Hare, Kerr, McColgan, Sharp, Learmonth, Wightman.
Sprints/hurdles – two: Clark, Doyle.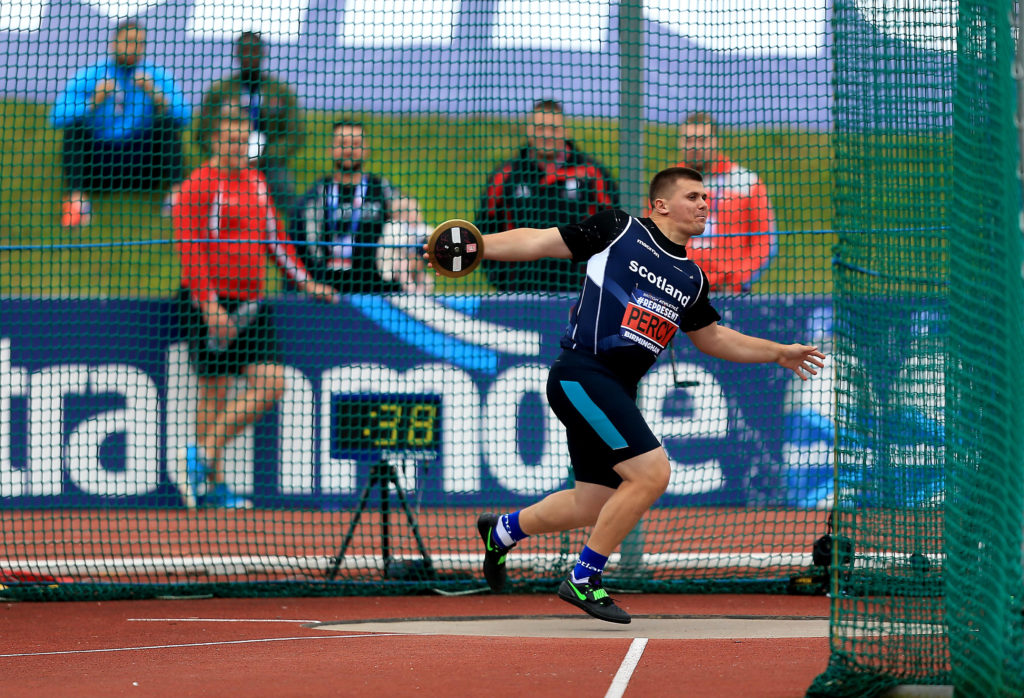 Nick Percy wins gold in his Scotland vest at the Alexander Stadium (photo courtesy of British Athletics/Getty Images)
Tags: Birmingham, British Champs, Edinburgh AC, Nick Percy