Enter now for Scottish 10,000m Champs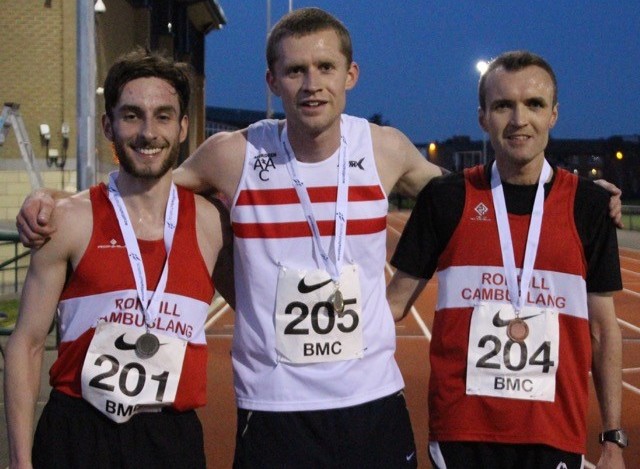 Will Mackay won 10,000m title last year – with the other medallists Kyle McLellan (silver) and Stuart Gibson (bronze)
Website report on 2015 Scottish 10,000m Champs
The Glasgow Athletics Association and scottishathletics are gearing up for Friday night athletics in the city on April 29  – with the Scottish 10,000m Champs.
Entries are now open for the event, a special  'Night of the 10ks', and the venue this year will be at Crownpoint in Glasgow.
Scottish title medals are up for grabs and that includes Masters age-groups. There are no entries taken on the night for this event, which also comes under the auspices of the British Milers Club.
That means paced races which hopefully gives you a good chance to record a best time for the distance.
Hutchesons Grammar School in Glasgow hosted the 10,000m champs over the past couple of years with Will Mackay (Aberdeen AAC) and Lyndsay Morrison (Central AC) picking up the golds last April.
Now the GAA Miler Meet for Friday 29 April has moved to Crownpoint, where the track surface from Hampden and Lesser Hampden at the Commonwealth Games was laid during 2015.
Entry is via the BMC website and there is a link to that online
Power of 10 lists for track 10,000m in 2015 here (male) and here (female); GAA Miler Meet Night of 10ks 2015 Results here
In terms of the timetable, the total number of potential athletes is approximately 40-80. However, our primary target would be to exceed the previous entry record of 60. Last year in Scotland, we had 30 male athletes sub 36:00 and 15 female athletes sub 43:00.
It would be great if the GAA Miler Meets could contribute to maintaining and improving these stats for the 2016 season.
As we are hoping to have a number of races, pacemakers are going to be important on the night – so if you are interested in helping athletes achieve a new Personal Best over 10,000m then please get in touch at: mark.pollard@gmail.com
***
Two more GAA Miler Meets on Friday nights later in the summer season.
Friday 3 June: 800m and 3000m
Friday 29 July: 1500m and 5000m
Enter those via the same BMC online entry process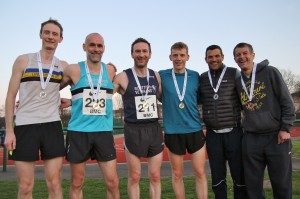 Masters medallists at the 10,000m Champs last year
With thanks to Mark Pollard
Tags: 000m Champs, Crownpoint, Glasgow Athletics Association, Mark Pollard, Night of the 10ks, Scottish 10