Round-up: Leeds, Dublin, Lemoncello, Twell, Inglis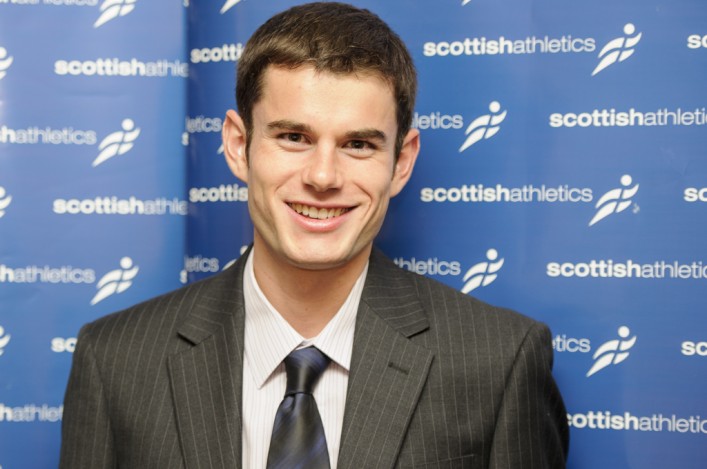 Robbie Simpson – fine run in Leeds (photo by Bobby Gavin)
Leeds Results (chip times used in report)
Scottish athletes performed well at the Abbey Dash 10K – with eight men featuring in the top 20.
The Leeds race has become one of the premier races of its kind around this time of year and that is reflected in how competitive it has become.
In the women's race, there were good performances from the likes of Maddie Murray and Susan Partridge in the Scotland selection for the event and Jenny Bannerman of Inverness Harriers.
World Mountain Running bronze medallist Robbie Simpson recently revealed his plans for a marathon and the Deeside Runners athlete put a marker down on his road speed with the best Scottish performance with 30.04 in eighth place.
Alistair Hay followed Robbie home in 30.06 for ninth place with the Central AC runner in good form as his club look to qualify for the Euro Clubs XC event at Liverpool.
Luke Caldwell was the third Scot home with Tewolde Mengisteab the best-placed of the Scotland team, in 19th place in 30.30. There were also good runs for Neil Renault (Edinburgh AC) and Ben Stevenson (Falkirk Vics). Craig Ruddy (Inverclyde) and Tsegai Tewelde (Shettleston) both represented Scotland and were timed at 30.51 with U20 athlete Jonny Glen at 31.57.
Murray, Partridge and Bannerman were the top three Scottish women, with Aberdeen AAC's Nicola Gauld at 36.26. There was also a good run by Mhairi Duff of Dumfries.
Unfortunately, Lyndsay Morrison's time does not appear in the results with the Central AC athlete, who represented Scotland for the first time, having had to recover from a painful fall at the start to run around 36.23. Fiona Thompson ran 37.15.
In the team results, Scotland were fifth in the men's event and fifth in the women's event,
+++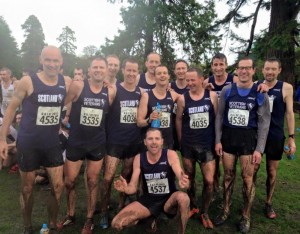 Scotland men in Dublin (photo via Kirkintilloch Olympians)
A host of Scots featured in the Masters International XC event on a wet and windy weekend in Dublin.
Ireland made the most of their home advantage with England also very much to the fore as is often the case with the significant population advantage.
But there were still some fine performances by Scottish athletes in the various (fiveyear) age-groups and team medals. Full results are available online on the Irish Masters website
Individual medals for Scots were:
Bronze for Joasia Zakrzewski in W35; silver for Fiona Matheson in W50; silver for Betty Gilchrist in W70; silver for George Black in M75; silver for Neil Thin in M55.
In terms of team medals:
Silvers at W50, M55, M70 and M75
Bronze at W35, W40, W45, W55, W60, M35, M40, M60 and M65
Well done to all those Masters athletes who worked hard across the year to compete in Dublin (apologies if any performance has been accidentally).
+++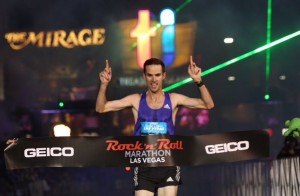 Victory for Andrew in Las Vegas (photo via Twitter)
Andrew Lemoncello claimed the first marathon win of his career in Las Vegas – as he finished in 2.21.47 in less than ideal conditions.
The Arizonia-based Olympian has this year been making a comeback after injury as he targets a spot for the marathon at the Rio 2016 Games.
Speaking ahead of Sunday's event, he told the Las Vegas Review-Journal he would be using the marathon in Las Vegas as preparation ahead of January's Houston Marathon, where he hopes to get the GB Olympic standard of 2:14:00.
'The @RunRocknRoll #stripatnight had savage weather but boy did the crowds make up 4 it. What a way to finish a race!' Lemoncello wrote on Twitter after the first marathon win of his career.
'Had to abandon race plan at 8 miles because of the wind, but so glad I finished the race. Every race and run is going to feel easy after that.'
It was quite a weekend for the Lemoncello family with his mother, Phyllis, representing Scotland at the Masters XC International in Dublin.
+++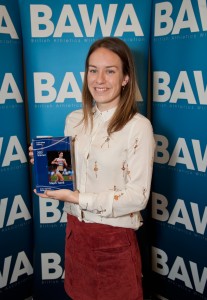 Steph receives her award (with thanks to Mark Woods for photo)
Steph Twell's courageous return from serious injury has been recognised formally by British Athletics Writers.
Twell landed BAWA's 2015 Inspiration Award, given in recognition of an athlete who has made an outstanding performance in a single event, performed well against the odds, or is retiring after a long and distinguished career.
After suffering  a horrific ankle injury in a cross-country race in 2011, many thought Steph would never return to her best.
But she has defied the odds and this year after winning the British 5000m title she reached the 5000m final at the IAAF World Championships in Beijing, finishing 12th.
Many congratulations to Steph, her family and coach Mick Woods from all at scottishathletics.
+++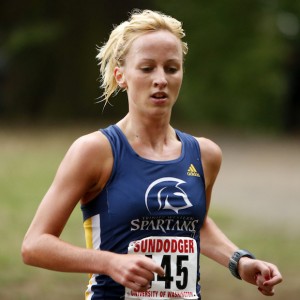 Sarah Inglis – great XC form on Canadian collegiate circuit
Scotland's Sarah Inglis won the Canadian collegiate cross country title over the weekend and then was named as their Athlete of the Year.
Inglis, of Trinity Western Spartans and Lothian Running Club, was announced as CIS Women's Athlete of the Year following a superb season.
On Saturday, Sarah produced an impressive course record-breaking run to win the coveted CIS Women's cross country title with her time of 19:49.9 for the 6k course seeing her cross the finish line 20 seconds clear of her nearest rival.
The Scottish 5K road race champion has enjoyed a fine XC season winning every race she has contested with victories in the Sundodger Invitational [Seattle], the Western Washington Classic, the British Columbia Championship and now the Canadian universities title. Sarah's coach Mark Bomba was also recognised by being named the CIS Coach of the Year.
Sarah gave this interview following her recent BC title win
With thanks to Shane Fenton
Tags: Andrew Lemoncello, Sarah Inglis, Steph Twell