Wright and McGill claim Scottish marathon gold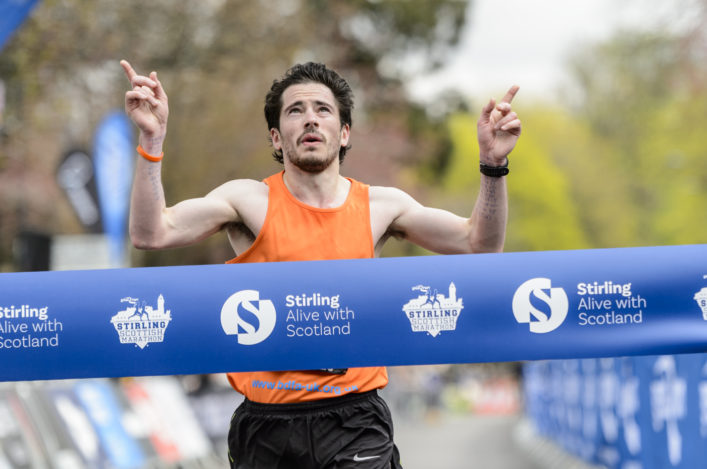 *Further detail on Scottish championship medals to be added in due course
Photos on Facebook by Bobby Gavin
Thousands of runners took to the roads for the second-ever Stirling Scottish Marathon – as Michael Wright of Central AC and Fife AC's Alison McGill claimed national championships gold.
A total of 6,000 signed up to the marathon and half marathon distances, taking on a spectacular route through several historic locations in Stirlingshire, on Sunday.
A day earlier, hundreds of youngsters took part in the growing Thistles Great Stirling Family Run held as part of a family-friendly fun day in Kings Park, where the marathon and half marathon finished on Sunday.
Marathon runners took on a brand new course with a city centre start and finish, while the half marathon saw its first staging on a city centre route with magnificent views of the Ochil Hills.
Michael Wright won the Stirling Scottish Marathon in a time of 2.29.19, with Patrick Gierjatowicz second in 2.33.10 and Tom Roche third clocking 2.33.38.
Alison McGill was first woman home in 3.02.35, Michelle Mackay second in 3.05.01 and Rhona Anderson third with 3.09.46.
The Scottish Masters medallists in the men's race saw Tom Roche take the gold as well as the overall bronze. Silver went to Chris Devine in 2.38.58 and bronze to David Lindsay in 2.45.11.
Similarly, in the Masters women's podium top place went to overall bronze medallist Rhona Anderson, with the silver headed for Julie Gordon in 3.13.41 and bronze to Shona Donnelly in 3.15.08.
Garscube Harriers took the men's gold medals thanks to the efforts of David Lindsay, Ian Thomson and Craig Shields. The silvers went to Linlithgow and the bronzes to Dundee Road Runners.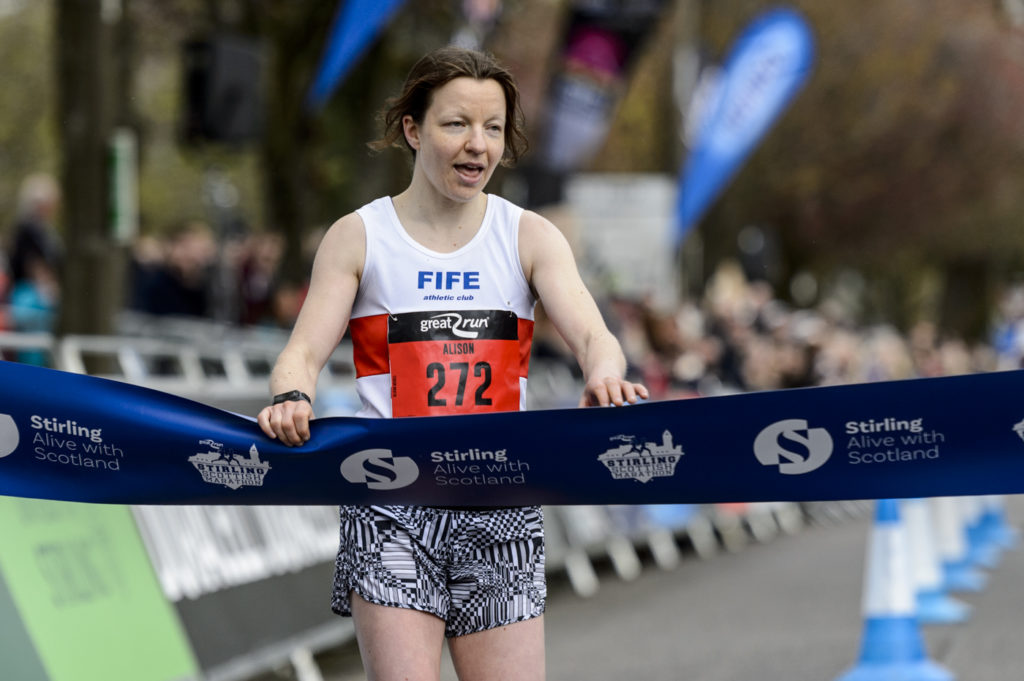 The inaugural Stirling Scottish Half Marathon was won by Michael Crawley in 69.33, with Stuart Paterson second in 75.03 and Jason Kelly third in 75.55. First woman was Sarah Brown with 86.58, Louise Tyler was second in 88.21 and Kirsty O'Brien third in 88.32.
Organisers The Great Run Company, working once again in partnership with Stirling Council, were delighted with the day.
Paul Foster, Great Run Company CEO, said: 'The Stirling Scottish Marathon has showcased central Scotland in all its glory this weekend. We're delighted with how our second event here has turned out with runners being cheered on by thousands of supporters.
'We're grateful as ever for the support from Stirling Council, as we look forward to continuing to grow this event. I'd encourage anyone who has been inspired this weekend to sign up for next year's marathon and half marathon.'
Stirling Council Leader Scott Farmer said: 'This has been another fantastic day for the Stirling Scottish Marathon, and we'd like to say a huge thank you to all our runners, supporters, spectators and volunteers. This is only our second year, but the event is going from strength to strength and we look forward to building on that success for next year.'
The marathon and half marathon will return next year on Sunday 28 April.