Weekend 12/13 March: Thoirs; Inverness Half; Hawkins; CE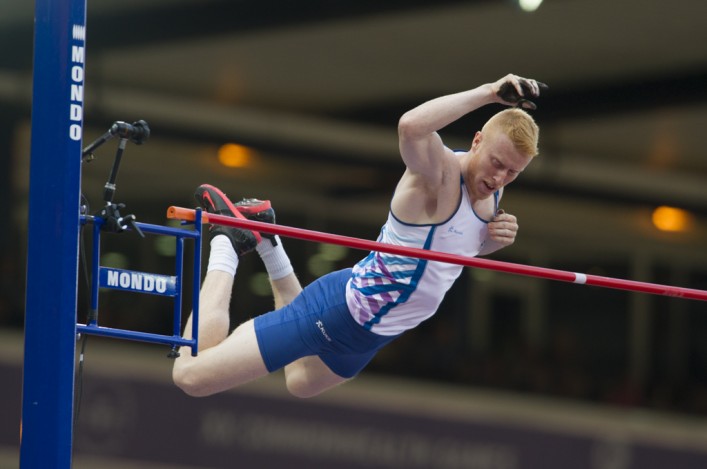 Jax Thoirs in action at the Commonwealth Games (photo Bobby Gavin)
Jax Thoirs became only the 3rd Scot to win an event at the NCAA Indoor Championships when he won the pole vault with a vault of 5.50 metres at Birmingham, Alabama.
Previously Meg Ritchie had won the women's shot in 1983 and Chris O'Hare had taken the men's mile title in 2012 at these prestigious national collegiate championships.
Thoirs had a first-time clearance at the event entry-height of 5.25 metres, a height that saw four of the 16 competitors depart the scene.
A second-time clearance at 5.35 saw him move to joint fifth position and while it took three vaults to clear 5.45 metres, that height cleared out most of the competition and placed him second behind South Alabama's Sean Collins as the only ones successful at this height. But, with two other athletes passing at the height, a medal was not yet secure.
The bar moved up to 5.50 metres and Thoirs, the University of Washington student, was the only one to clear – at his second attempt – as Collins, Devin King and Adrian Valles failed all three attempts.
Having won the competition, Jax had the bar put up to 5.70 for one attempt at a new Scottish record, but failed to make the clearance.
Many congratulations to Jax on this significant collegiate achievement in America, his family and his coach and indeed all in Scotland who were involved in his development over the years
With thanks to Arnold Black
+++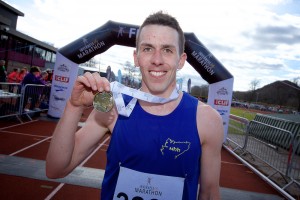 Andy Douglas – so close to a PB (photo Paul Campbell)
GB mountain running international Andrew Douglas (North Highland Harriers) was an agonising one second outside his personal best time when recording 65.39 to win the Inverness Half Marathon.
Former Scottish 800m and 1500m champion Mark Mitchell took second position in 66.07, Polish international Kamil Sieracki (Shettleston Harriers) was third in 67.21 while title-holder Tewolde Mengisteab faded over the closing stages and had to settle for fourth position in 68.15
Douglas also picked up the Scottish North District title and he was delighted with the overall result although admitted to being mildly frustrated he hadn't run a little quicker.
'That's almost the same time as I ran in Barcelona earlier this year,'  he said. 'I thought I could maybe dip under it but the wind was really strong over the final mile and I couldn't quite find that extra second.
'However, I'm really happy with my performance on what isn't an easy course and I had to cope with windy conditions.
'Mark and Tewolde were with me for the first seven miles or so but after that point Tewolde began to drop off. Mark took up the pace after that but on the downhill section around the 10 mile point I managed to get a bit of a lead. I was very wary of his track speed and didn't want him to be close to me near the end, so I was glad to get away.'
Mitchell, who was making his half marathon debut, was satisfied with the outcome but admitted he found it tough in the closing stages.
'I felt great until 10 miles but I always knew it would be a step into the unknown after that,' said Mark. 'I thought I could get under 66mins but got found out a little bit over the last mile which was probably my slowest mile of the race, which is a bit disappointing.'
Fanni Gyurko (Central AC) gave her Olympic selection hopes a boost by winning the women's race in a personal best time of 77.45. The Hungarian international, who has been living in Scotland for the past two years, hopes to represent her country in the marathon at this summer's Rio Olympic Games.
'I was pleased to run my fastest time today but I was hoping to be a little quicker,' she said. 'The wind made it very difficult so I have to be happy under these circumstances. I hope to run for Hungary at the Olympics but I must run in the London marathon and may have to do under 2hrs 40mins to qualify.'
Former Scottish marathon champion Jenn Wetton (Central AC) showed she is well on the way back towards reaching top form after injury problems by finishing second, for the second year in a row, in 80.03. Veteran Marie Baxter (Garioch Road Runners) won the Scottish North District title when finishing third in 85.54.
All the North District medallists
Jenny Bannerman (Inverness Harriers) won the accompanying 5km when recording 17.27.
Half Marathon Team Results: Men's: 1 Shettleston Harriers 3:26:47; 2 Inverness Harriers 3:42:24; 3 Edinburgh AC 3:43:31;  Women's: 1 Hunters Bog Trotters 4:49:06; 2 Metro Aberdeen 4:50:32; 3 Forres Harriers 4:57:50
With thanks to Fraser Clyne
+++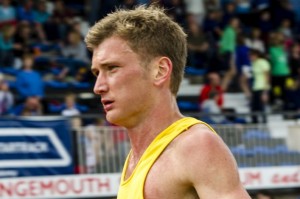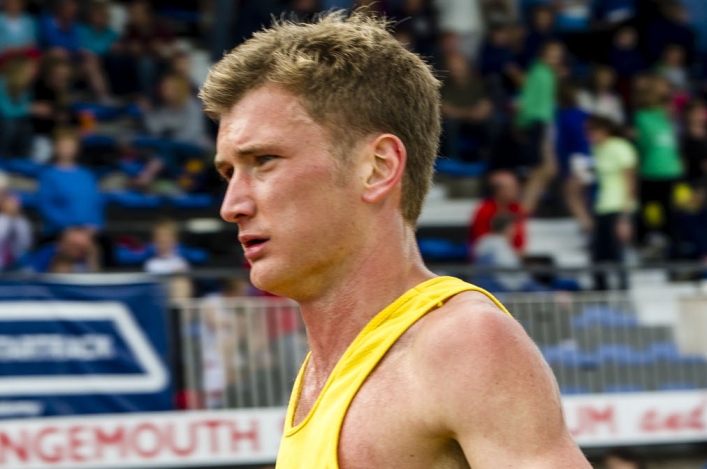 Derek Hawkins – half marathon PB in Italy
Derek Hawkins was in half marathon action over the weekend, as well, and came up with a fine run in Rome.
The GB international set a new PB of 63.53 as he improved by 15 seconds on a time he held from four years ago.
And he moved into second place on the British rankings list for 2016 with brother Callum at the top following his 62.36 run only a week earlier at the Paris half marathon.
Both are of course preparing for the London marathon and Olympic qualification for Rio.
Derek tweeted later: 'Good to get a 15s pb today. Woulda hoped for quicker in Jan but really happy with it given how appalling trainings been the last 4 weeks!!!'
In Spain, Mhairi Maclennan of Inverness Harriers finished second U23 in the Spanish National XC Champs and 23rd overall. Maclennan represents Scotland this weekend in Falkirk in the Home Countries International.
+++
Scottish Combined Events athletes were in action at the England Athletics U15 and U17 event in Sheffield over the weekend.
And there were silver medals for Holly McArthur (Whitemoss AAC) and Joel McFarlane (Arbroath and District) in the U17 event. Congratulations to both those athletes and their coaches and families on podium success at British Championship level.
Others in action were Scott Connal and Matt Chandler in the U17 event and Lucy Davidson in the U15.
Results on the Scotstats website
Tags: Andy Douglas, Derek Hawkins, Fanni Gyurko, Holly McArthur, Inverness Half Marathon, Jax Thoirs, Joel McFarlane