Watch Dafne v Dina in Glasgow!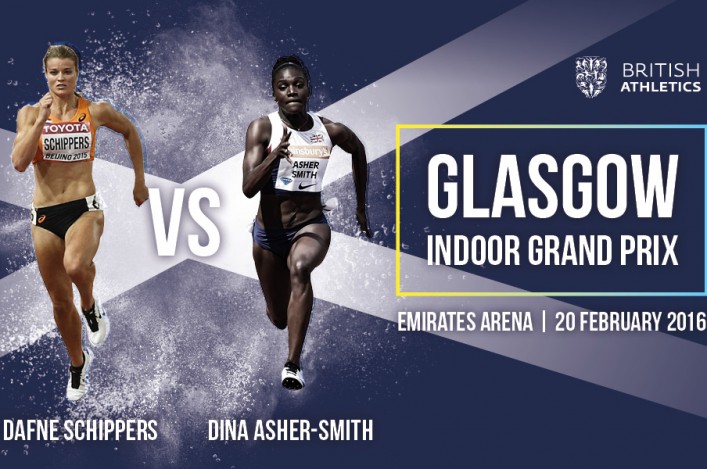 Buy tickets for Glasgow Grand Prix
Current European record holder and 200m world champion Dafne Schippers will face Britain's fastest ever woman, Dina Asher-Smith, over 60m at the Glasgow Indoor Grand Prix on 20 February.
Each athlete has beaten the other once over 60m with both setting their personal bests at last year's European Indoor Championships in Prague; 7.05 for Schippers and 7.08 for Asher-Smith, the first of five British records she set during 2015.
The Glasgow Grand Prix is lined up as the single best day of indoor athletics ever staged in Scotland and can now boast the top sprint head-to-head in European athletics.
It is a meeting which is consistently ranked as the number one indoor annual event in athletics and is moving to Glasgow for the very first time.
Asher-Smith confirmed that Glasgow will be integral to setting the stage for the rest of the year.
'Obviously 2015 has been a special year for me and I couldn't be more pleased,' said Dina
'Now I'm looking ahead and I am absolutely thrilled to compete with Dafne in the Glasgow Indoor Grand Prix. The atmosphere in the Emirates Arena will be amazing and a strong start to 2016 is going to be important for me in my build up to the Olympic Games in Rio.
'I think I surprised myself when I realised I beat Kathy Cook's 200 metre record time of 22.10 earlier this summer. The Glasgow Grand Prix now gives me the perfect platform to build on my 2015.'
Dafne Schippers has been one of the stars of global athletics this year culminating in winning Gold in the 200 metres at the IAAF World Championships in Beijing. Her 200m winning time of 21.63 seconds broke the 36 year old European record and gave her the title of third fastest woman in history over that distance.
She said:  'Clocking 21.63 in the 200 metres in Beijing was a huge win for me. I kept thinking if I pull this off, there's nothing stopping me from doing this again in Rio. I'm even more committed to putting on an amazing performance, especially in Glasgow where I understand the atmosphere is always electric.'
The Glasgow Indoor Grand Prix will be the first major athletics event of an action packed 2016 season and a great opportunity to see world-class talent at such close quarters. With the Olympic Games in Rio just months away, this competition will be an exhilarating start as champion athletes prepare themselves for the summer.
Niels de Vos, Chief Executive of British Athletics said:  'The Glasgow Grand Prix will be the best one-day indoor meeting anywhere in the world in 2016. Having Dafne Schippers facing Dina Asher-Smith is the most exciting head-to-head in European sprinting and the Scottish public will be in for a treat.'
Paul Bush OBE, VisitScotland's Director of Events, said:  'The Indoor Grand Prix is one of the gems in the athletics crown, so it is with great excitement that we look forward to welcoming the event to Glasgow in February.
'In an Olympic year, this event has even greater significance and having Dafne Schippers and Dina Asher-Smith going head-to-head will add to what is always a tremendous atmosphere at the Emirates Arena.'
For tickets to the Glasgow Indoor Grand Prix please visit www.britishathletics.org.uk

Tags: Dafne Schippers, Dina Asher-Smith, Emirates Arena, Glasgow Indoor Grand Prix